Masala Chicken Biryani is a beloved street food in Pakistan, perfect for those who are true biryani enthusiasts. This delectable dish is renowned for its lip-smacking and spicy flavor, making it a must-try for individuals who crave bold and flavorful meals. On this food blog, I've previously shared the tantalizing recipe for Masala Karachi Biryani. Now, let me introduce you to another delightful variation of Pakistani cuisine. Chicken Masala Biryani, much like its name suggests, shares numerous characteristics with its counterpart. However, it has its own unique cooking method that sets it apart. Exploring the secrets behind this tantalizing dish will undoubtedly enhance your culinary skills. Whether you're a local food aficionado or an international traveler, Masala Biryani is an essential part of Pakistani cuisine, particularly within the realm of street food. If you're eager to delve into authentic Pakistani flavors, consider trying your hand at Pakistani chicken biryani or savoring the aromatic chicken pulao with a Pakistani twist. Embrace the richness of flavors that Pakistan has to offer and let your taste buds embark on a truly delicious journey.
Taste of Chicken Biryani Masala: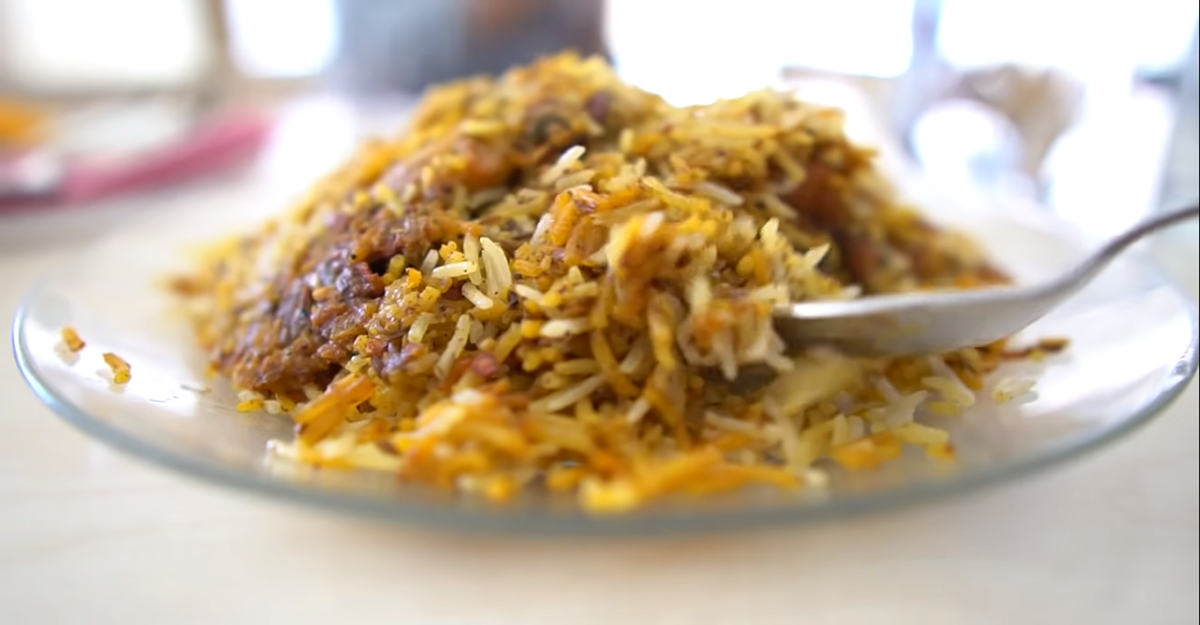 This is one of the spiciest biryanis in Pakistan. Fresh mint, coriander or other green masala ingredients make this biryani so aromatic and delicious. It's very hard to spice lovers to ignore such yummy biryani. If you try this biryani, that would be a gift to your taste buds. And If you cook this biryani for your special occasions then It will make your celebrations more special. Therefore, you must have tried this Masala biryani at least at once. Following is the best and authentic recipe for Chicken Masala Biryani.
HOW TO COOK PAKISTANI CHICKEN MASALA BIRYANI AT HOME-TWEET THIS?
Major Ingredients:
Recipe of Chicken Masala Biryani
May 10, 2021
: 40 min
: 1 hr 20 min
: 2H
Chicken Masala Biryani or simply Masala Biryani is the main biryani dish of Pakistan. People belong to Singh or Punjab are the true follower of this kind of Biryani. Similarly, many foreign visitors like Americans, Canadians, or British also belong to those who are mad about Pakistani Masala Biryani. Following is the authentic and traditional Pakistani Recipe of Masala Biryani.
Ingredients
3 medium-size tomatoes
1 sliced onion
½ cup coriander
½ cup mint leave
2 tbsp lemon juice
1 cup of cooking oil
4 green and 3 black cardamom
4 large sliced onions
½ tsp black pepper (whole)
7 cloves
2 cinnamon sticks
2 bay leaves
6 fresh green chillies
3 tbsp ginger-garlic paste
2 tbsp water
2 tsp coriander powder
1 tsp turmeric powder
1 tsp garam masala
1.2 paprika powder
1 ½ red chilli powder
2 tsp or to taste salt
1 kg bone-in chicken
1 kg Basmati/sella Rice
¼ tsp mace powder
¼ tsp nutmeg powder
2 tsp water
½ tsp yellow food colour
Directions
Step 1 In a pot add cooking oil and onions and fry until golden brown
Step 2 In a bowl add onions, fresh coriander, mint leaves, and lemon juice and mix well & set aside
Step 3 From the cooking pot take half quantity of fried onions
Step 4 Then add cardamoms, black peppercorns, cinnamon, cloves and bay leaf
Step 5 add green chillies
Step 6 add ginger-garlic paste and cook for 2-3 minutes
Step 7 Then add water and mix well
Step 8 After add garam masala
Step 9 Add coriander powder, turmeric powder, red chilli powder, and paprika powder
Step 10 Add salt and mix well
Step 11 Then add a mixture of onions and tomatoes
Step 12 Cook well until tomatoes are soft
Step 13 Add chicken and mix well until changes its colour
Step 14 Put a lid on the pot and cook 8-10 minutes and high heat
Step 15 When oil separates take out a bowl
Step 16 Spread half of the boiled rice in the same pot
Step 17 Add cooked chicken
Step 18 Then add remaining boiled rice
Step 19 Add nutmeg and mace powder
Step 20 Mix yellow food colour in water and put it in the cooking pot
Step 21 Lastly, add fried onions and food colour
Step 22 Cover the pot and steam cook for 10 minutes on low flame
Step 23 Your Chicken Masala Biryani is ready
Step 24 This recipe is for 5 – 6 servings
CREDIT: Food Fusion YouTube Channel