Chicken Tikka Biryani is basically an amalgamation of two separate desi dishes, 'Chicken Tikka and Biryani. A mixer of these two dishes makes this biryani delicious. Like most other biryanis, this biryani has the same components as I mentioned in my recipe. If you prefer 'Chatpata' or spicy food like me then this biryani is perfect for you.
Recipe of Tikka Biryani:
The recipe for this kind of biryani is a little bit complex than other biryanis. The reason is that in this recipe you have to make two separate dishes. One is Tikka Botti and another one is Chicken Korma. But you don't have to worry about that, I have mentioned a simple and easy to cook recipe.  
Major Ingredients For Chicken Tikka Biryani:
This recipe has no ratings just yet.
Chicken Tikka Biryani Recipe
May 9, 2021
: 5
: 40 min
: 1 hr 10 min
: 1 hr 50 min
: High Difficulty Level
Chicken Tikka Biryani is a newly emerged biryani type. This biryani is very famous in Pakistani as well as in other food cuisines like Turkish, Afghani, etc. In this recipe card, you can find a best Pakistani Chicken Tikka Biryani.
By: Pakistani Foodbox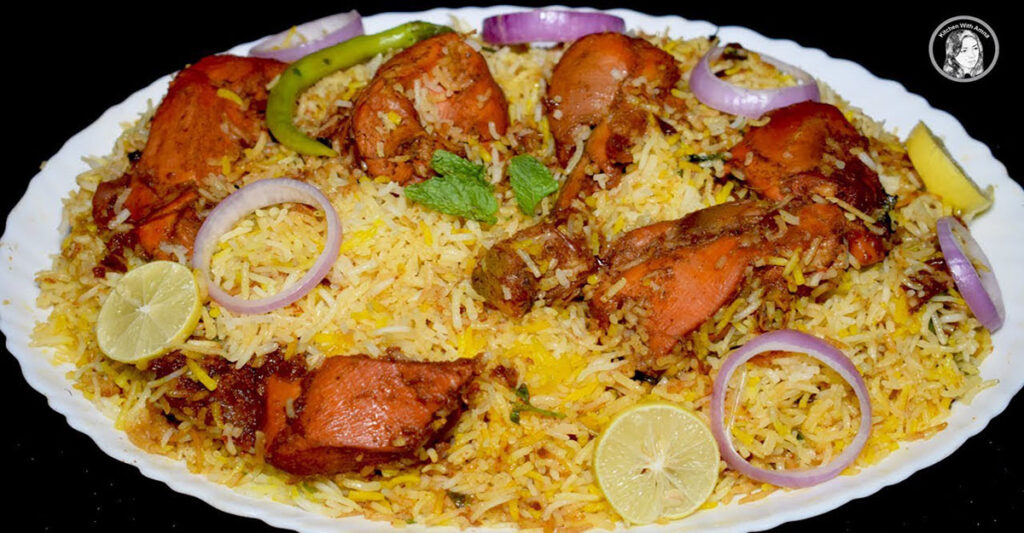 Ingredients
For Chicken Marination and Qorma:
6 medium onions (sliced)
1 packet of Tikka Masala (Homemade preferred)
12 Green Chillies
1 bunch of mint leaves
1 tomato
2 cup oil
2 cup Yogurt
1 cup water
Salt to taste
1 tbsp ginger-garlic paste
For Rice:
¾ kg Basmati rice
1 tbsp Vinegar
1 tbsp ghee
5 bay leaves
1 tbsp Kewra water
10 whole black peppers
5 cloves
5 green cardamom
3 black cardamom
Salt to taste
1 piece of Cinnamon Stick
Spices:
1 tbsp Grama masala powder
1 ½ red chilli powder
One tbsp black pepper powder
2 tbsp cumin powder
½ tsp of coriander powder
½ tsp turmeric powder
1 pinch of Maze (Crushed)
1 pinch of Nutmeg (Crushed)
For Garnish:
3 tbsp lemon juice
2 lemons cut up in slices
1 cup of fresh mint leaves
1 tbsp yellow food colour
2 tbsp milk
1 cup of onion (Fried)
Directions
Step 1

For Tikka Boti:

Step 2

Marinate Chicken pieces in Tikka masala and leave it for 2 to 3 hours.

Step 3

Smoke the marinated chicken pieces with a piece of coal.

Step 4

Turn on the flame.

Step 5

Set a parchment paper in a baking tray.

Step 6

Spry roasting spry and cooking oil onto it generously.

Step 7

Place the chicken pieces on the baking tray and spray another layer of cooking oil on top of the chicken pieces.

Step 8

Place the tray in the oven and cook for 20 minutes.

Step 9

For the last 5 minutes turn on the grill for nice char.

Step 10

You can also, alternatively, grill the chicken on a fry pan and grill pan.

Step 11

For Chicken Qorma

Step 12

Take a pan.

Step 13

Add oil, sliced onions, green chillies and mint leaves.

Step 14

Cook them on medium flame until they become crispy.

Step 15

Remove half of the onions and set aside.

Step 16

Remove out most of the oil also.

Step 17

Add ½ cup of water and turn the flame back on at medium.

Step 18

Add, tomatoes, salt, ginger-garlic paste, and all spices.

Step 19

Now, cook until oil separates.

Step 20

At low flame add another ½ cup of water.

Step 21

Then, add yoghurt and some food colour.

Step 22

Simmer the Qorma for 15 minutes with a lid.

Step 23

After 15 minutes your qorma is ready.

Step 24

Rice

Step 25

Take a separate pan and add water to it.

Step 26

Add salt, vinegar, oil, kewra water, and whole spices.

Step 27

Boil that water.

Step 28

Add rice in boiling water.

Step 29

Boil rice for about 5 minutes.

Step 30

Final Cooking

Step 31

Take a compatible pan.

Step 32

Add 1/3 of the rice to the bottom of the pan.

Step 33

Then add some mint leaves and fried onions.

Step 34

Add 2-3 lemon slices.

Step 35

Add Chicken Tikka Chicken with its gravy.

Step 36

Sprinkle a little lemon juice.

Step 37

Repeat the process until the finished rice is on the top layer.

Step 38

Sprinkle yellow food colour.

Step 39

Add garnish material.

Step 40

Lid the pan and add aluminium foil between the lid and pan for a better seal.

Step 41

Turn on the flame on medium heat for 8-10 minutes.

Step 42

Then, turn the flame on low heat for another 8 minutes.

Step 43

Lastly, let the Chicken Tikka biryani rest for 10 minutes.

Step 44

Your delicious Chicken tikka Biryani is ready.

Step 45

Serve with Salad and yoghurt.
CREDIT: Butteroverbae.com