You can visit and discover some amazing facts about Pakistan, especially its famous food streets. Pakistani food box has already written an article on the food discovery by Luke Martin, a prominent YouTube Travel blogger, with his wife. At the start of this winter, or precisely the end of October 2021, Luke Martin and his wife again visited Pakistan. They called the Northern valleys of Pakistan and shared their memories on his YouTube Channel. They rediscovered the Pakistani Food in Hunza, Gilgit-Baltistan and explored the dishes cooked in 200 years old stone pots. In this article, I will discuss their journey in Hunza valley. You'll also know their experiences of Pakistani food cuisines and some fantastic traditional food.
Luke Martin and his wife spent a day in Hunza Valley and explored Northern Pakistan. They took terrific meals from breakfast to dinner or from traditional role Omelette to Organic Noodles. Their views, expressions, feelings describe that Pakistani food dishes in Hunza are one of the yummiest and organic dishes they have ever tasted. We'll discuss those dishes with Luke Martin and his wife's responses.
Northern Pakistani Cuisine Breakfast:
During their visit to Hunza, Gilgit-Baltistan, they stayed in a fantastic hotel – Roomy Yurts, Minapin or ROOMYPAKISTAN. That Particular hotel also serves traditional foods. However, Luke and his wife have Northern Pakistani Cuisine Breakfast. Before breakfast, they visited the hotel's kitchen to learn the food-making process. And there they found "The Goorkhan" (200 years old Stone pot) in which most of Valley's people cook their food.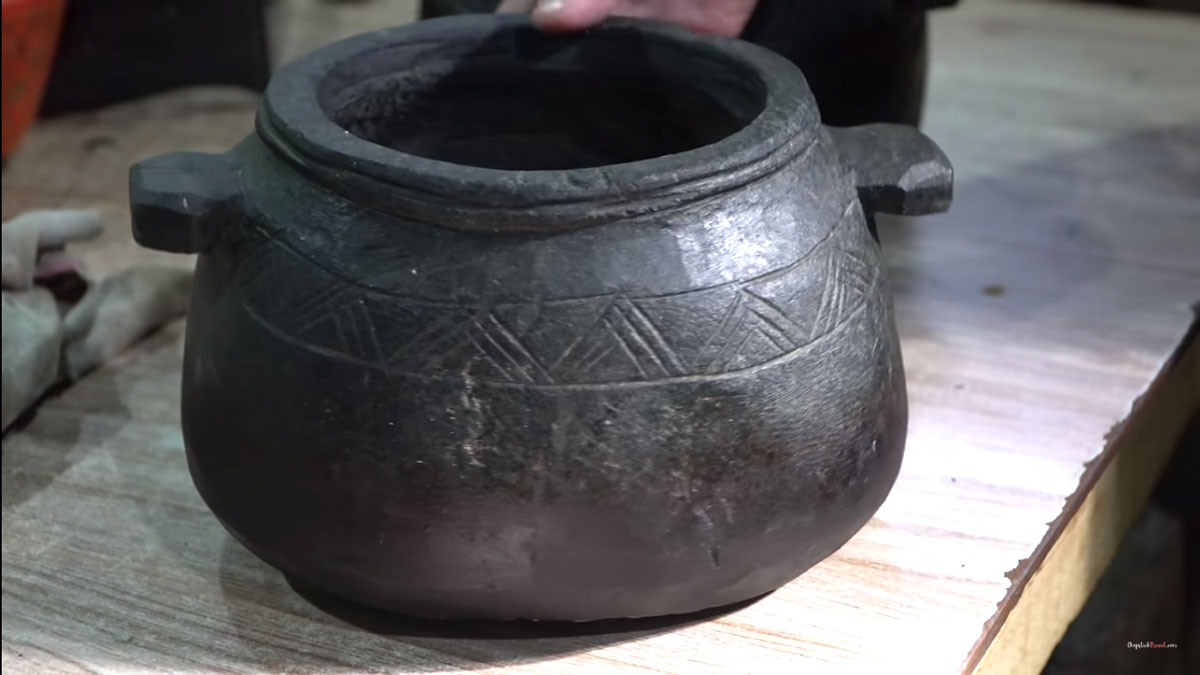 The Goorkhan is a stone made Pot that the people had used for cooking purposes two to three centuries ago. That's because Hunza valley was a remote area, and they did not get easy access to urban areas. So, they took stones, chiselled them up, and made a Pot for the kitchens. That's called Goorkhan, which today are used for the same purpose. You may have heard about Handi – a clay pot abundantly used in Pakistani cuisine. Many dishes in Pakistani cuisine are named after Handi, like Chicken Handi, Mutton Hadi, White Handi, etc.
Similarly, some dishes in the Northern cuisine of Pakistan are named after Goorkhan because they are cooked in Goorkhan. Such dishes are Lamb Goorkhan, Chicken Goorkhan, and Mutton Goorkhan. However, let's talk about dishes that they eat in their breakfast.
Mutton Goorkhan:
The Goorkhan, as I mentioned above, is a traditional pot made after chiselling up stones. This dish, Mutton Goorkhan, cook in that particular type of stone pot; that is why it is called Mutton Goorkhan. Luke Martin and his wife seated this dish at their breakfast in Hunza Valley. This is a truly unique and traditional mutton recipe. All the ingredients that are used in Mutton Goorkhan are organic. Whether it is mutton meat, spices, onions, tomatoes or chillies, except for salt, they are organic and homemade. In mutton Goorkhan's recipe, salt is the only ingredient from Bazar (or market).
Luke and the team love the passion of mutton meat and the taste of Mutton Goorkhan. However, its recipe is straightforward, and the secret of taste is the process in which it is cooked. Organic ingredients and cooking in Goorkhan gave this recipe a unique flavour and tenderness of the meat; you would not be able to enjoy any other types of mutton karahi.
Special kind of Omelette: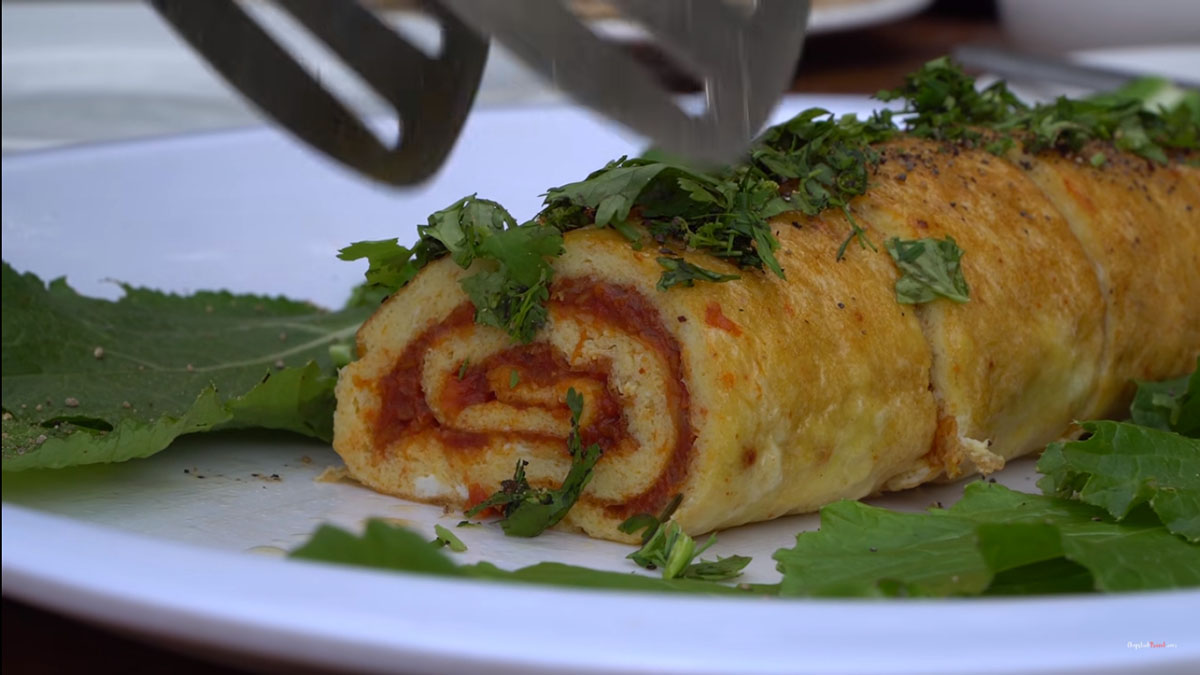 Pakistani foods in Hunza have their unique taste and recipes. From Omelette to the rich Karahi menu, each dish has its unusual name, taste, flavour, aroma and look. Hunza's particular kind of Omelette is one of those unique dishes. This Omelette is made with organic eggs in a role type shape stuffed with tomato sauce. This Omelette is far different from an ordinary omelette. It's soft, juicy, light and garnished with fresh organic coriander leaves. If you're planning to visit Hunza Valley, don't miss that special Omelette from RomeyPakistna.
Diram Fitti With Walnuts Oil: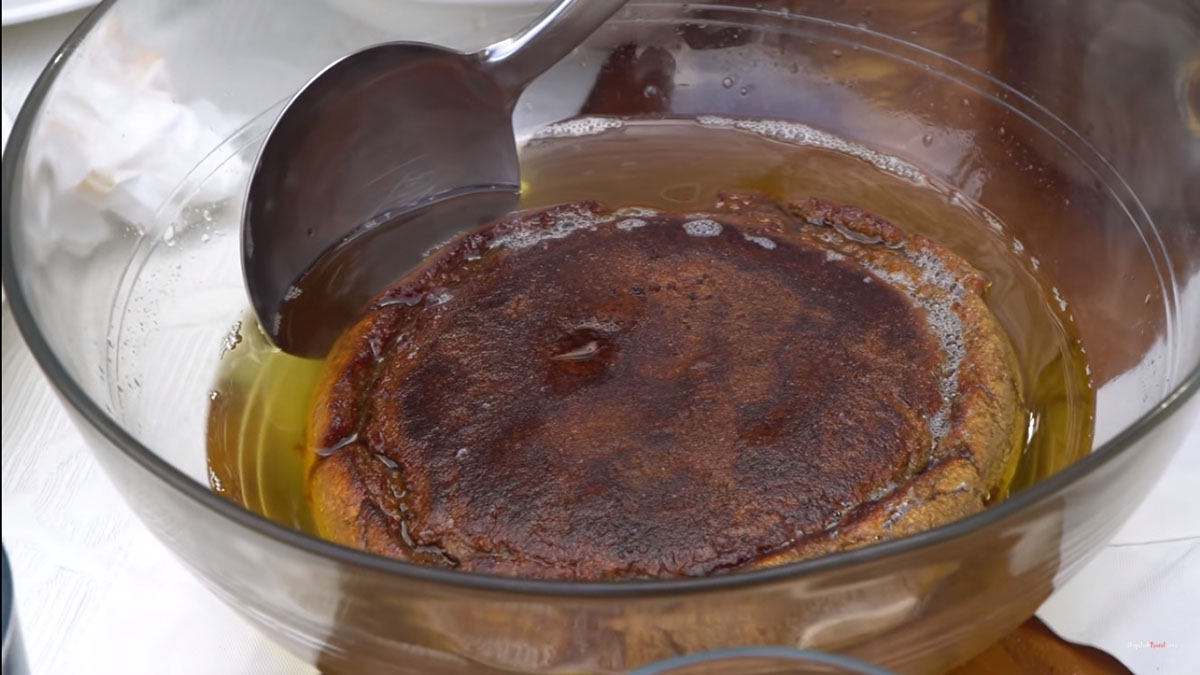 Another traditional dish that only is served in Hunza or other Northern areas of Pakistan. This is a dessert or a sweet dish made with a special kind of flower. The sweetness of flowers gives a sweet taste, and there is no need to use sugar in Diram Fitti. It is a round shape dessert food served with walnuts oil or swim in walnuts oil. Its taste is very lite and yummy; you better eat it with organic apricot appetizer jam.
Hunza Style Snack Foods:
After taking a fantastic breakfast from ROMEYPAKISTAN, Luke and his wife starts their journey to Hunza Valley, where they find some tremendous sceneries and an ancient fort and a mosque made with wood. However, they eat some snack meals from a local bakery in the evening. Followings are the snack dishes of Hunza that they have interacted with! If you want to see all those sceneries and beauty of Hunza valley, visit their YouTube channel.
Local Tea From Hunza:
Most of the year, the temperature in Hunza valley remained cold, especially when they visited, the temperature was near zero. In such cold weather, people of Hunza valley used to drink a special kind of tea with organic honey. It is some green tea but not the green tea you are familiar with. Instead, they use a particular type of leaves to make the local tea of Hunza and serve it after pouring the organic honey. That's the best tea you can have in such cold weather.
Walnuts Cake: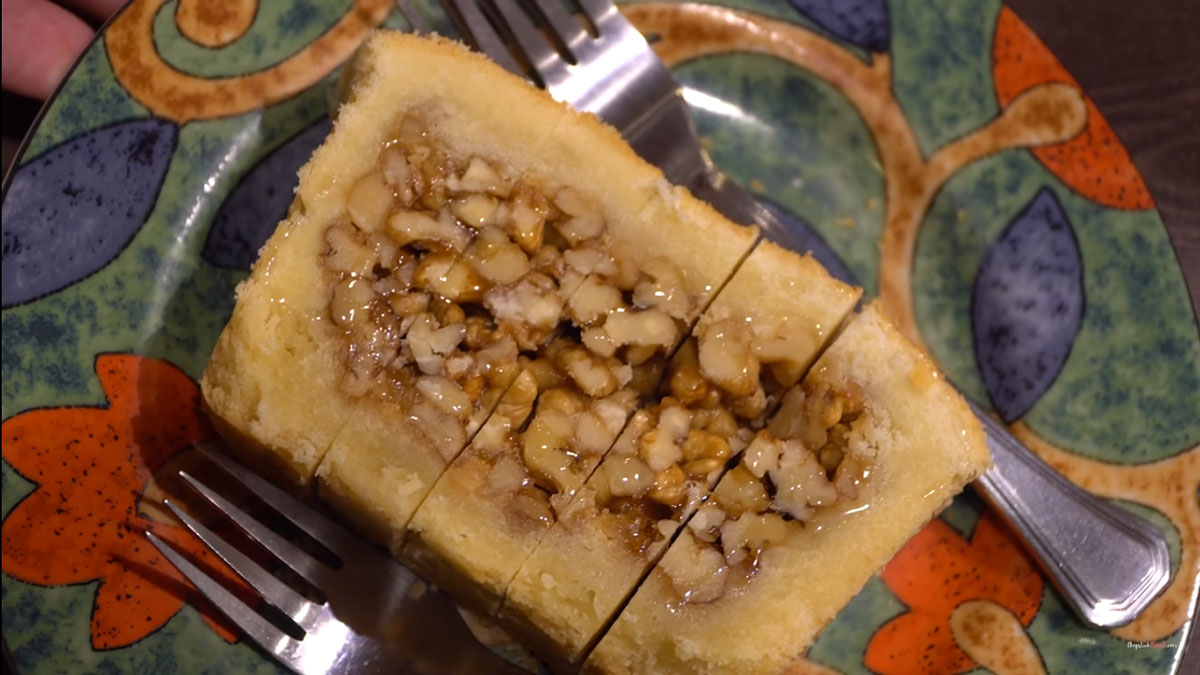 With the local tea, Luke's wife gets a walnuts cake from a local bakery and describe what it is made with and how it tastes. Usually, cakes are topped with different kinds of dry fruits. But in Walnuts Cake, you can get a bunch of walnuts at the centre of the cake. The sides of this fantastic cake are covered with some crunchy and soft white material. A reasonable amount of organic honey pours on the walnuts cake for sweetness.
Dinner With Traditional Hunza Style Cuisine:
After taking some snacks, they go to a local restaurant to taking their dinner. Luke looked very excited before going to the restaurant, and they ordered the following dishes.
Dao Dao Soup:
The Dao Dao soup is a locally made noodles soup in Hunza valley, Pakistan. This soup is very famous in the Pakistani Food cuisine of Hunza. However, almost every household and restaurant are used to cooking this fantastic soup. Organic homemade nuddles, some meat of yoke, and water are the main ingredients of Dao Dao soup. This soup is awesome in taste, and its aroma and appealing look makes you more hungry. The soup is salty, the yoke meat is tender, and the noodles are excellent. That will surely warm you up!
Choggar Molleda: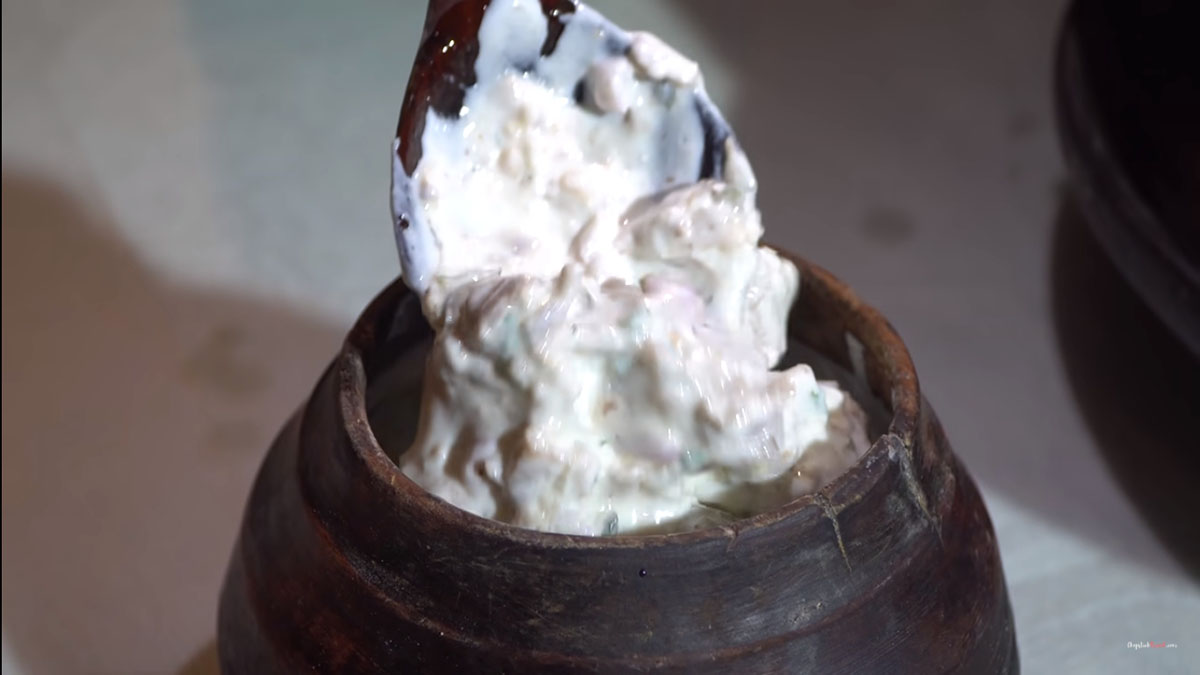 The Choggar Molleda is like Dahi Bhally but in Hunza style. Crushed Rotties mixed some yoghurt, mint, and some organic since are added to make this dish. Further, some cream is also added to make it creamy. The Choggar Molleda is a pretty unique dish, and I cannot tell you exactly what's it taste like because I haven't tried it yet! 
Samik Alu: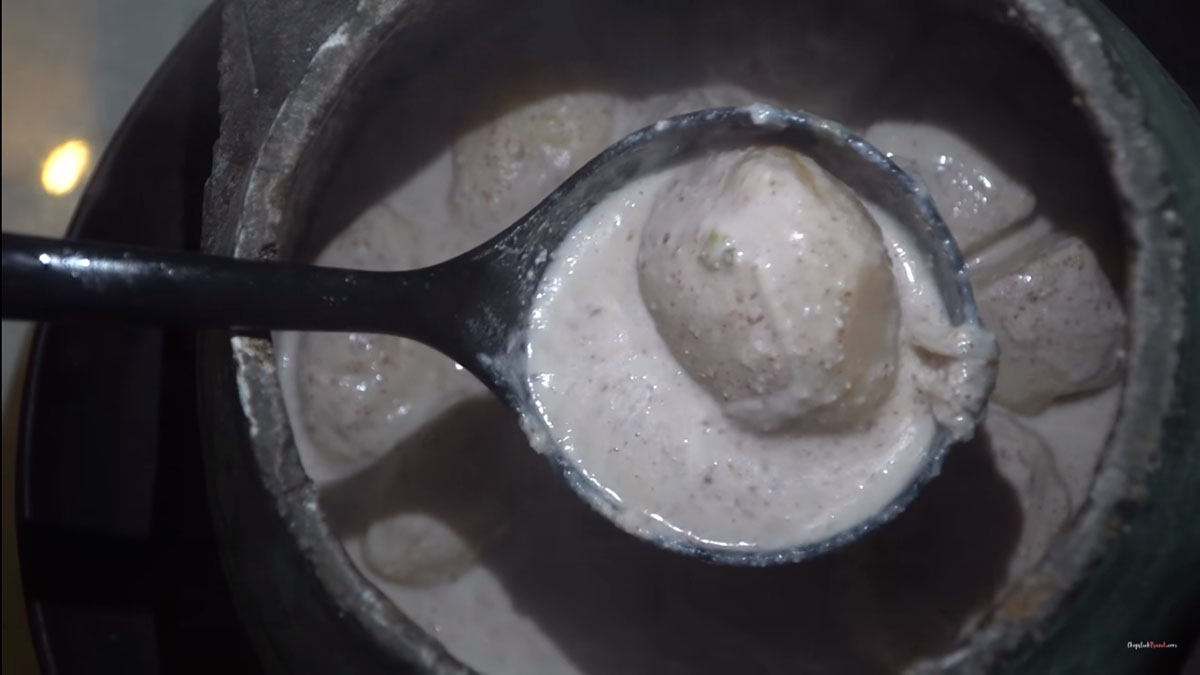 The Samik Alu was the third dish they ordered as its name shows that Alus (Potatoes) are one of its ingredients. Samik Alu is a dish cooked with potatoes with the curry of Apricot Seeds. This dish is also cooked in Goorkhen, the big one. You may have noticed that almost every plate of Pakistani foods in Hunza has some dry fruits. That's the uniqueness of Hunza cuisine. However, Samik Alu's taste is not so solid or heavy, but it will surely please your taste buds once you eat it.