Luke Damant is 20 years old YouTube vlogger from Sydney, Australia. He has visited 15 countries throughout his lifetime. There is several YouTube vlogger who explores the culture and tradition of Pakistan. Luke Damant is one of them. He made a decision 12 months ago to travel full time. Then he made a YouTube channel and monetized his passion through vlogging his adventures. He currently has almost 400k subscribers on his YouTube channel and his Instagram account.
Luke Damant has always been a hard worker from a young age. When he was 17, he worked as an entrepreneur sailing second-hand items on eBay and running a delivery business on weekends. He used to work and get the money during his spare time while his peers were busy engaging in social activities. Then he decided to explore the world and cash his passion through monetization.
Luke Visit to Pakistan:
Luke Damant got his bag packed to Pakistan in April 2021, and he started his journey from Karachi, the biggest city and economic hub of Pakistan. He posted his first vlog of Pakistan on the 3rd of April 2021. He said in his video that he planned to reach Islamabad first, but due to some immigration protocols, he had to land at Karachi airport. So that is why he started his journey from Karachi.
He said he saw many prominent YouTube vloggers who explored Pakistan. Their excellent exploration and rich Pakistani culture made his visit too. The second reason he came to Pakistan was traditional Pakistani food. Eventually, his decision returns more than his expectations, and he finds Pakistan a great country. Its people are so kind, and he makes lots of friends here. Its cuisine is amazingly yummy and unforgettable. Its rich culture varies from one part of the country to the other, which is, according to him, is a fantastic adventure.
Luke About Pakistani food: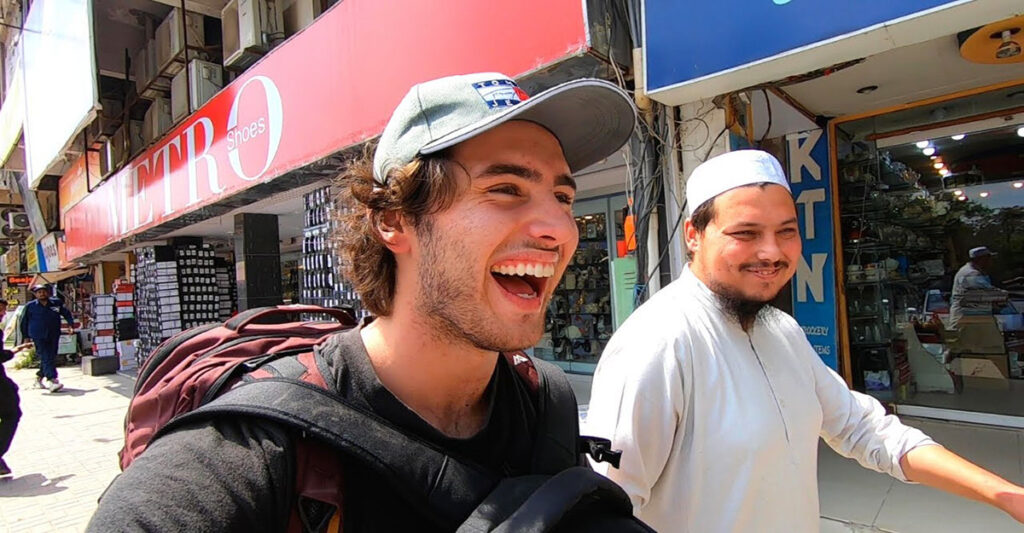 Luke visits many parts of the country and taste many kinds of foods. From Karachi to up north and south-east to Lahore, he explores many things about traditional food, especially Pakistani street food. I have mentioned many dishes that Luke had tasted during his visit to Pakistan and given his reviews.
As I mentioned in the introductory part that Luke starts his journey from Karachi; that's why he starts his food journey from there too. So, you can find Luke searching for Cheese Paratha from his videos. He loves Pakistani cheese paratha. You may have heard before that what Pakistani Traditional paratha is? If you are not and like to explore exciting things about traditional paratha, you can get all this information from Pakistanifoodbox.
However, cheese paratha is one type of traditional Pakistani paratha. It is made with flour, maida, oil and filled with a massive cheese. It is all-time favourite paratha for cheese lovers, especially for kids. Luke tasted cheese paratha many times in his visit, and when he was in Islamabad, he made paratha by himself. His reviews on cheese paratha are that it's his all-time favourite paratha. He will never forget its aromatic taste ever; it's so yummy and delicious.
Chicken Biryani: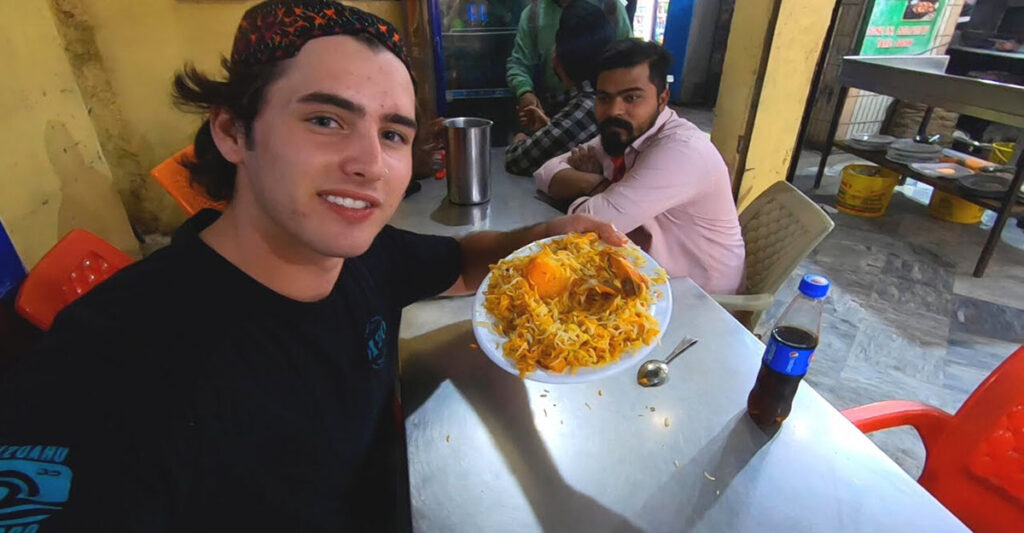 Information and an authentic recipe for chicken biryani are already here on this site. You may find it in its particular article. However, Luke eats biryani 2 to 3 times during his visit. All are good, but Karachi biryani is the most prominent one. He took his Karachi biryani from a local food street in Karachi. It took him to search for 2 to 3 hours for the traditional Karachi biryani. And when he takes the first spoon of biryani, he said WAOO! It's so spicy and tasty. He never had a bowl of rice like this before. Chicken is so juicy and rich in taste. Guys, this biryani is fantastic; you must have tasted it. It will give your taste buds an amazing experience too. These are the words that Luke said after having biryani.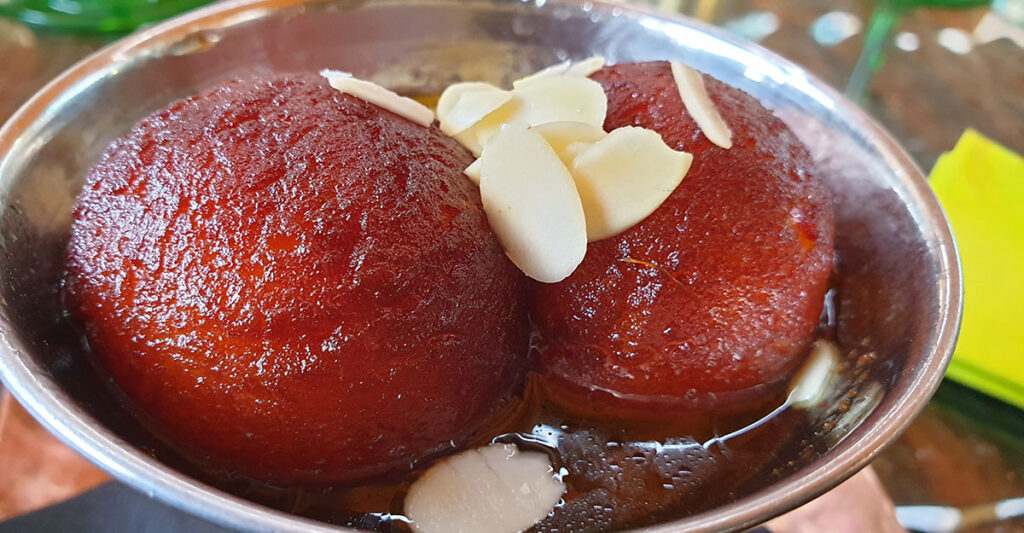 Gulab Jaman is a famous sweet dish in traditional Pakistani foods. These are lovely, small-sized balls made with milk solids, flour, and leaving agents. Gulab Jaman is soaked in sugar syrup, enhancing its taste to another level. I wish I could eat Gulab Jaman right now because my mouth is watering while writing about Gulab Jaman. Its flavours are yummy and unique, and hot Rose flavour sugar syrup makes those balls amazingly yummy. Luke tasted Gulab Jaman from road style stall in Islamabad. He never knew before what these brownish balls called; it's a new dish for him. He gets 2 Gulab Jaman and takes his first bite. Alas! I don't know how to explain his feelings. He just said by closing his eyes, ' YUMM' THIS IS SO JUICY AND YUMMY!
Chicken Jam Sticks: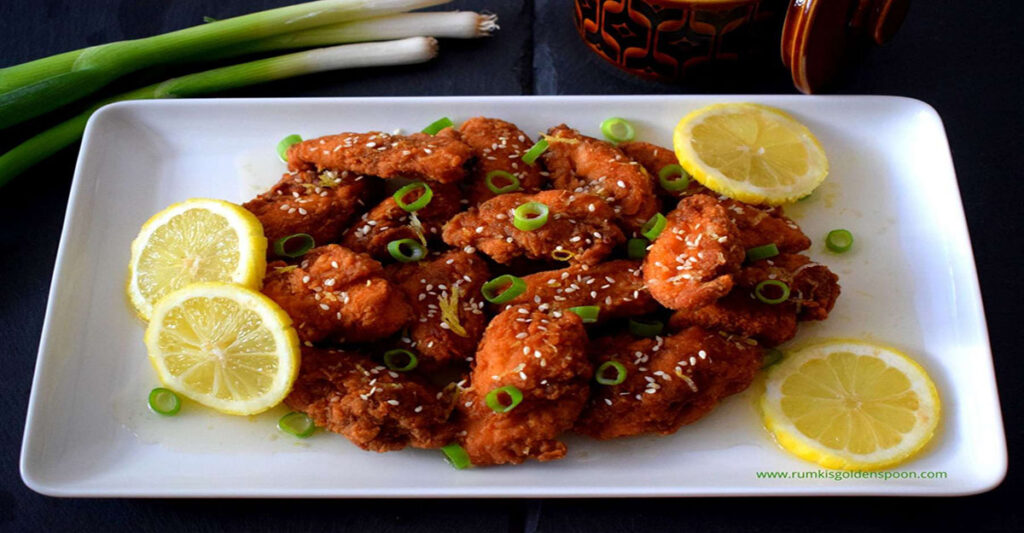 Along with traditional desi food, Luke also have experience with some sumptuous dishes from luxury hotels. He went to Sarina Islamabad, one of the most luxurious hotels in Pakistan. He gets some food in which he ordered Chicken Jam Sticks. It's not a traditional or desi dish; it's a continental dish of Pakistani cuisine. He liked chicken jam sticks very much and said it's so crispy and juicy. "I never had this kind of Jam sticks before".
Eventually, he fell in LOVE with Pakistani food, and Pakistani food is the central part of his visit. Along with the above dishes Luke taste many other traditional dishes like Kabab Paratha, Alo Bhughe, Chicken Nuggets, Chips, Dhagha Kabab, and Fried Kabab, Beef Kabab, Chicken Shawarma. And he also drinks some of the traditional drinks of Pakistani cuisine like Lemon Soda, Chai, Mint Margarita, Pineapple Margarita, Orang Margarita, Pink Tea and many more.