The food Ranger is a prominent YouTube Channel relating to traditional food worldwide. His founder Trevor James describes himself on his YouTube description as;
"My name is Trevor James, and I live to eat and travel. I live for street food and local food; I am travelling to taste it and a hungry traveller."
These few lines show James' passion for food and travelling. If you get a chance to visit his YouTube channel, then I assure you that you'll understand what he means by his words. You can see traditional food dishes everywhere in his videos. Trevor has 5.17M, active subscribers on his YouTube channel. Before getting you to deep dive in the ford ranger's visit to Pakistan. I want to tell you that if you Love Pakistan street food, then you must visit his YouTube channel, the ford ranger.
The Food Ranger in Pakistan
The world-famous vlogger visited Pakistan in the middle months of the year 2019. He explores Pakistani street food explicitly during his visit. He describes his feeling about Pakistan and its cuisine in some kind words as;
"Pakistan is a beautiful country, and I am excited to visit the country and explore the sights and sounds of its vibrant and resilient cities. Pakistani are known for their love of food, large-heartedness, and generosity. During my one-month trip to the country, I would have a chance to discover its cuisine's richness and amazing power."
It would not be wrong to say that Trevor explores every street famous for its food. He went to all the big cities of Pakistan, including Karachi, Peshawar, Quetta, and Lahore. His enthusiasm shows that he tried his best to cover every dish of this cuisine. Now it's time to move toward the great Heaven of food and aroma. Alas! I know it sounds a little crazy. But I dare you will feel that too while you go through Trevor's journey by this blog.
HOW THE FOOD RANGER EXPLORE PAKISTANI STREET FOOD IS AMAZING; TWEET THIS?
Street food of Karachi
I'll take you on this journey differently this time because there is a long list of food that Trevor eats in Pakistan. So, I mention a city and then go with its food respectively. First of all, the food ranger explored the traditional food in the streets of Karachi. He tried many dishes and gave every word a ranking between 1 to 10. In his first video, he let us through the ultimate street burgers of Karachi, including Andy Shame Wala burger, Angry burger, the super nursery burger, and the Chapple kabab burger. These burgers are so yummy and spicy. After having the most famous burger in Karachi, he said, 'it's been a dream to come here in Pakistan and eat street food like this.
Next, he explored some other street food and Seafood in Karachi. He ate the famous Karachi Biryani, Mutton Sejji, Chicken Sejji, and some seafood. In Sea Food, he got Crab Lollipop, Red Snapper, Lobster, Crab Cutlets, Pron's Curry, and Grilled Tiger Pron. All this Seafood was prepared in traditional Pakistani style and with desi Masalas. Trevor said this was the best seafood meal that he had ever eaten. After eating the incredibly delicious red snapper with the sweet, sour, and spicy tamarind souse, he feels blessed in Pakistan.   
Street food of Quetta
Quetta is the capital city of Baluchistan, and it's very famous for its meat dishes. That is why it's is also known as the Heaven of the meat because you find the heart in almost every word of Baluchistan's Street food. However, the food ranger got many meat dishes from Quetta, which I'll soon mention on this blogging site. Here I say one of these. Fried beef heart, Balochi Rosh, Tender Lamb meat, Balochi Sajji with stuffed rice is some of the dishes that Trevor tasted from the street food of Quetta. Wow, that is exceptionally tender and just lightly spiced and lightly salted, and that is incredibly delicious; this is Baluchistan style. These are some words of Trevor after having Baluchistan Street food.
Street food of Peshawar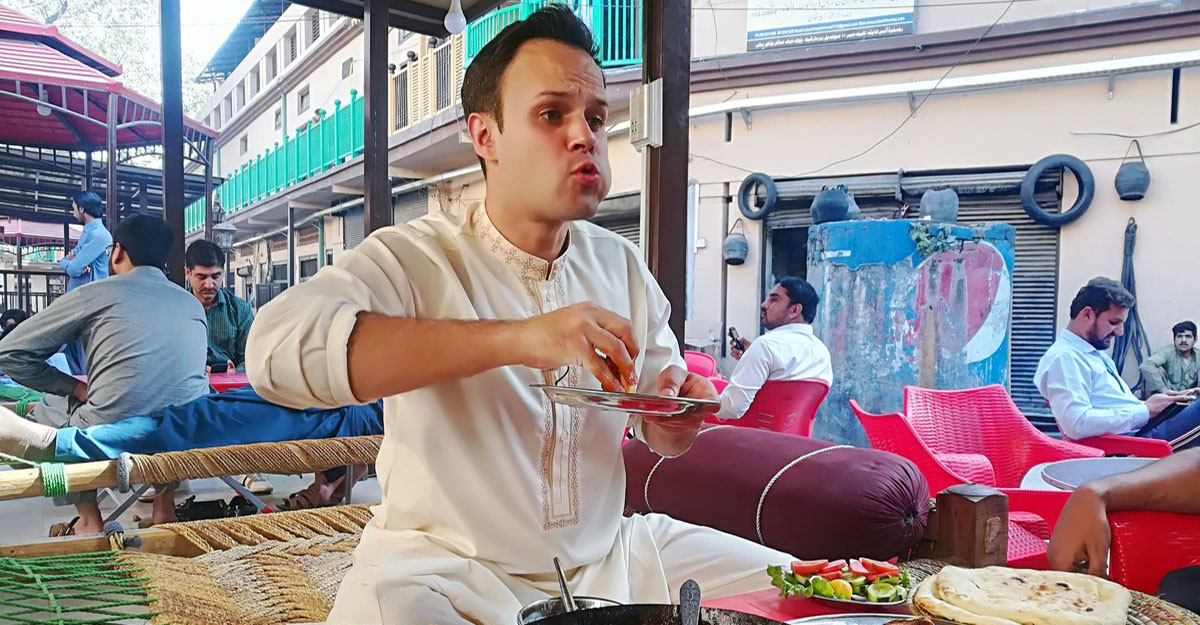 Peshawar is the capital city of KPK, and I have mentioned many times somewhere on this site that Peshawar is a famous city because of its long history and food. This city has rich street food cuisine, and Trevor explores many of them while he visits Peshawar. Kadi Kabab, Peshawari Channa, Beef Paya, Pilau Rice with Beef Bone, Shanwari Pilau, Kabli Pilau, and Peshawari Grilled Fish. I'll give you all the recipes for this street food soon. However, Trevor said that is the most fantastic trip of his life; he feels blessed and amazed to be in Peshawar. All the street food dishes are so yummy and aromatic. Many famous vloggers said that Pakistan is worth visiting just for street food, including Trevor James.
Summary
James, who owns one of the most famous YouTube Channels relating to food, visits many countries and regions just to explore the food. Pakistan is one of his best destinations regarding street food. He enjoyed it a lot during his visit and explored many desi dishes from this cuisine. Even though I'm a local Pakistan, Trevor's journey introduced me to so many new dishes of Pakistan, especially the Baluchistan cuisine. However, I explored many places and dishes, so it's pretty difficult to mention all the dishes and their recipes in one article. But don't worry, Pakistnifoodbox will give you authentic recipes of all the dishes with exciting stories. Happy reading!