Luke Martin was born in April 1994, and he is a YouTuber. He runs a channel titled LUKE MARTIN, with more than a million active subscribers. His YouTube channel is about Food reviews of different cuisines. Luke also is the founder of the blog Chopstick Travel. Sabrina Davidson is his wife and class fellow. They both run that YouTube channel and travel all around the world. After completing their studies, they start teaching English, but their fame is due to YouTube. However, they visited many parts of the world and explored varieties of food cuisine. Street Foods of Taiwan, Japan, and Iceland is the start of Luke Martin's fame on YouTube. After that, they start exploring different kinds of street food from other continents.
Street Food of Pakistan and Luke Martin: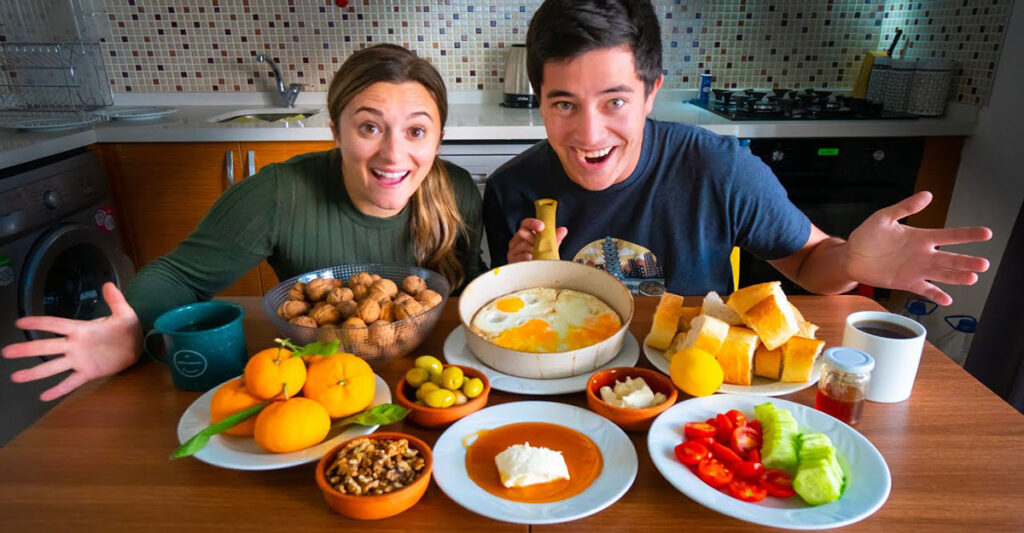 Martin and his wife Sabrina visited Pakistan at the end of 2019. Their nine days visit is full of adventures and delicious Pakistani street food. They say in a YouTube video that the trip to Pakistan is a life-changing trip for them. It was a tremendous experience for him, and they loved to be here in Pakistan. The people of Pakistan are very welcoming and massive.
This country has a rich culture, and there is a nonstop adventure from start to end. However, they get their bag packed to six prominent cities of Pakistan. Start with ancient Lahore, followed by Gujranwala, Islamabad, Peshawar, Multan, and the economic hub of Pakistan Karachi. Luke Martin and his wife spend almost ten days here in Pakistan and eat many street food dishes from different cities and cultures. By concluding their view about Pakistan, they say;
The trip to Pakistan is a life-changing trip for us. Pakistan is a country that has beautiful traditions and cultures. And the people of this country are so lovely and kind. Food, Yam! It is so delicious and unique.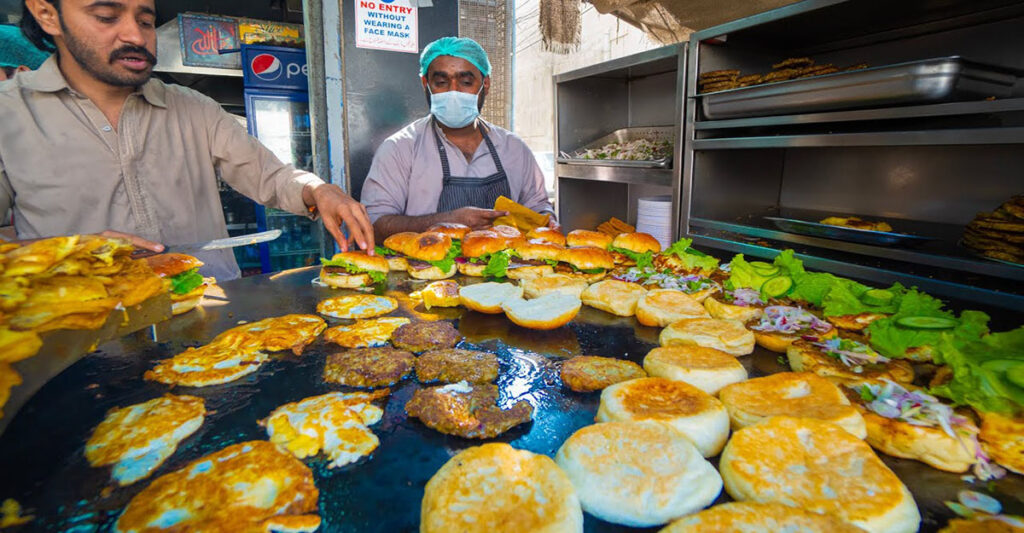 As I said above, Luke and Sabrina start their journey from Lahore, precisely from Lahori Street foods. The first expression of Pakistani street food was unique for them, and they looked very excited to explore more Pakistani street foods. However, they eat so many dishes during their visit and according to the pattern I have mentioned almost all the words below. Some of these dishes are very famous and unique. It is unique in the sense that Pakistanifoodbox does not explain to its beloved reader yet. So, after mentioning the words in the coming part, I'll give you fantastic information about that particular dish. Happy Reading!
Dishes that gave a fantastic aroma to the taste buds of Martin and Sabrine are; Halwa Puri, Mutton Payas, Biryani, Chicken Tikka Tawa, Anda Channy, Nehari, Fish Fry (Bashir Hotel), Gulab Jaman, Mutton Karahi, Kajrella (Butt Sweets), Egg Paratha, Chicken Seikhe, Mutton Champ, chicken tikka, Chirra and Batair Tikka, Hareesa, Kashmiri chai, Makai ki Rotti with Saag, Chicken Paratha, Chappali Kabab, Peshawari Pulao, Nisar Charsi Tikka, Mutton Champ Tikka, Peshwari Karahi, Sohan Halwa, Pakistani Barfi, Multani Ice cream, Dhaga  Kabab, Chicken Sijji, Mutton Lamb, Rubber, Karachi Biryani, Street Burger, Gool Ghappy, Fire Pan, Irani Kabab, Katakat, Makhni Handi.
Reviews about all the above dishes are excellent and full of enthusiasm. Some of them are mentioned below;
Halwa Puri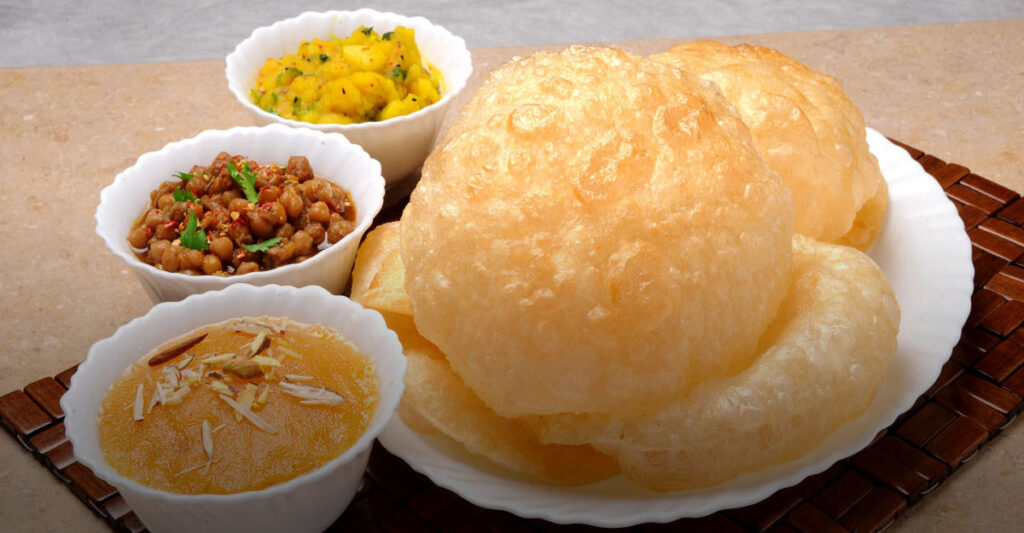 If you stayed in Lahore for some time and you did not get breakfast from Lahori Street foods, then trust me, you can miss a fantastic opportunity. Ancient Lahore is very famous for its street foods, and Martins start their food journey from Lahori Halwa Puri. Halwa Puri is the favourite and most consumed breakfast in Lahore. This dish is a combination of Suji Halwa and Puri. Poori is a flaky deep-fried, soft flatbread made with whole wheat flour and all-purpose flour. And Halwa is a sweet dish made with Suji (granulated wheat). This is much more than the plater of delicious breakfast. Halwa Poori is a cham of Pakistani breakfast cuisine.
Luke and Sabrina got their breakfast from one of the most famous Poori House in Lahore. When Sabrina took her first bite of flaky soft poori and deep it into sweet Suji Halwa, she loved the taste and softness of halwa poori. She said its taste is so unique and crazily delicious. On the other hand, Luke's views about Halwa Poori are also the same as Sabrina's; he also falls in love with the taste of Pakistani Halwa Pori.
Chicken Tikka Tawa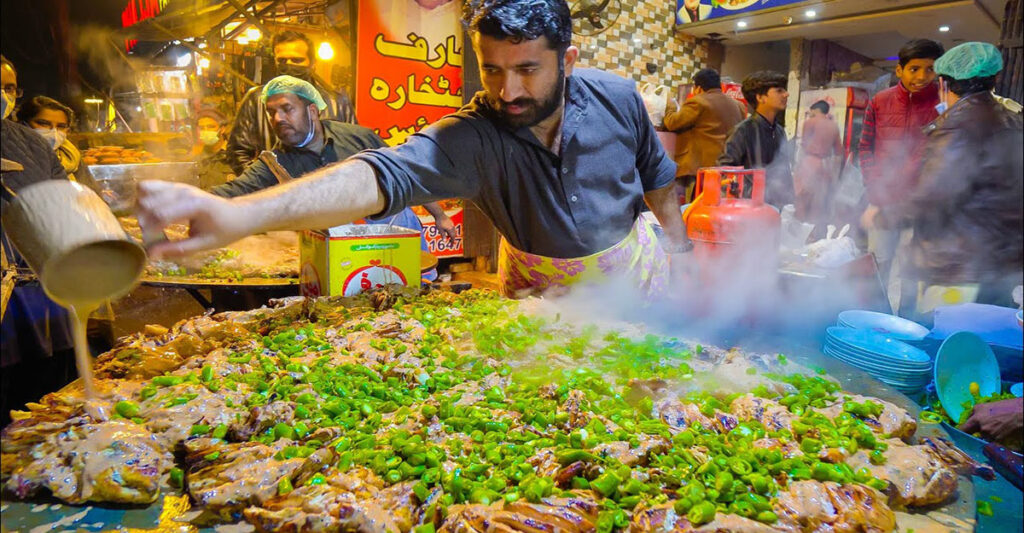 You may have heard about chicken tikka, which is chicken cooked on coal with rich spices. But Chicken Tikka Tawa is way different from chicken tikka. Making chicken tikka Tawa is very different from ordinary chicken tikka. Chicken Tikka Tawa is named after the big flat disk shape pan on which big chicken pieces marinated with rich masala are cooked. That's the beauty of Lahori Street foods that they invented so many new dishes of Pakistani Cuisine. I'll let you know the recipe for chicken tikka Tawa somewhere else on this blogging site.
However, Luke and Sabrina got chicken tikka Tawa as their lunch meal. They were so hungry and wanted the best dish. When he found Chicken tikka Tawa Luke, its aromatic smell and appealing look attracted me; 'I want to taste that'. Eventually, when they started eating tikka, Tawa Luke said that this is a perfect chicken dish and its meat is crispy and crunchy. Every bite gives a unique and different taste; sometimes it's full of spicy, and sometimes it gives me a taste of lemon. AMMM! I would go from now to this one of my favourite dishes that I have ever tasted.
Chirra Batair Tikka
Chock-sparrow (Chira) and Quail (Batair) are birds. There are many ways in Pakistan in which Schirra and Batair are cooked. But cooking them in BBQ style is the most prominent way. Gujranwala is very famous for this kind of dish. In every food street of Gujranwala, you have found Chira and Batiar dishes. This is the delicacy of Gujranwala. However, when Luke and Sabrine visited this city, they were already very excited to have Chira and Batair dishes because they had heard about it before. They went to the old street food of Gujranwala and ordered a platter of Chirra and Batair Tikka. And their views after having this dish are positive and satisfactory. Luke said, this meat is so yummy and delicious; I have never eaten such kind of meat before, but it's fantastic, ten on 10 for Chira and Batair Tikka.