Bombay Biryani is named after the biggest city of India which is currently known as Mumbai. Mumbai is the biggest city in India same as Karachi in Pakistan. Although India and Pakistan are major rivals to each other they also have many similarities in their food cuisines. Like Hyderabadi Biryani is very famous on both sides because each country has a city name Hyderabad. In fact, there is a state in India named Hyderabad. Similarly, Bombay biryani is also very famous on each side. And here in Pakistani cuisine Bombay biryani has a huge fan following. However, people who do not like spicy biryani would like to add this biryani to their party or celebrations' menu because it's a little bit sweeter in taste. Along with Karachi biryani, you guys also found out Bombay biryani in Pakistani street foods if you get a visit. The coming part of this blog will get you amazing facts about Bombay biryani as well as its recipe and taste.
SPECIAL RECIPE OF BOMBAY BIRYANI-SHARE IT?
Taste of Bombay Biryani:
I have mentioned a little clue above that this biryani is a little bit sweeter in taste. However, here I'm going to reveal the reason that why this Biryani has a sweet taste. The reason is in this biryani Recipe Plums and sweet potatoes are its major ingredients that is why this biryani is less spicy or sweeter in taste. I have already mentioned somewhere on this blogging site that Karachi Biryani and Sindhi Biryani are some of the spiciest biryanis in the world. Therefore, people, who don't like spices prefer Bombay biryani which is very aromatic and yummy in taste.
Recipe of Bombay Biryani: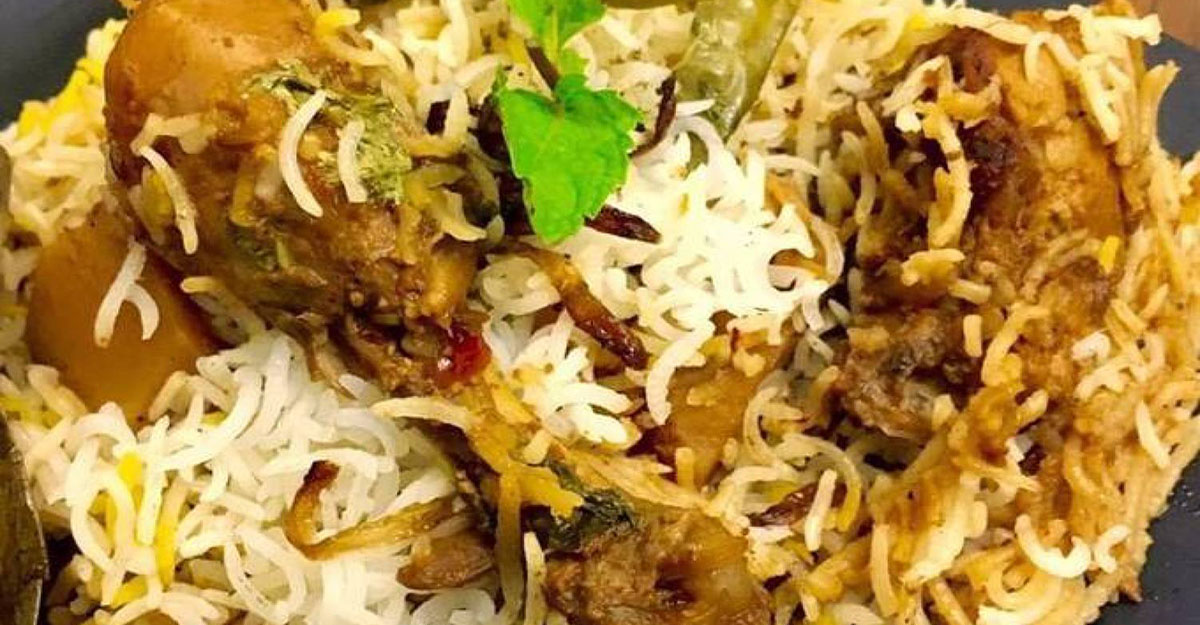 The recipe of Bombay biryani is way similar to the recipe of Karachi biryani with a few variations. Perhaps you may find similarities in their ingredients too. But don't panic, there are lots of different ins in their cooking process. However, for the best Bombay biryani follow the given instructions in the recipe card. Do not worry my recipe for this biryani is very simple and authentic.
Major ingredients for Bombay Biryani:
Bombay Biryani Special Recipe
May 8, 2021
: 3
: 40 min
: 1 hr
: 1 hr 40 min
: Medium Difficulty Level
Bombay Biryani is one of the famous biryani in the world. Many people from Pakistan as well as from India love to cook this type of biryani to celebrate their happiness. However, to enhance their happiness and give it an extra boom I'm going to give you an authentic and very simple recipe of yummy Bombay biryani. You can easily cook this biryani by the given step by step instructions. Happy cooking!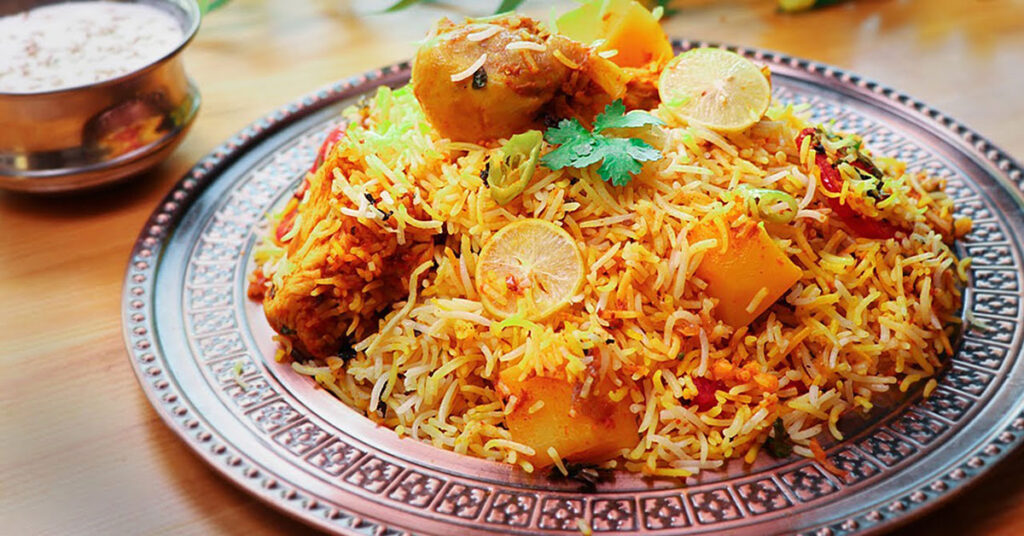 Ingredients
1 kg Basmati Rice
1 kg Chicken
4 large Potatoes
Four Lemons
4 Cloves
6 Green Chillies
4 Onions
6 Green cardamoms
Six-Black Cardamom
6 Chopped tomatoes
1 cup Dried plums
One cup Hot milk
1 cup Oil
one Cup Yogurt
1 Bunch of Mint leaves
1 ½ tsp Ginger-garlic paste
2 tbsp coriander powder
¼ tsp Yellow colour
1 tbsp Chilli powder
1 tsp Cumin seeds
Salt (To Taste)
Directions
Step 1

Wash chicken carefully.

Step 2

Then, marinate Chicken with 1 cup of yoghurt and 1 ½ tbsp ginger-garlic paste.

Step 3

Add 2 tbsp coriander.

Step 4

Add 1 tbsp chilli powder.

Step 5

Then add lemon juice, mint leaves, green chillies, plum.

Step 6

Add salt and set aside for 30 minutes.

Step 7

Turn on the flame and heat oil in a cooking pan.

Step 8

Add onion and fry until it changes colour.

Step 9

Separate half of fried onions.

Step 10

Then, add marinated chicken into the cooking pan.

Step 11

Cook until the water dried.

Step 12

Separately, boil potatoes in steam.

Step 13

Then cut each potato into 4 pieces and fry in oil.

Step 14

Also cut tomatoes in the same manner.

Step 15

Fry tomatoes and mix them with fried potatoes.

Step 16

Add that mixture into the Cchickenmixture.

Step 17

Then boil basmati rice with mint leaves, green chillies, and black peppers.

Step 18

Add cloves, salt, and water as required.

Step 19

Then, out water and keep aside.

Step 20

Take another pan and make a layer of boiled rice.

Step 21

Add a layer of chicken gravy.

Step 22

Again, top with remaining rice.

Step 23

Then, sprinkle the left-over fried onions.

Step 24

Add yellow food colour and hot milk.

Step 25

Add lemon juice and simmer for 10 minutes.

Step 26

Yum! Your Bombay Biryani is ready, serve hot.
Credit: Masala TV @Channel