Introducing the tantalizing Sindhi Biryani, a flavorful biryani variety originating from the Sindh province of Pakistan. Sindh is renowned for its vibrant and spicy cuisine, offering a plethora of fiery dishes that make our spicy box truly exceptional. Among them, Sindhi Biryani stands tall as a pride of Pakistani biryani cuisine, captivating taste buds with its exotic flavors and delightful essence. This biryani has left a lasting impression on countless national and international visitors who have had the pleasure of experiencing the flavors of Sindh. Discover their cherished memories and insightful reviews about Sindhi Biryani right here on our blogging site. Prepare yourself for an aromatic journey into the heart of Sindh's culinary heritage through the remarkable Sindhi Biryani.
Taste of Sindhi Biryani:
As far as its taste is concern this biryani has its own unique taste and aroma. It is treasure of Pakistani cuisine because of its delicious taste. Traditional Sindhi biryani masala enhances its taste to another level. Similarly, Pakistani basmati Rice gives this biryani an appealing look and juicy taste. My recipe of this biryani is official and authentic street food recipe.
SINDHI BIRYANI RECIPE AND AMAZING FACTS ABOUR SINDHI BIRYANI–TWEET THIS?
Recipe of Sindhi Biryani: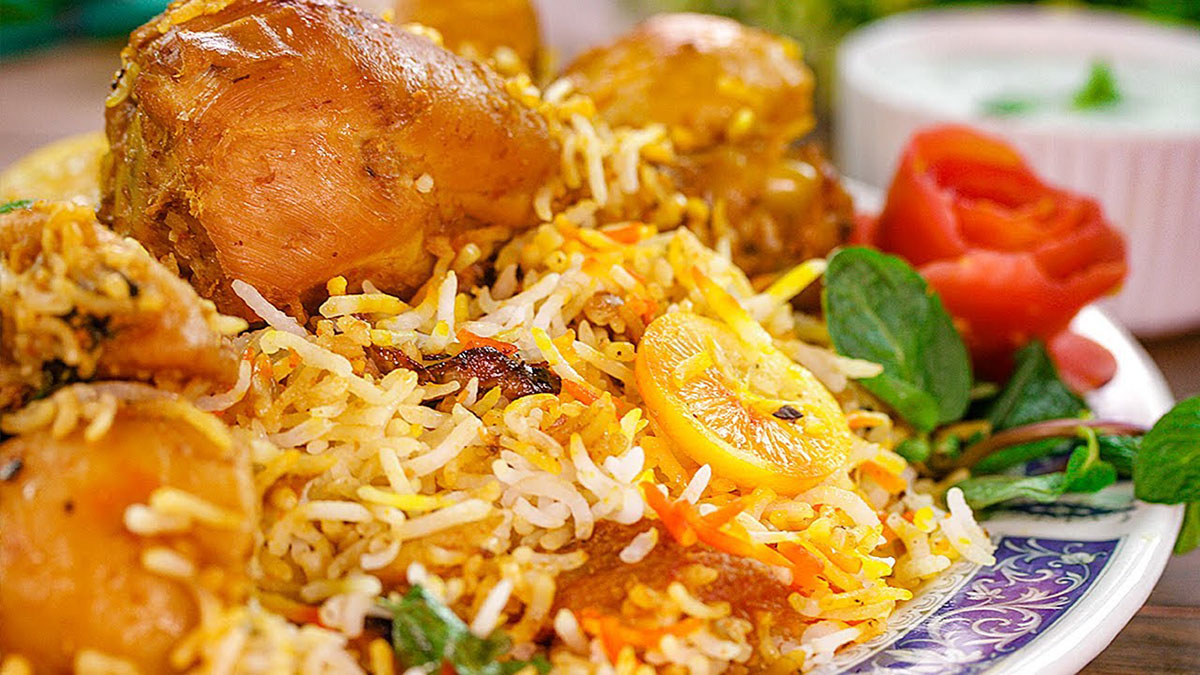 In Pakistani cuisine, there are lots of ways of making sindhi biryani. Its really hard to find an authentic Biryani recipe through a web search result. But you don't have to worry about that in this article you can get a traditional Pakistani biryani recipe. It's very easy to cook even that non-professional cook can make this with in no time. All you need to do is just follow the given instructions carefully. For this biryani you need Basmati rice, fresh large pieces of meat, spices, and to some extent fresh vegetables. Pakistanifoodbox also provide you authentic amazon links for the needed ingredients that you can easily purchase. Happy shopping!
Major ingredients For Sindhi Biryani:
Sindhi Biryani Recipe
May 7, 2021
: 3
: 40 min
: 1 hr
: 1 hr 40 min
: Medium Difficulty Level
My sindhi biryani recipe is very easy to cook and less time consuming. For best taste you must boil Pakistani basmati rice separately and make masala of onions, tomatoes, and other in a separate cooking pot. Then add chicken into that masala and cook gently. After all this add boiled rice or half cooked rice into that pot and give it a dum. However, in this recipe card you can get detail instructions for Sindhi Biryani.
Ingredients
½ cup oil
3 medium size onions
1 tbsp ginger-garlic paste
½ kg chicken
9-10 whole black peppers
1-star anise
2 cinnamon sticks
4-5 cloves
one black cardamom
1 tsp cumin seeds
1 ½ tsp red chilli powder
½ tsp turmeric powder
one tsp garam masala
1 tsp cumin powder
one tsp coriander powder
1 ½ tsp salt
1 bay leaf
¾ cup yogurt
3 medium size tomatoes
4-5 green chillies
5-6 plums
Handful green coriander
Handful mint leaves
2 tbsp lemon juice
½ kg Basmati Rice
2-3 boiled potatoes
Fried onions
2 tbsp Lemon juice
Remaining cooked rice
1-2 tbsp water
½ tsp yellow food colour
Fried onions
1 tbsp oil
Directions
Step 1

Fry onions in a pot until golden brown

Step 2

Set aside half quantity of fried onions

Step 3

In remaining onions add ginger-garlic paste and mix well

Step 4

Add chicken and cook until chicken changes colour

Step 5

Then add black peppers, star anise, cloves, cinnamon sticks, and black cardamom

Step 6

Add green cardamom, cumin seeds, red chillies, turmeric powder, garam masala, cumin powder, coriander powder, salt, bay leaf, and yogurt

Step 7

Mix well and cook for 5 minutes on low flame

Step 8

Then add tomatoes

Step 9

Add green chillies, plums, green coriander

Step 10

Add mint leaves and stir well

Step 11

Cook with led for 7-8 minutes on a medium flame

Step 12

Lastly, set aside half amount of cooked chicken with gravy

Step 13

Add lemon juice cooked rice boiled potatoes in the remining half

Step 14

Add remaining cooked chicken and gravy

Step 15

Add fried onions, lemon juice

Step 16

Add remaining cooked rice

Step 17

Add water and yellow food colour

Step 18

Add fired onions and oil

Step 19

Cover the pot and steam cook for 10 minutes

Step 20

Your Sindhi Biryani is Ready to serve
Credit: Food Fusion YouTube Channel