There are various styles of cooking biryani(Pakistani rice). However, most of its kinds have the same elements of rice and meat. Masala Karachi Biryani is one of the top delicacies of Karachi, Pakistan. This biryani has an extreme level of fan following all over the world. Karachi Biryani cooked with marinated chicken and boiled rice in a sealed 'handi' or pot.
Basically, biryani has many types which can be cook in different ways. I already mentioned all the biryani kinds as Afghani biryani, chicken tikka biryani, Mughlai biryani, chicken masala biryani, Sindhi biryani, and Bombay biryani. 
Taste of Masala Karachi Biryani: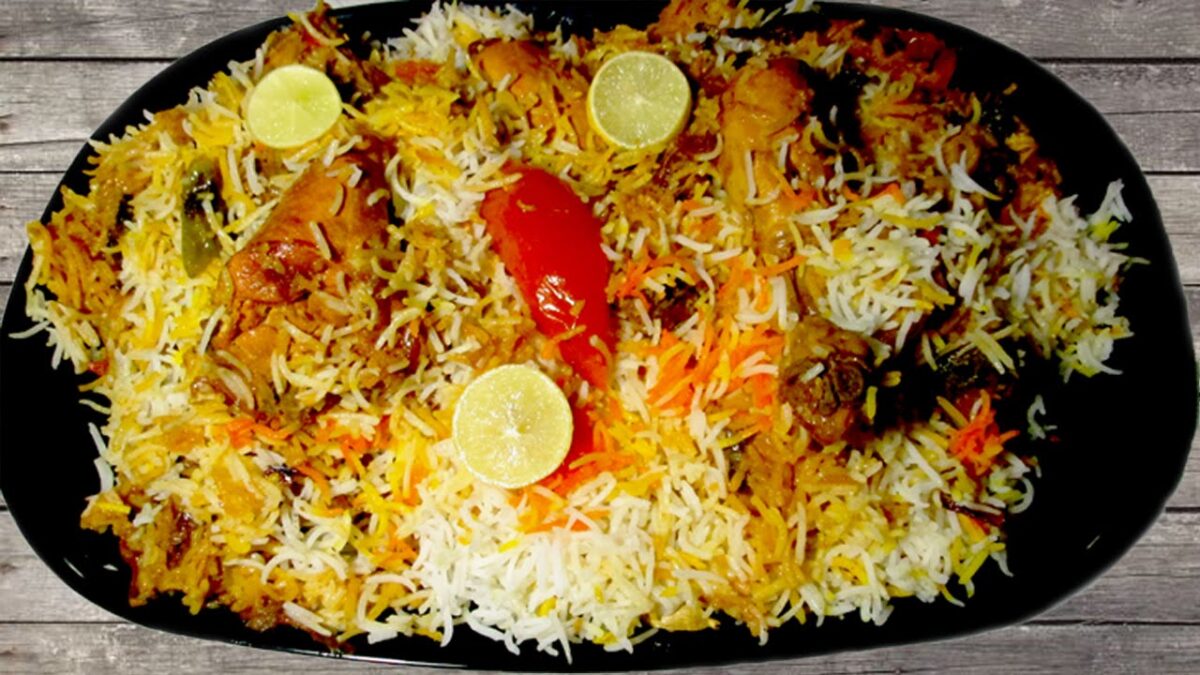 Karachi is the most populated city in Pakistan. There are lots of variations in cultures and traditions among the locals. That is why Karachi cuisine is one the famous and biggest cuisine of Pakistan. And people of Karachi like more spicy food. That is masala Karachi biryani(Pakistani rice) is one of the spiciest dishes of Karachi. This dish is made in pure traditional masalas that is why it tastes like hot chillies. However, people who belong to other cities are not used to eat many species therefore they find their own way of cooking biryani with less spicy. I also belong to the South of Punjab therefore my recipe for Karachi biryani is less spicy than typical Karachi Biryani. Overall, Karachi biryani taste is very tasty and delicious. The aroma of this biryani is very unique and its look is so appealing that you can never resist it.  
THE BEST RECIPE OF KARACHI BIRYANI THAT YOU EVER EAT-TWEET THIS?
Major ingredients(Pakistani rice):
Rice (make sure you use Pakistani Basmati rice)
Karachi Biryani Recipe
May 6, 2021
: 4
: 40 min
: 50 min
: 1 hr 30 min
: Medium Difficulty Level
Karachi Biryani or Masala Karachi Biryani is world famous rice dish. Every visitor who visited Pakistan in his/her life. He/she must have experience with Karachi Biryani. This article provides you with an authentic and easy made recipe for Karachi Biryani. Following are the ingredients and step by step instructions of Karachi biryani. Cook this at you home and enjoy eating it with your beloved one.
Ingredients
500g Basmati Rice
Water as required
1 tbsp salt
3 tbsp vinegar (sirka)
2 tbsp cooking oil
6-7 green chillies
1 inch peace ginger
7 to 8 cloves garlic
½ cup cooking oil
½ tsp cumin seeds
1 black cardamom
1 star anise
2 cinnamon sticks
2-3 cloves
½ tbsp black pepper (Whole)
3 green cardamom
2 medium size sliced tomatoes
one and half tbsp salt or to taste
½ tbsp red chilli powder
½ tbsp turmeric powder
1 tbsp garam masala
1 chicken stock cube
250g potatoes
8-10 dried plums
¼ cup yogurt
3 tbsp lemon juice
1-2 tbsp fresh coriander chopped
1-2 tbsp mint leaves
½ kg chicken
½ tsp food colour
1 medium sliced tomato
3-4 lemon slices
4-5 green chillies
3 tbsp chopped mint leaves
¼ tsp mace powder
½ tsp roasted and fried cumin seeds
¼ tsp nutmeg powder
2 tbsp cooking oil
Directions
Step 1 Take a bowl add rice, water, and wash thoroughly
Step 2 Then soak for 20 minutes and site aside
Step 3 In boiling water add cooking oil, salt vinegar and stir well
Step 4 Now, add soaked rice and cook at least 10 minutes
Step 5 In a mixer, make ginger, garlic, and green chillies paste
Step 6 In cooking pot add cooking oil
Step 7 Add cumin seeds, black cardamom, star anise, cinnamon sticks, black pepper, cloves, tomatoes, chilli paste
Step 8 Add water and cook on low heat for 4 to 5 minutes with lid
Step 9 Add red chilli, salt, turmeric, garam masala, chicken stock cubes and stir well
Step 10 Add potatoes and cook on medium heat for 10 minutes with cover
Step 11 Add yogurt, lemon juice, dried plums and stir well
Step 12 Add mint leaves
Step 13 Add fresh coriander and mix well
Step 14 Then, add chicken and cook on high heat for 10 to 12 minutes
Step 15 Now mix food colour
Step 16 Add tomato and lemon slice
Step 17 Add green chilli and mint leaves
Step 18 Separately, take a bowl and add mace powder, cumin seeds, nutmeg powder and mix well
Step 19 In cooking pot, add half quantity of spice
Step 20 Add boiled rice
Step 21 Then add remaining half of spices
Step 22 Add cooking oil
Step 23 Cover the pot and steam cook on low heat for 15 minutes
Step 24 Your Masala Chicken Biryani is Ready
Step 25 Serve this biryani with raita and salad
Step 26 This recipe is for 5 to 6 servings
Credit: Food Fusion YouTube Channel