Pakistani Jalebi(Funnel Cake) is one of the famous and delicious sweet dishes, not only in Pakistan but also in many other regions of the world. It is a local sweet dish that is made with deep-fried Maida, giving it a distinctive circular shape and delightful crispiness. People thoroughly enjoy preparing and indulging in this prominent sweet dish. Additionally, jalebi can be served with milk, further enhancing its sweetness. In Pakistan, jalebi holds an essential place in various events and party celebrations, being a beloved part of the culinary culture. At Pakistanifoodbox, we provide an amazing and easy-to-follow jalebi recipe to our users, enabling them to recreate the delectable taste of this traditional Pakistani sweets at home. Experience the authentic flavors of homemade funnel cake, also known as jalebi.
What does the Pakistani Jalebi Taste like?
As I mentioned above that this is a delicious Pakistani sweet dish. Its taste is very yummy and crispy.
Although Pakistani sweet dishes are very famous jalebi is just icing on the cake. Its dark golden colour is so appealing and its batter to be served hot. Its round pipe shape filled with the richness of sugar syrup enhances its taste to another level.
If you get a chance to have Pakistani jalebi then I assure you that you'll never forget its taste ever.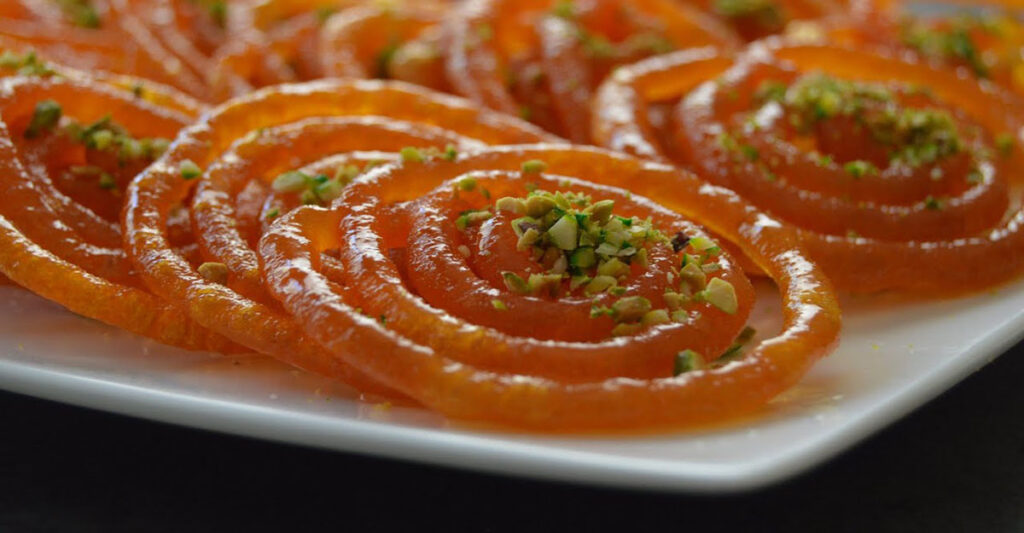 How To Make Delicious Pakistani Jelabi(Funnel Cake) at Home?
Normally Pakistani traditional sweet dishes are not prepared at home because of their complexity.
But in reality, sweet dishes like Gulab jamun and jalebis are very simple and easy to make. So, the question is can you make Pakistani jalebi at home?
YES, you can! I'm going to mention a juicy and crispy jalebis recipe in this blog. This recipe is so simple that you would have a plate of perfect jalebi within no time.
The mixer of flour will not spread in the pan and its shape will perfectly be turned.
Last but not least its syrup makes it amazingly delicious just like those you buy from the best sweet shop in your city.
Note 1:
Although I would have mentioned it complete recipe in the recipe card, but here are some quick notes.
First of all, mix all the flour-like semolina flour, Maida, baking powder, etc.
Then add ghee and food colour to make it look appealing.
To make it taste more aromatic add cardamom seed and saffron threads.
Mix it well until it becomes thick. And don't forget to ferment the batter overnight.
Note 2:
Now heat the oil in a cooking pan. Add jalebi batter into bottom-hole clothing, probably a cotton cloth.  
On medium flame add jalebi batter through clothing into the oil.
Then Deep fry it until it becomes golden.
Change its side from time to time till the jalebis are crispy and golden.
Note 3:
In the last step remove jalebi from the oil and put it into a warm sugar syrup.
Ensure the sugar syrup warm but not very hot. Soak the jalebis in syrup for 3-4 minutes.
To enhance your jalebi taste to another level, add a little bit of oil to its batter. That will make you are giving your jalebi a perfect aroma.
This recipe is very easy and less time-consuming. You can make a perfect traditional jalebi within 30 minutes.
Let's try this recipe at your home and enjoy the delicious jalebi with your family members.
Major ingredients
All-purpose flour (Maida)
Cardamom for a rich taste
Water
Pakistani Jalebis Recipe
May 28, 2021
: 6
: 40 min
: 30 min
: 1 hr 10 min
: Medium Difficulty Level
Pakistani Jalebis is a yummy sweet dish of Pakistani cuisine. You would find a jalebi stall in every food street in Pakistan if you do a visit here. There are lots of ways of making jalebis depending on ingredient type, quality and cooking process. In this recipe card, you can get an authentic jalebi recipe and an ingredient detail list of original Pakistani recipes. Follow the instructions for the best taste!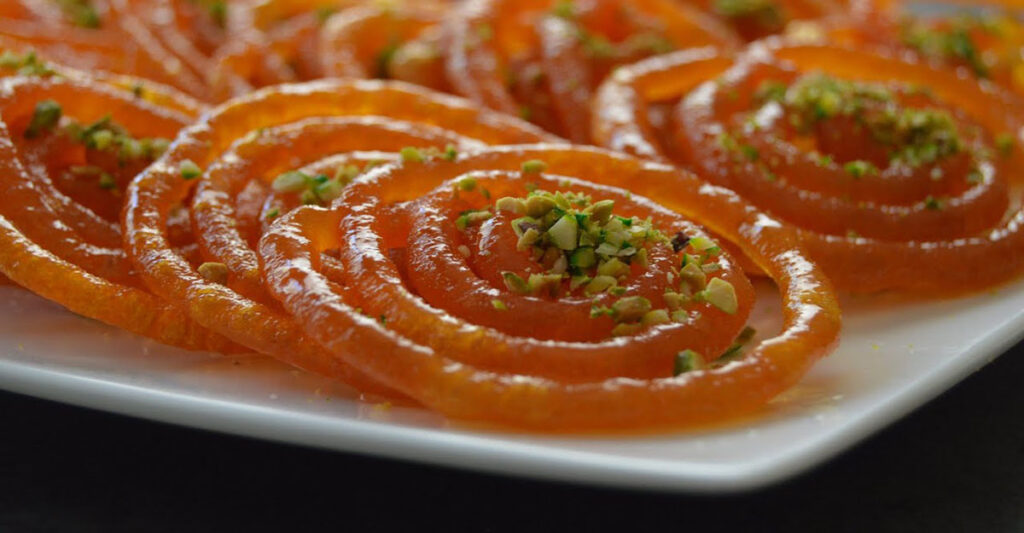 Ingredients
2 cup Maida
1 ½ tbsp Semolina flour
¼ tbsp baking powder
3 tbsp plain yoghurt
1/4th cup of warm water
½ tbsp saffron threads
3 cups of sugar
½ tbsp green cardamon seed powder
1 ½ tbsp Rosewater
Ghee or vegetable oil for frying
Directions
Step 1 Take a bowl and mix the flour, semolina or rice flour, baking powder, curd and mentioned cups of water.
Step 2 Mix it well and then add 1/8th tsp of saffron powder and mix until smooth.
Step 3 Set aside at least for two hours.
Step 4 Mix thoroughly before use.
Step 5 Prepare string syrup by dissolving sugar in the water and just before the syrup is ready add cardamom powder.
Step 6 Then heat the oil in a pan.
Step 7 Add media material into the oil steady into a coil shape.
Step 8 Beep fry until they are golden but not brown.
Step 9 Then remove jalebi from the pan and deep into the sugar syrup.
Step 10 Leave at least 4-5 minutes into that syrup.
Step 11 Take them out of syrup.
Step 12 Your crispy Pakistani jalebi is ready to serve hot.