Sheer khurma is a luscious and creamy dessert that showcases the perfect blend of vermicelli (Seviyan), almonds, dried dates, and milk. This delightful treat holds a special place in traditional Muslim breakfasts and is also savored as a celebratory dessert on special occasions. While it originated in Hyderabad, India, Pakistan has wholeheartedly embraced this savory delight, making it a beloved favorite among its people.
For an authentic experience of Sheer khurma, it is best served piping hot. If you have Pakistani friends, be sure to ask them to treat you to this indulgent delight at least once. However, you don't have to wait for an invitation. With this Sheer Khorma (Seviyan) Recipe, you can easily learn how to create the best Pakistani traditional home-made Sheer khurma right in your own kitchen.
Discover the secrets of preparing this exquisite dessert and unlock the captivating flavors of Sheer Khurma. With the perfect balance of ingredients and the richness of milk, every spoonful will transport you to a realm of pure delight. Experience the joy of sharing this beloved Pakistani dessert with your loved ones and create lasting memories with each delectable bite.
Indulge in the enticing flavors of Sheer Khurma with our authentic sheer khurma Pakistani recipe. Discover the key ingredients and techniques that make this dessert a true masterpiece. Bring the warmth and sweetness of this traditional delight into your home and celebrate special moments with the finest flavors of Pakistani cuisine.
Seviyan Intro:
The term 'Seviyan' refers to the South Asian-style vermicelli noodle that is used to produce a variety of sweets. Sukhi Seviyan can be made dry or with milk (Doodh Seviyan/Seviyan Kheer or Sheer Khurma). In this usage, Seviyan refers to a milk-based toasted vermicelli pudding.
Seviyan To Sheer Khorma (Seviyan) Recipe:
Sheer Khurma is a milk-based toasted vermicelli pudding that is frequently flavoured with dried dates, almonds, and other ingredients.
Sheer means milk in Farsi (Persian), while khurma means dates. It's no wonder, given the name and opulent toppings, that Sheer Khurma has Persian origins and developed into the vermicelli form we know today.
Difference Between Sheer Kurma & Seviyan:
The key distinction is that Sheer Khurma is more sophisticated in its use of luxuries such as dates and nuts, whilst Seviyan is more straightforward in its procedure and ingredients. However, each household's understanding of these foods differs.
Ingredients With Using-Tips for Sheer khurma (Seviyan) Recipe: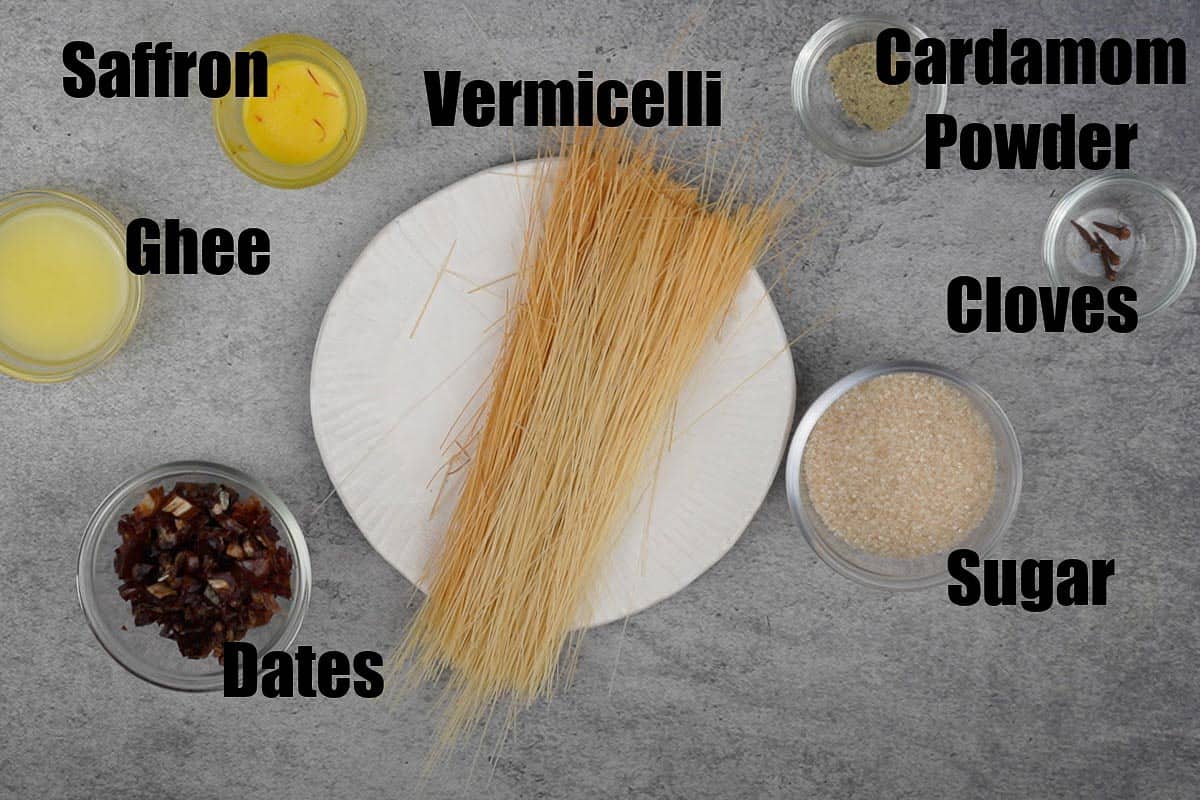 Pakistani or Indian vermicelli (Seviyan) — This dish requires South Asian vermicelli made particularly for Seviyan/Sheer Khurma. It has a more delicate texture than other vermicelli kinds of pasta. Ahmed Foods, National, and Shan are a few brands I'm familiar with. They're commonly referred to as 'Roasted Vermicelli,' but we'll toast them nonetheless. (See below for instructions on how to utilise gluten-free rice vermicelli.)

Whole milk

— I didn't get a chance to test dairy-free alternatives, but I believe coconut milk would complement the tastes wonderfully.
Heavy whipping cream – Heavy whipping cream, often known as Double Cream in the UK, is the secret ingredient that allows you to prepare a rapid Sheer Khurma. Without the cream, you'd have to spend time decreasing the milk to provide depth. I've given a measurement of 1 1/4 cup, but you may experiment to get your optimum creamy ratio. If you want it lighter (or don't want to use more than an 8 oz package of heavy whipping cream), try 1 cup, or up to 1 1/2 cup if you want it richer.
I used just enough butter, ghee, or oil to coat the Seviyan while toasting it. If you use ghee, keep in mind that it may rise to the top of the Sheer Khurma.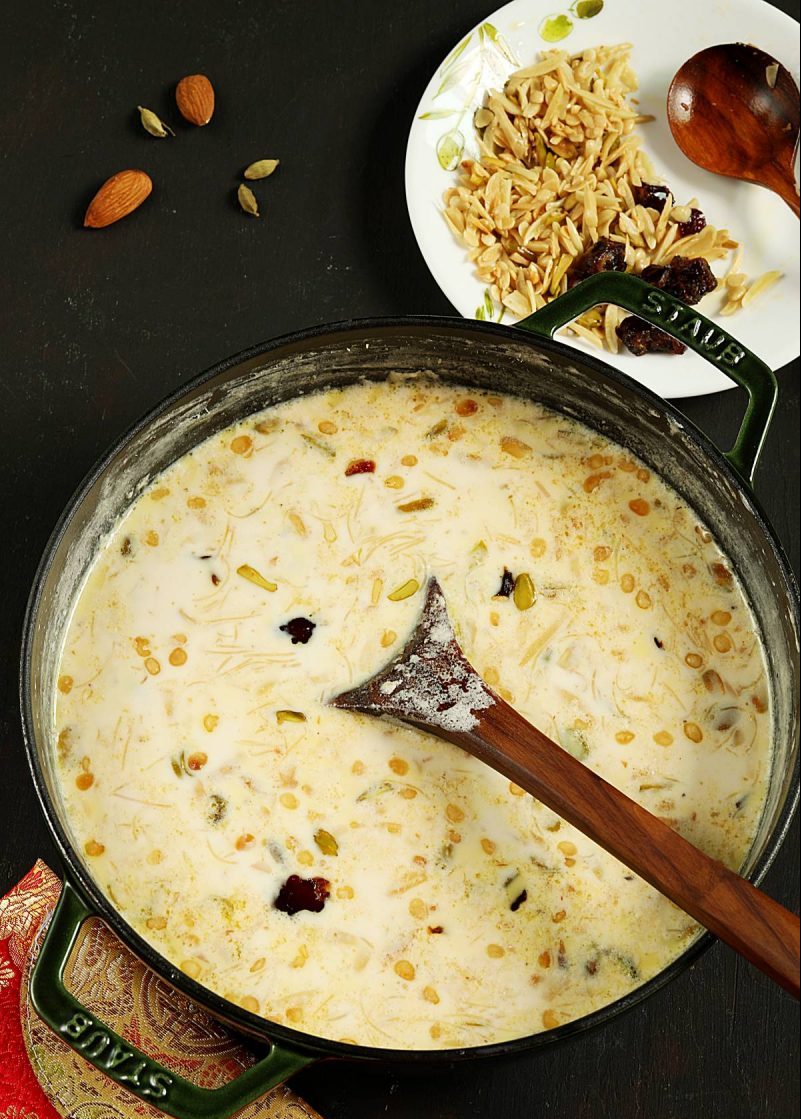 Green cardamom pods – I don't like biting into cardamom seeds in my Seviyan, so I used a lot of the pods to flavour and fragrance it. I crack a couple open to get the flavour.
Sugar or sweetener of choice – The sugar amount I've included is the amount you'll need if you use 1 1/4 cup heavy whipping cream. Increase the sugar to taste if you use an extra 1/4 cup.


Blanched, slivered almonds — I purchase these already prepared, but you can make them yourself:
Rosewater and Kewra water are both diluted extracts that provide a lovely scent to the final meal. Because the intensity of each brand varies, adjust to taste.
How To Cook Sheer Korma?
Boil milk – In a nonstick saucepan, boil the milk and heavy whipping cream. Bring to a boil before lowering it to a simmer. (Don't worry, the milk will not stick if you use a nonstick pan.)

Toast Seviyan – Toast the vermicelli and cardamom pods together for around 5 minutes. The colour should shift dramatically without being burned.

Combine – Add the toasted vermicelli, sugar, and any desired add-ins to the boiling milk.

Bring to a boil – Increase the heat and bring the mixture to a boil. Stir continually for 5-6 minutes, or until the sauce begins to thicken. You're cooking the Seviyan and decreasing the milk at the same time. The crucial thing to remember here is to cease boiling when the mixture becomes runnier than you desire. When you remove the pan from the heat, some vermicelli will climb to the top and remain there.

Finally, decorate with nuts and rose or kewra water.
How Add Dry Fruits In Sheer Korma?
I tried adding dried dates (chuware) and was pleasantly delighted to find that I liked them. They give Sheer Khurma a sweet, subtle taste. If you want to include them, follow these steps:
Soak 6-7 dried dates (35-40 grammes) in water overnight.

Drain, pit, and slice them to the size you want. (It'll be approximately a third of a cup)

Melt ghee or butter in a medium pan over medium heat. Toast for 7-8 minutes, stirring frequently, until crisp.

Add them to the milk as it starts to boil, or with the Seviyan and other ingredients.
I've made it easy and kid-friendly, but Sheer Khurma may be as complex as you want it to be. Here are several add-ins that are common across areas. With the exception of saffron, most of them are normally soaked, and then roasted with ghee before being added to the boiling milk.
Serving of Sheer Korma:
Sheer Khurma is often ladled into bowls from a deep dish. I prefer it cold, but I believe it would be delicious served warm in the winter.
http://pakistanifoodbox.com/2021/09/08/top-5-water-bottles-on-amazon/
Pakistani Sheer Khorma Recipe - Home Made
May 20, 2022
: 5
: 15 min
: 20 min
: 35 min
: Low Difficulty Level
Sheer signifies milk in Persian, while Khorma denotes dried dates. Sheer Khorma, also known as Sheer Khurma, is a delicious creamy dessert made with vermicelli, almonds, and dried dates. It is mostly prepared during Eid festivities. As a breakfast or dessert, it can be served warm or cold.
Ingredients
1-liter Milk
1/2 tbsp Cardamon Sugar
10-15 Dry Dates, Sliced
1/2 Cup Pistachio, Chopped
For Vermechilli
1/2 Ghee
250 Gram Vermicille
For Garnish
10-12 Almonds
10-12 Pistachio
4-5 Dry Dates, Sliced
Directions
Step 1 In a medium saucepan, heat the milk over medium heat. Once warm, whisk in the cardamom powder and sugar.
Step 2 Then cook for 5-10 minutes on low heat.
Step 3 Heat ghee in a frying pan and toast the vermicelli.
Step 4 Cook them in boiling milk after they have been roasted.
Step 5 Cook until the dried dates are soft.
Step 6 Then toss in the chopped pistachio for 2 minutes.
Step 7 Serve garnished with almonds, pistachios, and dried dates.
Step 8 Enjoy! Please share your thoughts in the comments section below.