Gulab Jamun is a famous Pakistani sweet dish that is popular in all parts of the country. Gulab Jamun also spilt as Gulaab Jamun is a milk solid based mithai (dessert). Along with Pakistan, it is also very famous in Nepal, India and Bangladesh where it is known for different names. The popularity of Gulab jamuns is not only restricted to these countries but it is also very famous in every cuisine of the world. In this regard, the 25th of May is celebrated as World Gulaab Jamun Day. Gulab Jaman is commonly cooked with milk solids, khoya and deep in sugar syrup.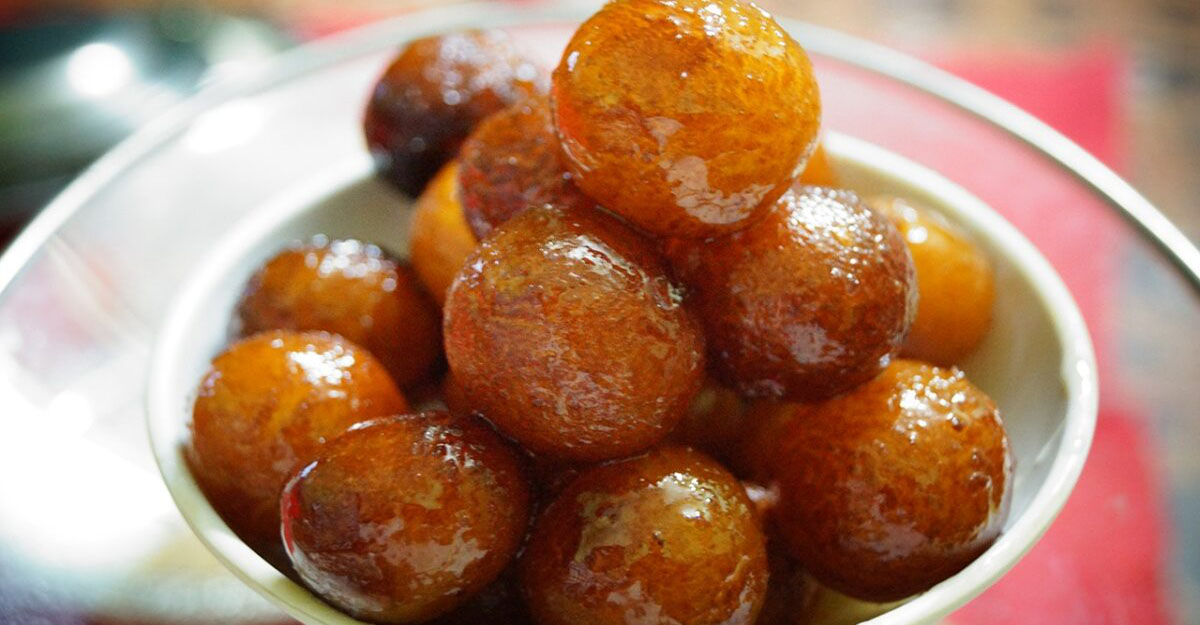 As far as its recipe is concerned, Pakistani gulab jamun can be made in different ways. It can be made with Khoya, milk powder, bread, and sweet potatoes. The sugar syrup of Jamun is flavoured with cardamom seeds and rosewater. Indeed, it is a favourite Pakistani sweet which is why Gulab Jaman is widely prepared in almost every sweet shop as well as in households. There are so many stories that belong to this delicacy of Pakistan almost every foreign visitor would like to take some Pakistani gulab jamun and share their feelings with others. Eva Zu Beck, the food Ranger, Jay Palfrey, and Luke Martin are some of them.
Gulab Jamun Taste:
The fried dough balls soaked in sugar syrup are very juicy and yummy in taste. It would not be mistaken to say that this is the most aromatic and delicious dish among the Pakistani Sweet dishes. My Recipe for Gulab jamun is very yummy and unforgettable due to its taste. Fresh Khoya acquired from milk processing over low flame is the main ingredient of traditional gulab jamuns. There are many types of Khoya available on market but the Smooth Khoya traditionally known as "Chikna Khoya" gives an extra softness to gulab jamuns. You can easily make smooth khoya at home or you can buy khoya from Amazon and Pakistani sweet shops.
http://pakistanifoodbox.com/2021/10/10/how-to-make-a-healthy-kitchen-top-healthy-kitchen-items-of-2021/
Major Ingredients with Instructions:
Khoya:  Use smooth khoya or Chikna khoya for the best taste of the traditional gulab jamun. In my recipe, I use smooth khoya which is very soft and good in taste. I suggest you buy khoya from an authentic shop or make it at home.
BEST PAKISTANI GULAB JAMUN RECIPE– SHARE THIS?
Syrup: To make syrup, use sugar and for flavouring use rose water and cardamom seeds. Make sure your syrup is not so thick otherwise your dough balls cannot be soaked properly.
Whole Dry Milk: You can also use whole dry milk instead of khoya.
PAKISTANI GULAB JAMUN RECIPE
July 28, 2021
: 4
: 30 min
: 30 min
: 1 hr
: Low difficulty
Gulab Jamun is a famous Pakistani sweet dish which is widely consumed in all parts of the world. Its taste is so juicy and delicious. Gulab jamuns like small balls in shape. That dough balls are fried in oil and then soaked in sugar syrup. You must try this recipe on your own at once. I assure you that you gonna love that!
Ingredients
250 grams Smooth Khoya
1 pinch Baking Soda
1 Pinch Salt
1/3 cup Flour
1 Egg
For Syrup
2 cups Water
1 ½ cup Sugar
1 tsp rose Water
½ tsp Cardamom seeds
½ tsp Cardamom powder
1 tsp Lemon Juice
Directions
Step 1 To make syrup take a pan and add sugar and water into that pan.
Step 2 Cook until it becomes a sticky syrup and remembers one thing does not make syrup so thick.
Step 3 Now turn off the flame and add rose water, cardamom seeds, lemon juice, and mix it well.
Step 4 Now in a bowl take Smooth Khoya and crumble it well with your hands.
Step 5 Add flour, baking soda, salt, and egg mix it well to smooth dough.
Step 6 It needs kneading for 6-8 minutes.
Step 7 Make small balls of similar size.
Step 8 Make sure it is smooth and without any cracks.
Step 9 Heat the oil and add balls to it.
Step 10 Fry well and stir continuously.
Step 11 Make sure Ghee is not very hot otherwise gulab jamun will not cook well from inside and will burn.
Step 12 When Gulab jamun becomes golden, add them directly to hot syrup.
Step 13 Make sure syrup is hot (not burning hot).
Step 14 Repeat the frying process. Add gulab jamun in syrup and leave them for 30 minutes.
Step 15 Garnish with pistachios and serve.