Sohan Halwa is a famous sweet dish in Pakistani cuisine, and it's a souvenir of Multan, the southeast city of Punjab province. Multani Sohan halwa is prepared by boiling a mixture of milk, sugar, water, and cornflour. Along with that, other ingredients such as almond and saffron are used for flavouring. This is a perfect sweet dish of Pakistan. Similarly, pistachios and cardamom seeds garnishes give it an excellent traditional taste.
Best Sohan Halwa in Pakistan:
There are so many places in Pakistan that make delicious Sohan halwa, but the Hafiz Sohan halwa shop in Multan is one of the prominent ones. This shop is known for Sohan halwa is sold across the country. However, you can access the mouth-watering Multani Sohan halwa recipe in this article. I give you a quick tip: do not miss out on any ingredients I have mentioned below while preparing Multani Sohan halwa.
Taste of Sohan Halwa:
If I talk about Multani Sohan halwa taste, it would not be wrong to say that this is the king of sweet dishes. Its flavour is so pure and tasty. Every bite of Multani Sohan halwa gives you and your taste buds a fantastic aroma. However, its brownish look is also very appealing, and its thick, dense stylishness is unforgettable. You must have tasted this Multani Sohan halwa recipe at least once, and bless your taste buds with a yummy sweet dish.
Sohan Halwa Background:
According to Wikipedia, Sohan halwa is a traditional dessert dish in South Asia. As I mentioned, this sweet dish is a part of every celebration in Pakistan. That is why every city and household has their unique style of Sohan halwa. However, it is impossible to mention all the techniques and recipes contrary to; what I have said about the Hafiz Sohan halwa.
Hafiz Sohan halwa is very famous in Pakistan and South Asia. This Sohan halwa is named after the founder of Hafiz Habib, your Rehman. Hafiz family have been preparing Sohan halwa for the last 82 years. This company is described as a pioneer of Multani Sohan halwa, famous throughout Pakistan and internationally.
Sohan Halwa Recipe:
Sohan halwa has many kinds and recipes that vary from region to region. The Multani Sohan recipe is delicious for all. I will share a unique and authentic halwa recipe that is very easy to make. All you need to make this recipe is milk, white flour, lemon salt, wheat flour, and sugar. To enhance its taste to another level, you should use some dry fruits like almonds and walnuts. However, the secret ingredient of Hafiz Sohan halwa is cardamom seeds which I used also. Cardamom seeds give a unique flavour to your halwa. It would be best if you tried this recipe at least once. I promise you; that you will find this recipe unforgettable.
Major ingredients:
Multani Sohan Halwa Recipe
May 26, 2021
: 5
: 40 min
: 1 hr
: 1 hr 40 min
: Medium Difficulty Level
Pakistani Sohan halwa particularly Multani Sohan halwa is the best Halwa that you ever tasted. This halwa is the delicacy of Multan, a city in South Punjab, Pakistan. Hafiz ka Multani Sohan Halwa is the official name of Multani Sohan halwa. Therefore, I have mentioned the original Recipe of Halwa of HAFIZ SWEETS Multan in this recipe card. You can cook Sohan halwa on your own. Make it and enjoy it with your beloved ones.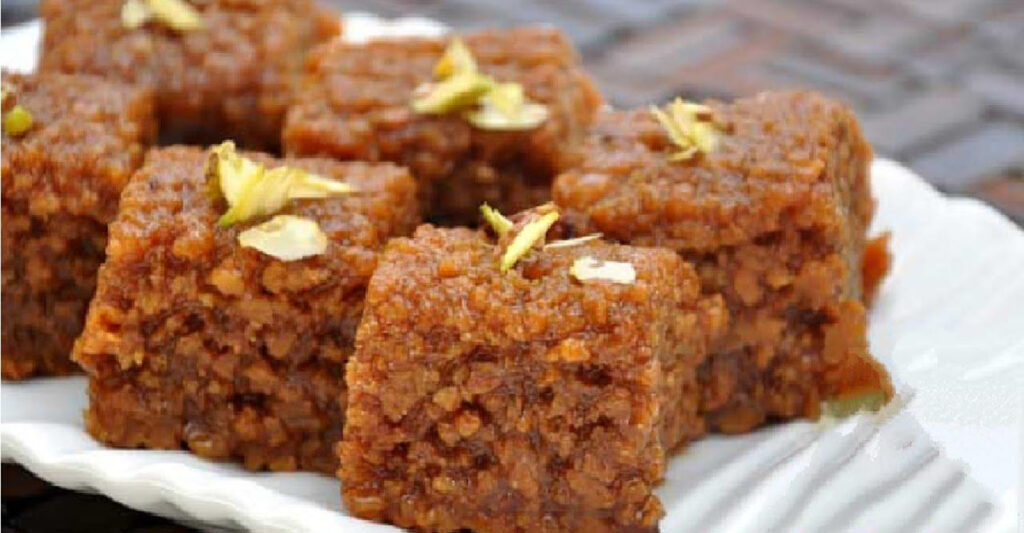 Ingredients
1-litre milk
6 tbsp white flour
½ tbsp lemon salt
2 tbsp wheat flour
1 cup sugar
4 tbsp pure ghee (Desi Ghee)
5-6 green cardamom
Almonds and other dry fruits as required
For Garnish
Almonds (Chopped)
Pistachios (Chopped)
Saffron as per your need or taste
Directions
Step 1 Take a deep pan and add milk, wheat and white flour into that pan and boil.
Step 2 Then add lemon salt.
Step 3 Stir it lightly and let it boil for 5 to 10 minutes.
Step 4 When Paneer will separate and cook on low heat.
Step 5 When the Paneer mixture is reduced to half, sugar gradually and stir slowly. Otherwise, lumps may form.
Step 6 Now, a smooth mixture may be formed.
Step 7 When the mixture is getting thick, add ghee and cook.
Step 8 After 25-30 minutes, the mixture will not stick to the pan, and it feels separate from the pan's sides because of the ghee.
Step 9 Lastly, add almonds and walnuts and take them out of the pan.
Step 10 Separate the dish eventually and cut it out into desired pieces.
Step 11 Garnish with pistachios and almonds.
Step 12 Your delicious Multani Sohan Halwa is ready.
SUMMARY:
Sohan Halwa is a famous and unique delicacy of Pakistani cuisine. It has many flavours and tastes, but the Multani Sohan halwa is the prominent ate. People of Pakistani cuisine love to have this sweet dish at their events and celebrations. They also love to make halwa at their home for their beloved ones. I have mentioned an authentic recipe above that you can use to make the best halwa. Your family members will defiantly love this Sohan halwa. Enjoy!
The Best Kitchen Compost Bins Under $50 At Amazon | Make Your Eco-system Healthy and Clean!
CREDIT: HamariWeb.com