When foreigners came up with this query that 'what are the best Pakistani sweet dishes or foods '. Then it would be hard for a local to elaborate that which sweet dish is good or which is better. The reason behind this is that Pakistan has a very rich sweet cuisine. There are as many sweet dishes or desserts as you can imagine. Therefore, I came up with this blog to tell you that what are the best sweet dishes in Pakistan. However, It is also hard for me to decide to make a list. But I only consider the must eat Pakistani sweet dishes in this blog. Here are 'The top 5 sweet dishes and foods of Pakistan'.
Gulab Jamun: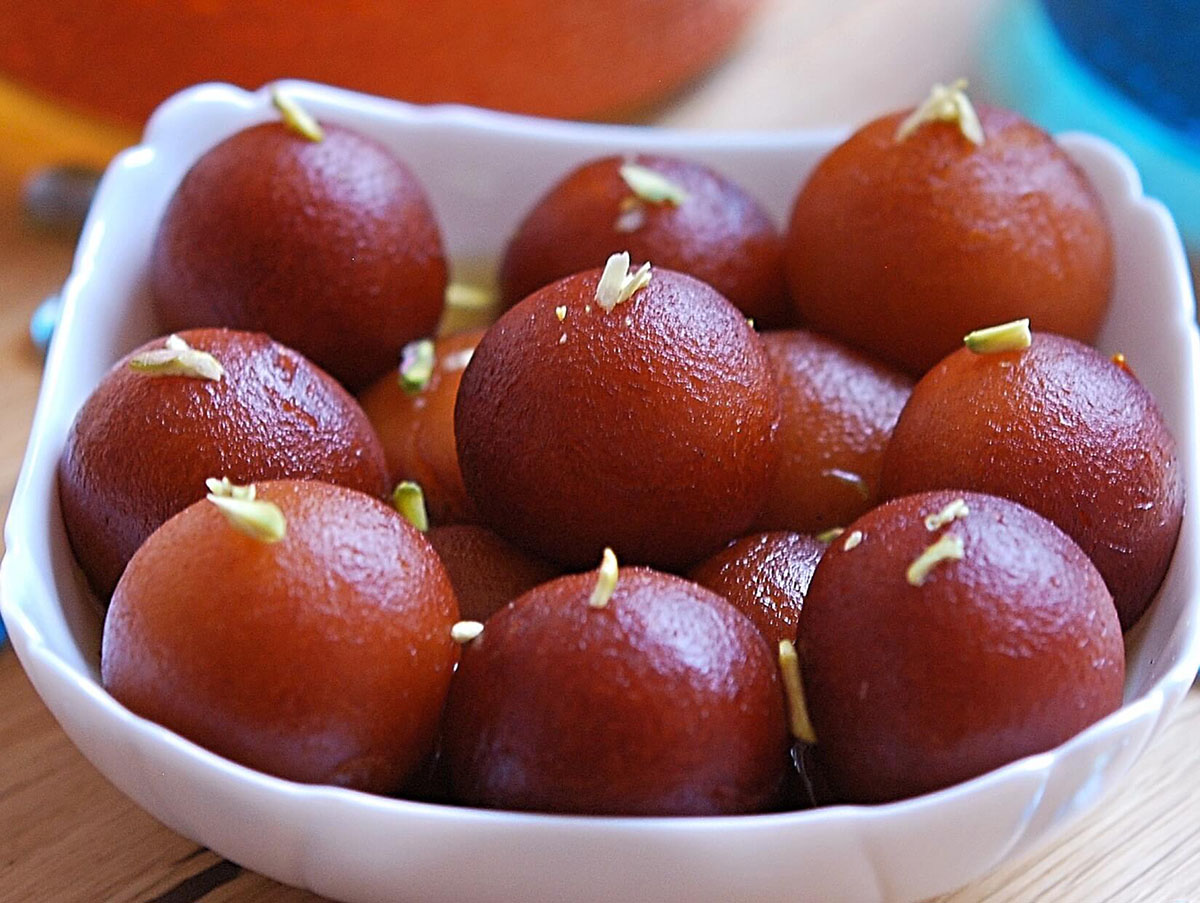 Gulab Jamun is the National Sweet dish of Pakistan. This is one of the juiciest and yummiest sweet dishes of Pakistan. Not only in Pakistan but Gulab Jamuns are also very famous in other parts of the world. For example, Gulab Jamun is very famous in Nepal, India and Bangladesh where it is known for different names. Gulab Jaman is a milk solid based mithai (dessert). The fried dough balls soaked in sugar syrup are very juicy and yummy in taste. It would not be mistaken to say that this is the most aromatic and delicious dish among the Pakistani Sweet dishes. You must consider it as your top priority while you deciding what to eat from Pakistani sweet cuisine.
Fresh Khoya acquiring from milk processing over low flame is the main ingredient of traditional gulab jamuns. Pakistanifoodbox gives you an authentic Gulab Jamun recipe. Those who are not from Pakistan, make Gulab jamun on their own with the Gulab jamun Recipe. And If you want to taste Pakistani Gulab Jamun right now then you can order Paksitani Gulab Jamun by clicking the following picture.
Pakistani Barfi: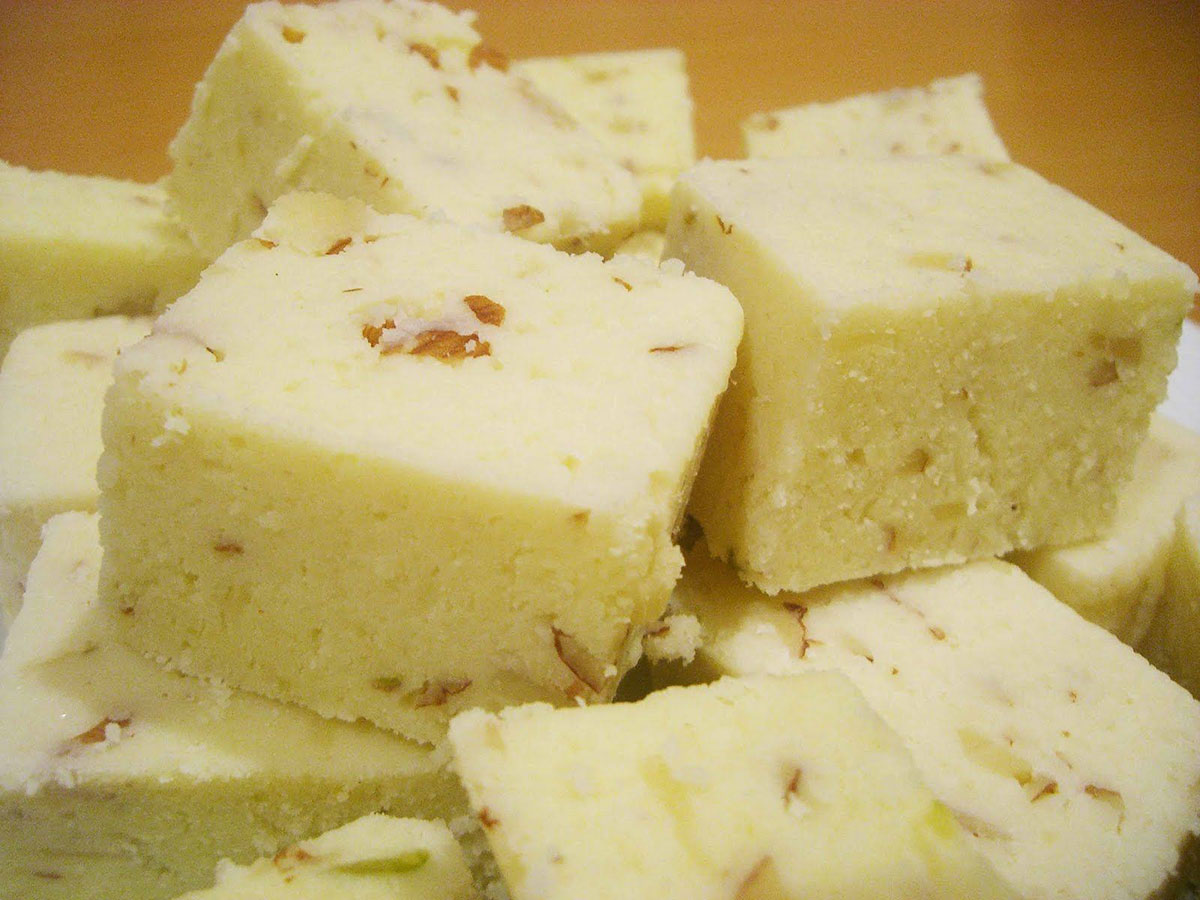 Pakistani Barfi is a sweet dish of every celebration in Pakistan. Barfi is considered the queen of Pakistani dessert food. This dish is eaten and given at festivals in Asia. It is considered a symbol of happiness in Pakistan. There are many kinds of Barfi like Khoya Barfi, Basin Wali Barfi, Dhood Wali Barfi, and many more. Pakistani sweets shops have Barfi as their major product. Khushi Sweet is one of the most prominent Barfi houses in Pakistan. Khushi sweet's Barfi is a 'Soghat' of Pakistan. This shop is placed in Main Channu (a city of South Punjab, Pakistan). You must try Khushi Sweet's Barfi when you'll come here.
However, some traditional families prefer to prepare Barfi at home rather than buying from shops. The basic ingredients of barfi are; milk Khoya, chopped pistachios, sugar, Kewra water, and cardamom. Some sweet shops provide online services. Therefore, you can also buy different types of barfi online by clicking on the given images.
Raas Malai: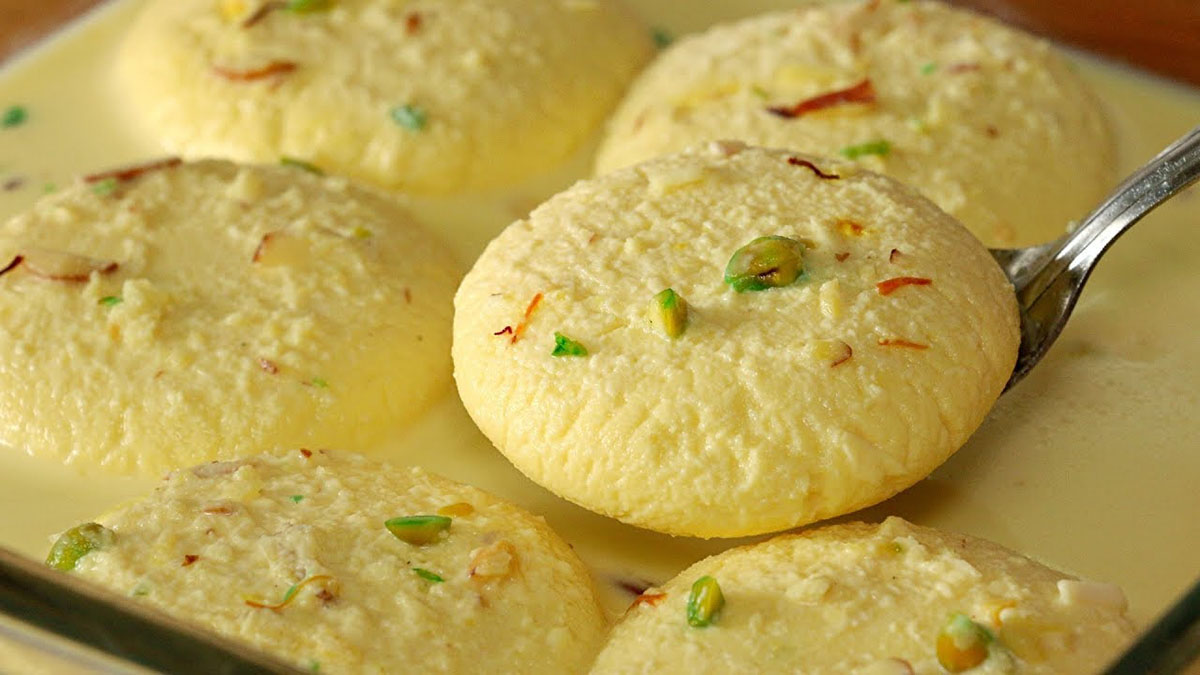 Ras Malai is also one of the 'Soghat' of Paksitan. Raas is literally to juice and Malai is cream. This is a favourite delicacy of Pakistan and very popular among Pakistani sweet Lovers. Some places of central Punjab, Pakistan are very famous because of their Ras Malai. Traditional Pakistani Ras Malai is made with milk, an acidic ingredient, sugar and saffron. Some people love to add some dry fruits in its recipe as per their taste.
You can also make ras malai by yourself. All you need to take is a box of Raas Malai powder, milk, dry fruits, and sugar. Its recipe includes three simple steps; one making softballs of ras malai powder, two proper kneadings, and three boiling ras malai balls for the right amount of time.
Kheer:
Kheer is a special sweet dish of Pakistani sweet cuisine. Personally, I love Kheer more than any other sweet dish. Mostly, Pakistani families prefer to make Kheer at home. But there are also many sweet shops in Pakistan, that are famous for kheer. I have some emotional memories attached with Kheer because in our house there is no celebration of Eid without Kheer.
This is a popular dish in Pakistan as well as Indian-subcontinent. Kheer is made with rice, milk and sugar. My mother adds some Khoya, Almonds, Cardamom, and Kajo in her special recipe. However, once you taste Pakistani traditional kheer at once, I promise you that you are also addicted to it like me.
Falooda:
Falooda is Pakistani street food dessert food. This is an iconic frozen dessert that you'll find at every restaurant, ice cream bar and food joint in Pakistan. This is one of the best dessert foods in Pakistan. And the reason to include this dish in the top 5 list is its popularity. You can customize its recipe according to your own taste. Further, Falooda has so many kinds, one I already mentioned in this blog as Kulfi Faluda.
The top 5 sweet dishes and foods of Pakistan–TWEET THIS?
However, Falooda is an ice cream dessert that needs vermicelli, milk, Ice cream, Rose syrup or Roohafza, and Tukham Malanga. You can buy all these products from Amazon and make Falooda on your own.