Masalay Dar Chana Chat is one of the famous Pakistani street foods that offers a burst of flavors. Its ingredients may vary depending on the type and regional preferences, resulting in unique taste variations. Most commonly, Masalay Dar Chana Chat is referred to as 'Channa Chaat,' a delightful combination of Chickpeas, Onions, Green Chillies, Tomatoes, Coriander, and a blend of chaat masala. Preparing delicious and nutritious food is a dream for every homemaker, and this Chana Chat recipe fits the bill perfectly. It is remarkably easy to make and incredibly delicious. So go ahead and surprise your family members with this lip-smacking Aloo Chana Chaat or Chole Chaat that will leave them craving for more.
Click Here To Get Healthy Spoons For Your Kitchen – Amazon USA
What is Chat?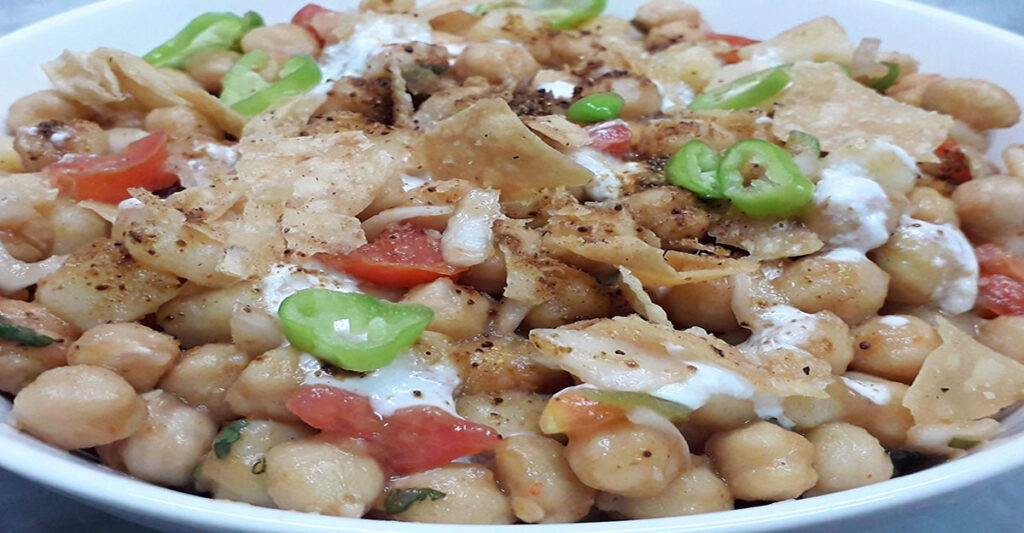 I don't know where it comes from but chat is the pride of Pakistani street food and it is a perfect Pakistani snack dish. Basically, this is a mixer of so many things like potatoes, onion, tomatoes, chickpea or gram, etc. And not only that chat can be made with different kinds of fruits like bananas, apples, pomegranates, and grapes which is called fruit chat. So, in Pakistani cuisine, there are so many types of chat that depends on its major ingredients. I'll talk about its type in the coming part of this blog. However, any kind of chat is a perfect snack meal, as I said earlier, that fulfils your quick hunger needs at any time.
Types of Chat: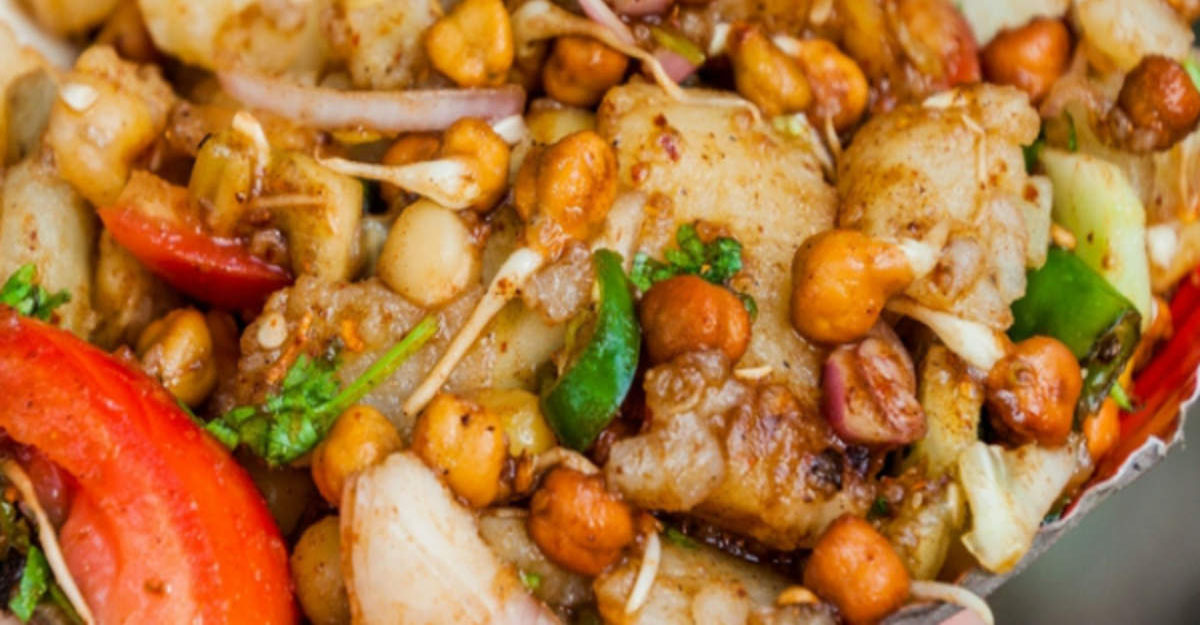 As I said in the introduction that chat is a prominent snack food in Pakistani cuisine which is why it has many kinds. Some of its kinds are Channa Chat, Fruit Chat, mislay Dar Chat, Carem Chat, Alo chat, and many more. One can easily observe that chat types are pronounced according to their major ingredients. Such fruit chat is a chat in which a variety of fruits is used and a cream chat in which extra cream is used to make its taste different. Similarly, in masala dar chat rich traditional chat masala is used and in Alo, (Potatoes) chat, potatoes are its main ingredients.
Pakistanifoodbox will give you recipes of all chart types, stay tuned for that. But here in this article, I'm just talking about channa chat, its recipe, and its yummy taste.
Channa Chat Taste:
Channa chat is a pride of Pakistani snack foods. However, there are also so many other such snack foods or street foods in Pakistan but channa chat is famous to all. This chat taste is very spicy and 'Chatpata'. Some chat lover adds potatoes to their chana chat to enhance its taste and aroma. You know the beauty of chana chat is that you can add anything as per your taste in its recipe. That will never affect its standard taste. In fact, it will enhance its deliciousness and make it according to your taste buds. I know some people like more spicy food and some would prefer less spicy. So, there is no restriction on anything in the channa chat recipe. For example, in my channa chat recipe, I also include boiled potatoes with desi chat masala. You will definitely love this channa chat recipe.
Click Here To Get Healthy Spoons For Your Kitchen – Amazon USA
You can prepare this recipe in no time and its cost is very cheap too. For the traditional Pakistani chana chat you would follow the mentioned instructions in the recipe card. What you're waiting for? Go make channa chat and give your taste buds an amazing memory.
Major Ingredients of Masalay Dar Chana chat:
White Chickpea (Channay) or you may use black one if you like.
Click Here To Get Healthy Spoons For Your Kitchen – Amazon USA
Special Chana Chat Recipe
May 27, 2021
: 4
: 30 min
: 10 min
: 40 min
: Low Difficulty Level
There are lots of chats in Pakistani cuisine like Dahi Bahla chat, Fruit chat, Cream chat and many more. Chana chat is one of such chats which is very tasty and yummy. It's very easy to make. This is the perfect snack in Pakistani cuisine. My recipe for the Chana chart is a unique and authentic one. Following are the instructions for the Channa Chart recipe.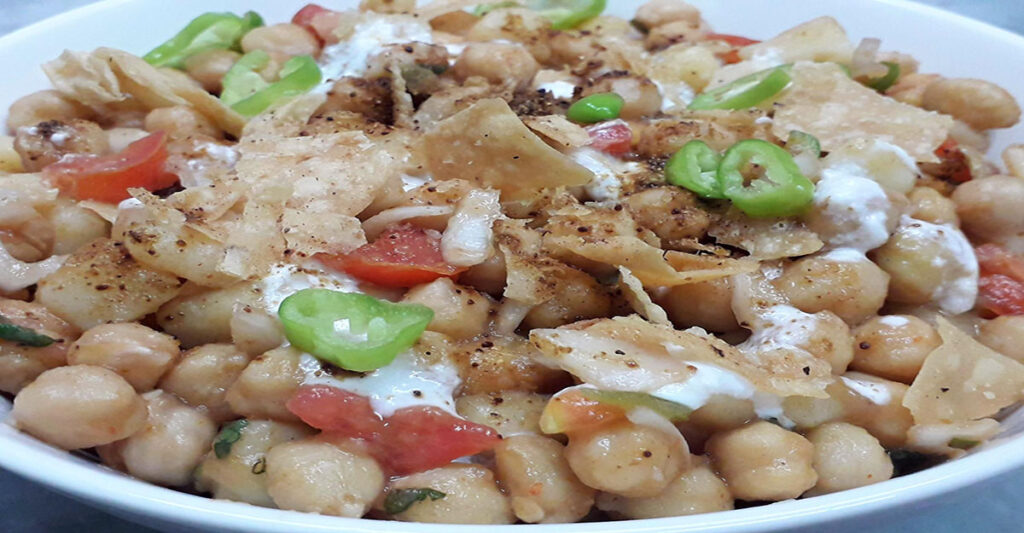 Ingredients
½ cup Garbanzo (Kabuli Channa)
2 potatoes (Cut into cubes)
1 tsp chat masala
One bunch Coriander
1 tbsp Cumin Powder
1 bunch Mint leaves
2 Green chillies
1 tbsp Lemon juice
1 medium Onion
3 tbsp Pomegranate seeds
1 tbsp red chilli powder
Salt to taste
2 tbsp sweet tamarind chutney
Directions
Step 1 First you should boil your potatoes and channa.
Step 2 Then take a bowl and add potato cubs in it.
Step 3 Add Garbanzo.
Step 4 Add onions, green chillies, red chillies, chaat masala, coriander, mint leaves, lemon juice, salt, and all the above ingredients.
Step 5 Mix it well.
Step 6 Lastly, add some freshly roasted cumin powder and mix well.
Step 7 Your channa chaat is ready, serve fresh pr chilled.
CREDIT: HamariWeb.com