Presenting the Best Pakistani Instant Pot Kheer(rice pudding) Recipe! Also known as rice wali kheer, this delectable dessert holds a special place in the hearts of people across the subcontinent, especially in Pakistan and South India. Personally, Kheer carries a deep sentimental value for me as it evokes cherished memories from various chapters of my life. In our home, no Eid Celebrations are ever complete without the comforting presence of Kheer. To be honest, my Mom's Kheer reigns supreme, setting the benchmark for its incredible taste and texture. Despite trying Kheer from various sources, nothing compares to the indulgent flavors of my Mom's homemade creation.
Experience the magic of this rice kheer recipe that perfectly captures the essence of Pakistani culinary traditions. Savor the velvety smoothness of this creamy kheer recipe Pakistani style, beautifully combining the richness of rice pudding with subtle hints of aromatic spices. Whether you're celebrating a special occasion or simply craving a soul-soothing treat, this recipe will transport your taste buds to a realm of pure bliss. Embrace the joy of relishing a dessert that has stood the test of time, offering a harmonious blend of sweetness and nostalgia.
Though, I have considered my Mom's Kheer recipe is a good one but it's also a time taking recipe. You need hours to make the perfect Kheer that tasted like her's. You have to stir constantly for the perfect look and taste. However, because of the special string attachment with Kheer, particularly my Mom's Kheer, I decided to give you an authentic and less time taking recipe of Kheer. Certainly, my inspiration for making this recipe is Izzah (owner of Tea For Turmeric blog), whom I considered the inspiration of food blogging.
In this blog post, I'll give you The Best Pakistani Instant Pot Kheer Recipe that you can make in just 45 minutes. Word in the street is you can make kheer in an Instant Pot. Add some milk, rice, sugar, and the porridge setting. This recipe is an easy, lightened version of my Mom's Kheer while staying true to its creamy taste. It's is rich and permissive without being overly sweet and heavy. 
What Is Kheer(rice pudding)?
Kheer sometimes called Chawal (rice) Wali Kheer in Pakistan is a famous sweet dish of Pakistan. This is an Asian style sweet dish sous-chef with milk, sugar, rice and garnish with some cashew nuts. Traditionally. the milk and rice are reduced down for hours, as my Mom does, which results in a beautiful taste and texture. 
Major Ingredients for the Pakistani Instant Pot Kheer:
My recipe of Kheer or Instant Pot kheer recipe requires only six ingredients. That includes milk, rice and sugar and I use condensed milk to give it the essential depth and flavour. Optionally you can also add nuts, saffron, kewra or rose water as per your taste.
What Kind Of Rice To Use For Pakistani Instant Pot Kheer?
Normally my Mother uses Basmati rice in her special Kheer, therefore I also use Basmati rice in my instant pot kheer recipe. But you can also use any kind of rice that is easily available to you. Additionally, I use a food processor or spice grinder to break the rice before adding it to the recipe. For this recipe, you don't have to wash or soak rice, usually, I do but I don't when making this Kheer. There are two reasons; one it will help you get the creamy texture of Kheer, two dry rice is just easier to work with or handle in an instant pot. However, if you prefer you can certainly soak or rinse your rice. 
How Do You Use Instant Pot For Making Kheer?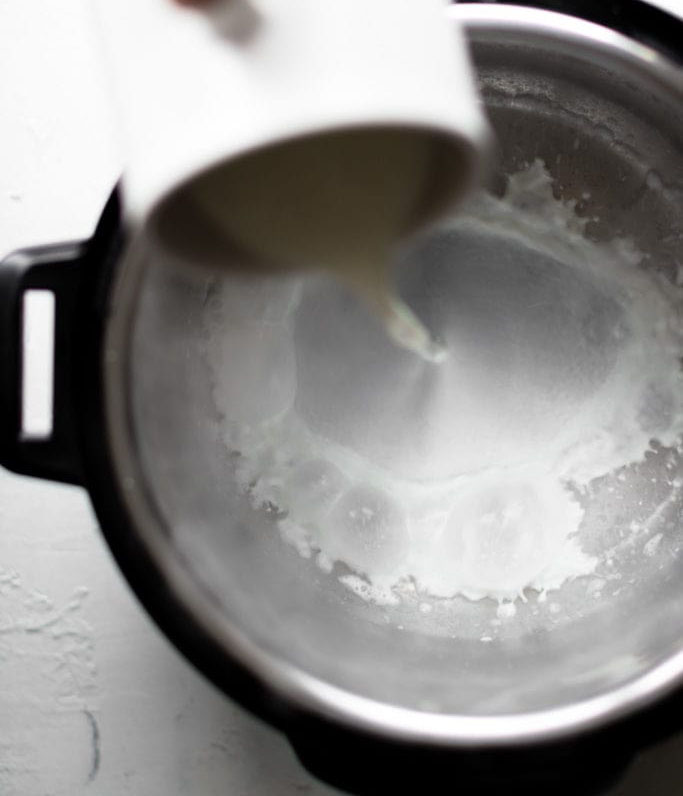 Traditionally, making kheer is not an easy task but with my recipe, you can cook kheer with ease. All you need to do is; pour milk and cardamom pods and bring everything to a light boil. Stir it well but you don't have to stir constantly.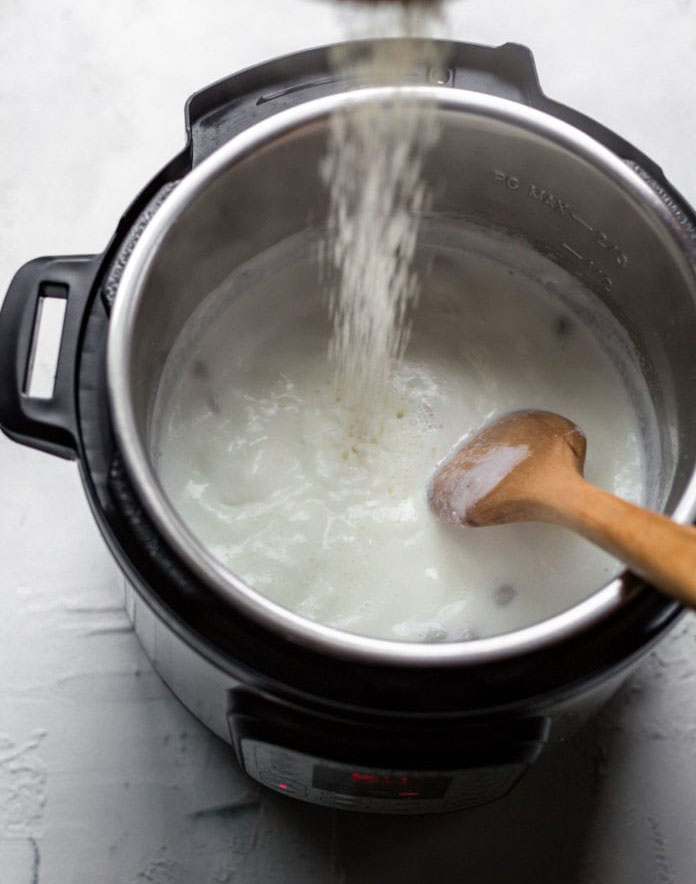 This is important to allow the milk to come to a boil because if you don't then the milk is likely to stick to the bottom of the instant pot.  Then, mix the per ground rice and close the lid. Press porridge setting and leave. You must remember one thing; allow the pressure to naturally release. Manually releasing will cause the kheer to splatter all over.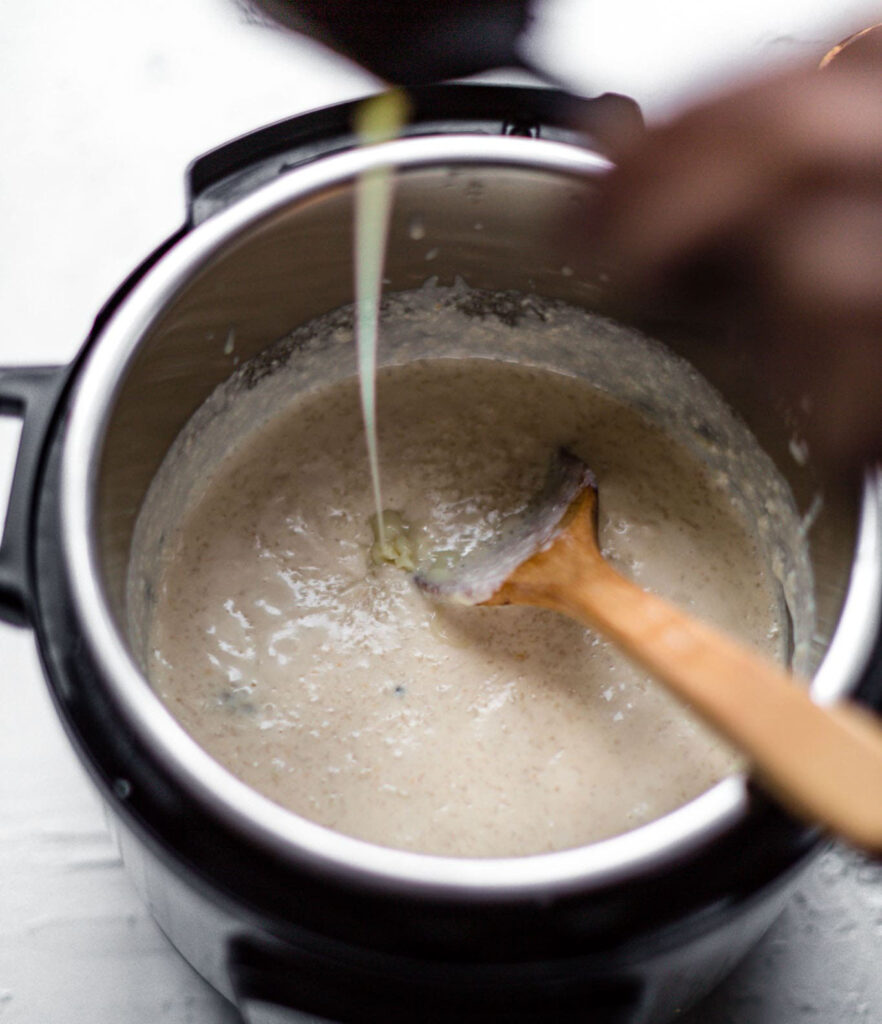 After removing the lid add in the sugar and condensed milk. Then cook till you will get the desired thickness of your kheer. Remember one thing; the rice will absorb the liquid once it's removed from the heat so it'll thicken up even more once chilled.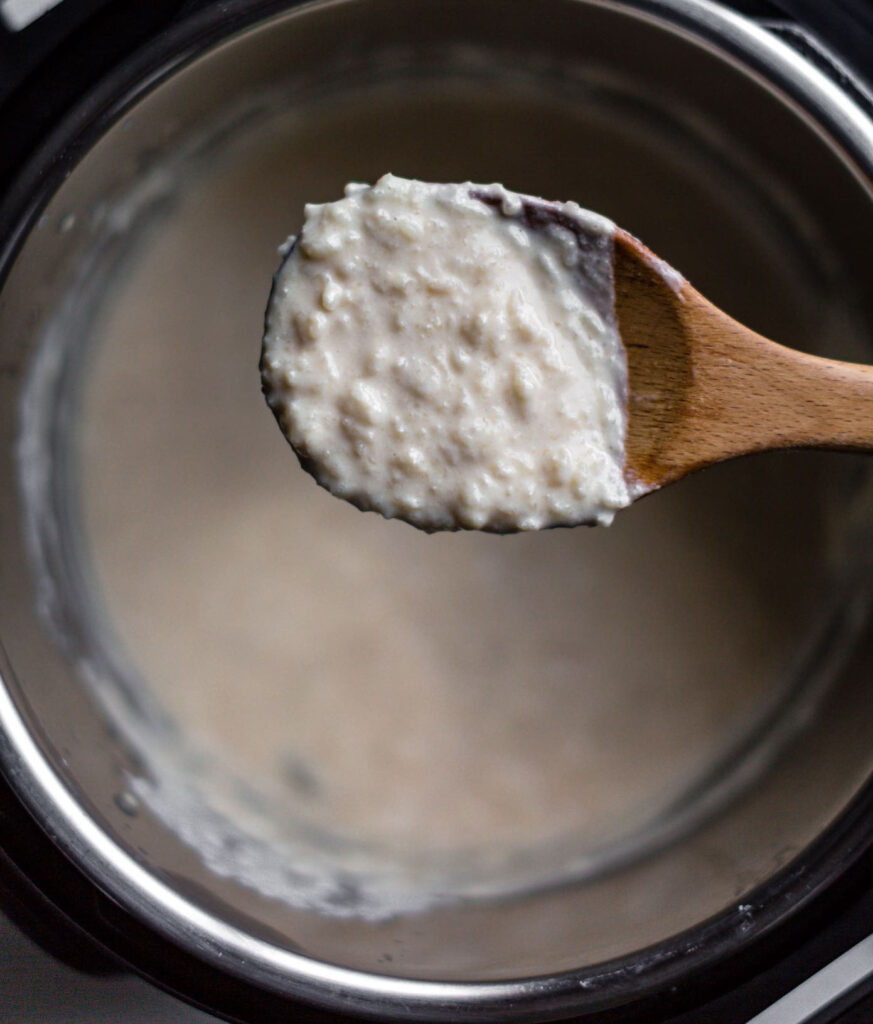 I prefer to saute down for 4-5 minutes and if you prefer a less thick kheer then saute for 1-2 minutes. And to dissolve the rice properly use a wooden spoon to mash the rice against the walls. It is also very crucial for a creamier texture of the kheer. Then kewra of rose water and garnish with nuts and you're done!
How Much Time The Instant Pot Kheer Recipe Will Take?
Traditional kheer recipe will take 2 to three hours to prepare but the instant pot recipe will only take 40 to 45 minutes. That is enough to build pressure, cook, and actually release. Moreover, there are only 15 minutes of hands-on time before and after for the preparation of kheer ingredients and servings. 
How To Serve The Kheer?
The amazing thing about kheer is that it can be served either chilled or hot. In both cases, it will give you an amazing taste. I prefer to garnish the kheer with nuts but you can also make it extra fancy with almonds, cashew nuts, golden raisins, or coconut flakes. So without further waiting, here is my Best Pakistani Instant Pot Kheer Recipe. I hope you try and you'll like it, if you do then give feedback in the comment box. And if you have suggestions for me then feel free to comment. I always look forward to reading your feedback. 
Our Best Recipes In Sweet Box:
PAKISTANI GULAB JAMUN RECIPE AND KNOW MORE ABOUT GULAAB JAMAN
PAKISTANI JALEBIS RECIPE & MORE
MULTANI SOHAN HALWA; AN AUTHENTIC RECIPE & MORE