Chicken tikka chilli Fry must be the most popular and delicious dish in Pakistan and in sub-continent as well. This is very richly yummy and wonderful tikka recipe with gravy. One should try out this great tasting and all-time favourite recipe.
How Chicken Tikka Chilli Fry is Different from Other Karahis: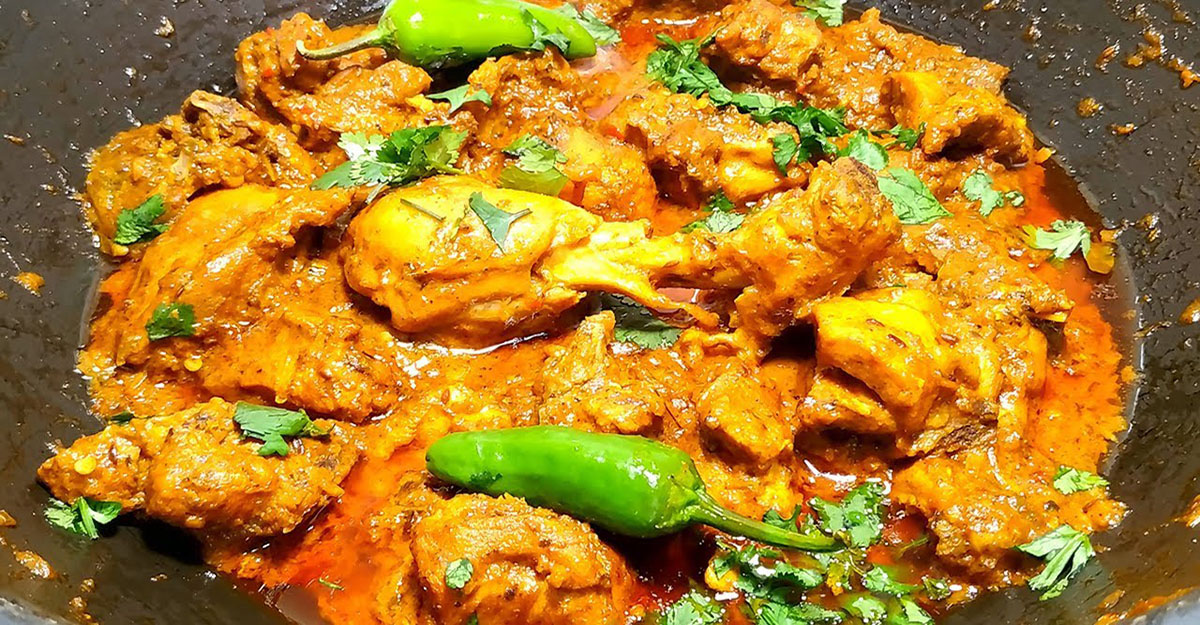 Chicken tikka Chilli fry recipe is very unique of its kind. It is a famous dish in Pakistani dhaba food and also known as balochi tikka karahi. However, it usually made with boneless chicken and sprinkle of lemon juice make its taste more delicious. Tikka fry is not prepared like all other karahis. Instead, tikka masala fry is cooked in a different style. Firstly, for tikka karahi marinate chicken pieces and cook tikka boti. Then, add tikka boti in a pan and make its gravy by adding different types of ingredient. That makes its taste so unique and juicy. Lastly, dum of charcoal make tikka karahi so aromatic.
HERE IS THE BEST RECIPE OF PAKISTANI CHICKEN TIKKA CHILLI FRY–SHARE IT?
Major Ingredients:
Chicken Tikka Chilli Fry Recipe
May 4, 2021
: 3
: 30 min
: 40 min
: 1 hr 10 min
: Low difficulty Level
Chicken Tikka Chilli fry is one of the main dish of Pakistani Karahi cuisine. Its recipe is very easy to cook and delicious in taste. However, my instructions for this recipe are given below with ingredient list. Even that a non- professional can cook chicken tikka chilli fry karahi with my recipe. All you need is to follow the instruction as mentioned sequence. happy cooking!
Ingredients
½ kg boneless chicken
1 tsp red chilli powder
1 tsp fried and chopped cumin
one tsp ginger-garlic paste
½ tsp garam masala
½ black pepper powder
1/8 orange colour
½ chines salt
2 tbsp yogurt
2 tbsp lemon juice
Salt to taste
For sauce:
1-piece chopped pepper (Shimla)
1-piece onion
1 tomato
4 chopped green chilies
1 tbsp fried cumin
1 tsp oil
½ tbsp chopped black pepper
½ tbsp chines salt
one and half tbsp chopped red chilli
3 tsp lemon juice
2 tbsp butter
2 tbsp chopped coriander
two tbsp chopped ginger
Directions
Step 1

Take chicken pieces in a bowl

Step 2

Add red chilli powder, cumin, ginger-garlic paste

Step 3

Add garam masala, black pepper powder, orange colour

Step 4

Add chines salt, 2 tbsp yogurt, and 2 tbsp lemon juice

Step 5

Mix it gently and leave aside at least for one hour

Step 6

Take a pan and heat up the oil

Step 7

Fry marinated chicken until its water dried

Step 8

Put preheated charcoal and leave for a dum at least for 10 minutes

Step 9

For sauce, heat up 1 tbsp oil and add chopped peppers

Step 10

Add onion and fry

Step 11

Then, add ginger-garlic paste

Step 12

Add chopped green chillies, fried cumin, black pepper powder, chines salt, and lemon juice

Step 13

Now, add cooked chicken and sliced tomatoes into it

Step 14

Leave for a 2 minutes 'dum'

Step 15

Garnish with batter, coriander, and ginger

Step 16

Your chicken tikka chilli fry is ready
SUMMARY:
Chicken tikka karahi is a well-known karahi of Pakistani cuisine. Chicken tikka fry is cook with boneless chicken pieces. However, it is compulsory to marinate chicken pieces at least for one hour before cooking it. After marination of chicken pieces, fry chicken pieces until its water dries. Separately, for sauce heat up oil in a pan and add onion, ginger and garlic paste, and all such ingredients which I have mentioned above in instructions box. Then, add fried chicken pieces into that sauce and cook for 10 minutes. The key note for this recipe is that dum your tikka karahi for at least 20 minutes with preheated charcoal. This enhance your tikka fry karahi taste at another level. For complete guide about tikka fry recipe follow all above instructions.
Credit: handi.com