Pakistani Cuisine is full of spices, especially Lahori Cuisine. If you are a Lahori food lover like me, then you'll be happy to know that in this article, I will share one of the best Lahori recipes – the Lahori Chargha Recipe.
What Is Chargha?
In Pushto, chargha means chicken, and Lahori chargha originates from the Pakistani city of Lahore. It's prepared with a whole chicken, where the skin is removed and deep cuts are added, marinated in fragrant spices. Slathered with chat masala and lemon, dunked in mint chutney, each bite of Lahori chargha is a lip-smacking delight. It's then steamed and fried to perfection.
This is one of my favorite chicken recipes for dawats (get-togethers), and living in Jeddah, I haven't found a restaurant that offers authentic Lahori chargha, so I always make it at home. But honestly, it's an essential dish that I don't mind preparing.
Of course, you can adapt the final cooking process to your preference (baking or air frying), but the traditional method involves steaming and frying. Also, capturing a great photo of chargha is quite challenging, so please bear with the images I have shared.
Step-by-step Procedure of Lahori Chargha Recipe:
Chicken For Lahori Chargha Recipe: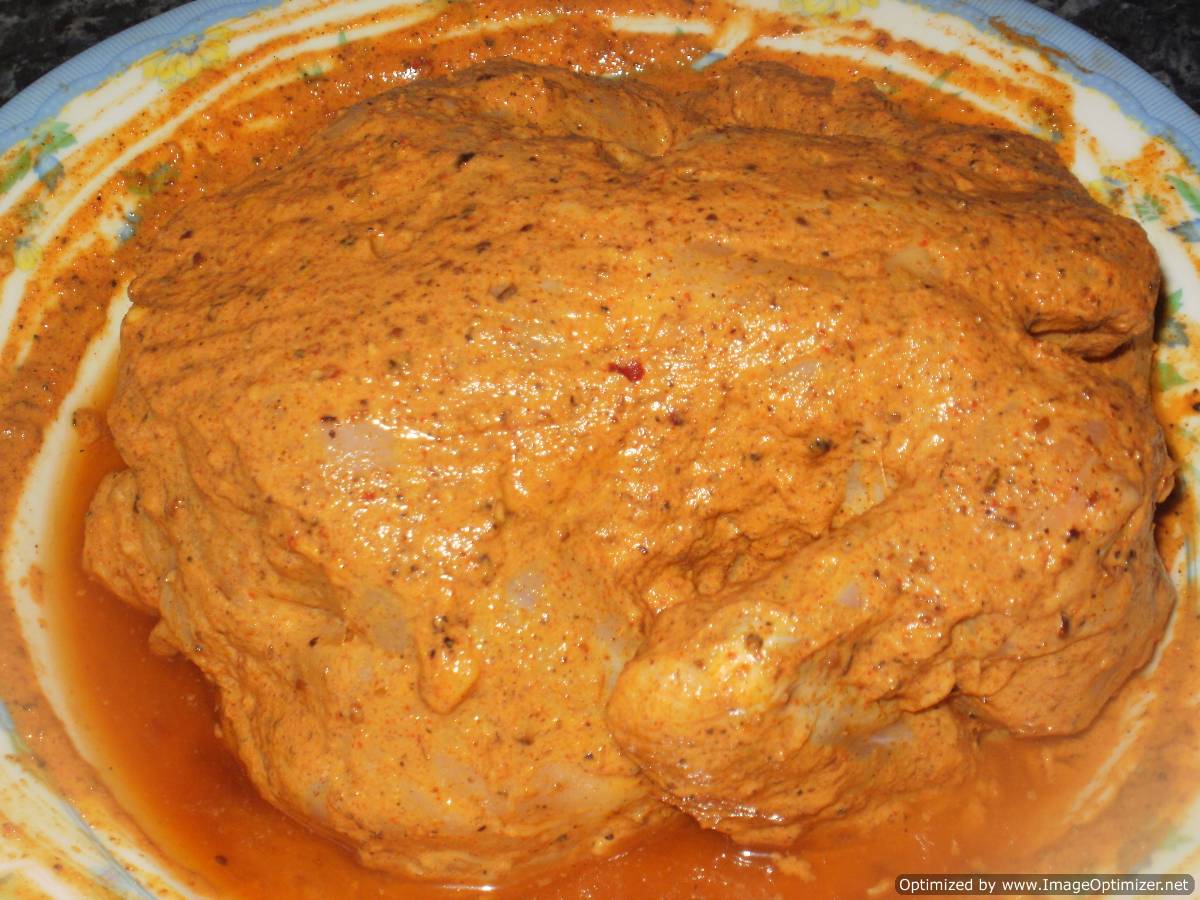 First and foremost. If the chicken's skin hasn't been removed yet, you'll need to do it now. Second, carefully wash it before making deep horizontal slashes along its length and legs. I prefer to soak my chicken in vinegar for 15 minutes to eliminate any odours and blood. After that, I dry my chicken with a paper towel and prepare it for marinating.
For Marinating Lahori Chargha:
The spice mixture amounts in this recipe are suitable for a chicken weighing 1 to 2 kg ( 3 to 4 lbs). Increase the spices and salt by two pinches using a giant fowl.
The marinade for this Lahori chargha is simple; however, you may need to grind some of your spices before using it. It's made with salt, an egg, lemon juice, yoghurt, food colouring, and a few crushed Pakistani spices. To make a smooth paste, combine all ingredients in a mixing dish.
Wear gloves when rubbing the marinade on the chicken to avoid staining your fingers with the crimson hue.
Give your chicken the best spa treatment it's ever had! All over the chicken, rub the Chargha spice combination well. Make sure you get all the deep cuts, edges, and other details. Make sure you get the cavity as well.
Cover the chicken with plastic wrap and place it in the refrigerator to marinate.
Unlike beef or mutton, chicken has no natural flavour. As a result, the longer you leave the marinate, the better it will function. I put the chicken in the fridge overnight to marinade, but 8 hours would be enough.
For Cooking Lahori Chargha Recipe:
Remove the chicken from the fridge at least 30 minutes before cooking to allow it to come to room temperature. Tie the chicken's legs together with a string, and secure the chicken's wings to its torso with a toothpick or a BBQ stick.
The wings are attached to the chicken's body to prevent them from overcooking and becoming black when frying. The browning of the wings is consistent, and they do not dry out.
To finish cooking, Lahori chargha is steamed first, then deep-fried. However, you may complete cooking in a variety of ways. The approach I've chosen is quite simple so that you can do it without any fancy equipment! You can quickly cook your chicken on the rack if you have an instant pot or a food ninja.
Use a large enough saucepan to cover the chicken thoroughly. To avoid direct heating from the burner, place a grill or a Tava beneath the pot if you have standard pools, and 3–4 onions, cut in half or quarters, should be placed on the bottom of the saucepan with about 1/4 cup of oil.
Cover with a lid and place the chargha on top of the onions. Turn the heat up to high for approximately 5 minutes, then turn it down to medium-low. Allow the chicken to simmer for 25 to 30 minutes.
Important: If your chicken weighs more than 2 kg, add 10 minutes to the steaming time for each extra kilogramme (e.g. 40 mins of steaming for a 3 kg chicken)
Remove the cover and turn off the heat. This is how your steaming Lahori Chargha would appear.
Bonus:
The onions in the bottom of the pan would have released a lot of water, and the spices would have cooked in as well. I've added onions, but you may add whatever else you like at the bottom to go with your chicken (like some garlic for flavour, potatoes or green chillies etc.)
Pour enough oil into a saucepan to cover half of the chicken. Place your chicken in heated oil using a solid grip tong and cook for 6 minutes on each side. Handle the chicken with caution at this point since it will be delicate.
Place the chicken on a dish or a bed of rice, then top with a large amount of chat masala and lemon juice.
Alternative Ways of Cooking:
The steaming stage is the same in all cooking methods; however, you can finish by baking or using an air fryer.
Coat the steaming chicken generously with ghee before baking. In the middle rack of the oven, bake for 20 minutes at 200 degrees Celsius. Also, open the grill on top. Ten minutes on one side, then the other.
Fixes:
If your chicken is still undercooked after being fried (which is unusual), steam it for another 15 minutes at medium-high heat.
If your chicken is underseasoned or has a low salt level, serve it with a yoghurt dip or rice and season with a pinch of salt. Alternatively, you can compensate by adding more chat masala and salt to your chicken.
Variations:
Smaller pieces of chicken can be cooked in the same way. If you're using smaller chicken pieces or tikka chops, steam them for no more than 15 minutes.
Smoke the chicken — If you prefer smoked chicken, add a piece of coal to the steaming pan to give it a lovely charred flavour.
Pakistani Lahori Chargha Recipe
March 28, 2022
: 3
: 40 min
: 40 min
: 1 hr 20 min
: Medium Difficulty Level
Remove the chicken from the pot and deep fried it for 6 minutes on each side in heated oil or until crispy golden. While frying the chicken, make sure the oil level covers half of the chicken. Place the dish on a plate and top with large chat masala and lemon juice. Serve with pulao rice and mint chutney.
Ingredients
One whole chicken weighing 1.5 to 2 kg, skinned and with cuts added
One egg
Two tablespoons of yoghurt
One tablespoon of garlic-ginger paste
turmeric powder, 1 tsp
red chilli powder, 2 tsp
cumin powder, 2 tsp
One teaspoon of powdered whole spices (garam masala)
3 tbsp lemon juice
1 tsp masala chat
One teaspoon of powdered green cardamom (choti elaichi powder)
Two teaspoons of salt
nutmeg powder, a pinch
a smidgeon of red food colouring
For frying, oil
Directions
Step 1 Clean and skin a whole chicken. Deep horizontal incisions should be made down the chicken. To get rid of the odour, treat the chicken with 1/2 cup vinegar and let it sit in the vinegar for 10 to 15 minutes.
Step 2 Remove the vinegar and blot the chicken dry with a paper towel.
Step 3 Combine all of the marinade ingredients in a mixing basin and stir thoroughly.
Step 4 Coat the chicken in the marinade evenly, carefully getting all of the cuts and notches.
Step 5 Refrigerate the chicken overnight or at least 8 hours after covering it.
Step 6 Remove the chicken from the refrigerator and set it aside for 30 minutes before cooking. Tie the chicken's legs together with a thread. Pin the wings on the body with toothpicks.
Step 7 Add about 1/4 cup oil and 3 to 4 onions, chopped in half, to a deep pot. Place a skillet beneath the bank, or use a heavy-bottomed saucepan.
Step 8 On top of the onions, arrange your chicken. Finally, put a lid on the saucepan.
Step 9 Steam the chicken for 5 minutes on high heat, then for 25 minutes on medium to low heat. (If your chicken weighs more than 4 lbs. or 1.5 kg, extend the cooking time by 10 minutes.)
Step 10 Remove the chicken from the pot and deep fried it for 6 minutes on each side in heated oil or until crispy golden. While frying the chicken, make sure the oil level covers half of the chicken.
Step 11 Place the dish on a plate and top with large chat masala and lemon juice. Serve with pulao rice and mint chutney.