Afghani biryani is all about dry fruits. Afghani Biryani(Pakistani rice) is a traditional dish of Afghanistan but no it is also very famous in Pakistan. Most of the ingredients of this biryani are similar to Shahi or Mughlai biryani. One prominent feature of this biryani is that this is the healthiest kind of biryani. A huge amount of cashew nuts, almonds, and other Dry Fruits are used in it. However, there are also many other dishes in Pakistani cuisine that come from Afghanistan. Especially, in Baluchi cuisines like Afghani Saji, Afghani Botti, Afghani Kabab, Gola Kabab, Afghani Handi, Afghani Karahi and many more.
Afghani Biryani taste:
Afghani cuisine is very famous worldwide and Afghani dishes are acquired a large part in Pakistani Cuisine. As mentioned in the introductory part, that there are many dishes in Pakistani cuisine that are originated from Afghanistan. Along with this biryani, all the afghani dishes have their unique flavour and taste. Particularly, because of its taste, this biryani is the most delicious biryani type in Pakistan. The abundance of dry fruits in Afghani biryani gives another level of aroma to this biryani(Pakistani rice).
HOW TO COOK AFGHANI BIRYANI-AN AUTHENTIC RECIPE?
My recipe of Afghani biryani is very easy to cook and delicious. Here I mention some major ingredients for this Biryani.
Major Ingredients(Pakistani rice):
Afghani Biryani Recipe
May 12, 2021
: 4
: 40 min
: 1 hr
: 1 hr 40 min
: Low Difficulty Level
Afghani Biryani recipe is very famous in Pakistan. That makes me give you an authentic recipe for this particular dish. My recipe for this biryani is very easy to cook and delicious. In this recipe card, you can find the step by step instructions for this Biryani.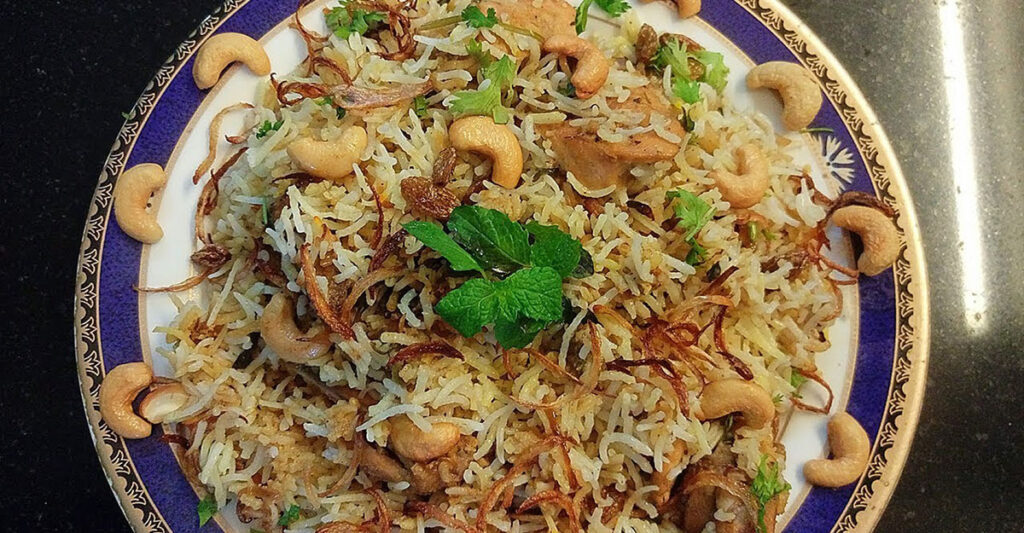 Ingredients
½ kg Chicken
250 gm Boiled Rice
2 medium-size Onions (Chopped)
1 tsp Ginger Garlic Paste
2 tbsp Chopped Carrots
8 Almonds
1 tbsp Raisins
1 ½ Garam Masla Powder
½ Salt
¼ Cup Oil
Water as required
1 tbsp Oil for fry
Directions
Step 1 Firstly, take a pan and add ¼ cup of oil and fry the onion and then chicken into that oil until it changes its colour.
Step 2 Further, cook for 2 minutes on medium flame.
Step 3 Then add water into the pan and cook with the lid for 5 minutes on medium heat.
Step 4 After that remove colour and add salt, garam masala powder and cook on a medium flame for 10 minutes.
Step 5 After that add boiled rice and cover the pan and cook on a very low flame.
Step 6 Lastly, take a pan add 1 tbsp oil, carrot fry it for 2 minutes on medium flame.
Step 7 Your Afghani biryani is ready.
CREDIT: Kitchen With Amna Blogging site