During the winter season, Pakistani cuisine embraces an abundance of seafood, showcasing its rich and diverse flavors. Pakistani seafood cuisine stands out for its unique blend of international influences with a local twist. In response to numerous requests for authentic Salmon (Fish) recipes, I am delighted to present to you the irresistible Sweet and Sour Salmon (Fish) Recipe that is sure to win over every family member (Authentic!). Discover a collection of easy salmon recipes, featuring this delectable dish that combines the perfect balance of sweet and sour flavors. Not only is it a crowd-pleaser, but it also holds immense nutritional value, making it a wonderful addition to your repertoire of healthy salmon recipes. Get ready to elevate your dining experience with these simple salmon recipes that are both flavorful and nourishing.
Sweet and Sour Salmon with Bok Choy:
This healthy and tasty salmon bok choy sheet pan dinner is an amazing dish to serve guests or a good-for-you meal that's ready in no time!
Adaptable gluten-free
Salmon is one of my favourite fish to prepare. It's not only delicious, but it's also quite healthy. It's high in antioxidants, vitamins, and protein. It contains minerals that your body requires, such as selenium and potassium. It is also well-known for its high omega-3 fatty acid content.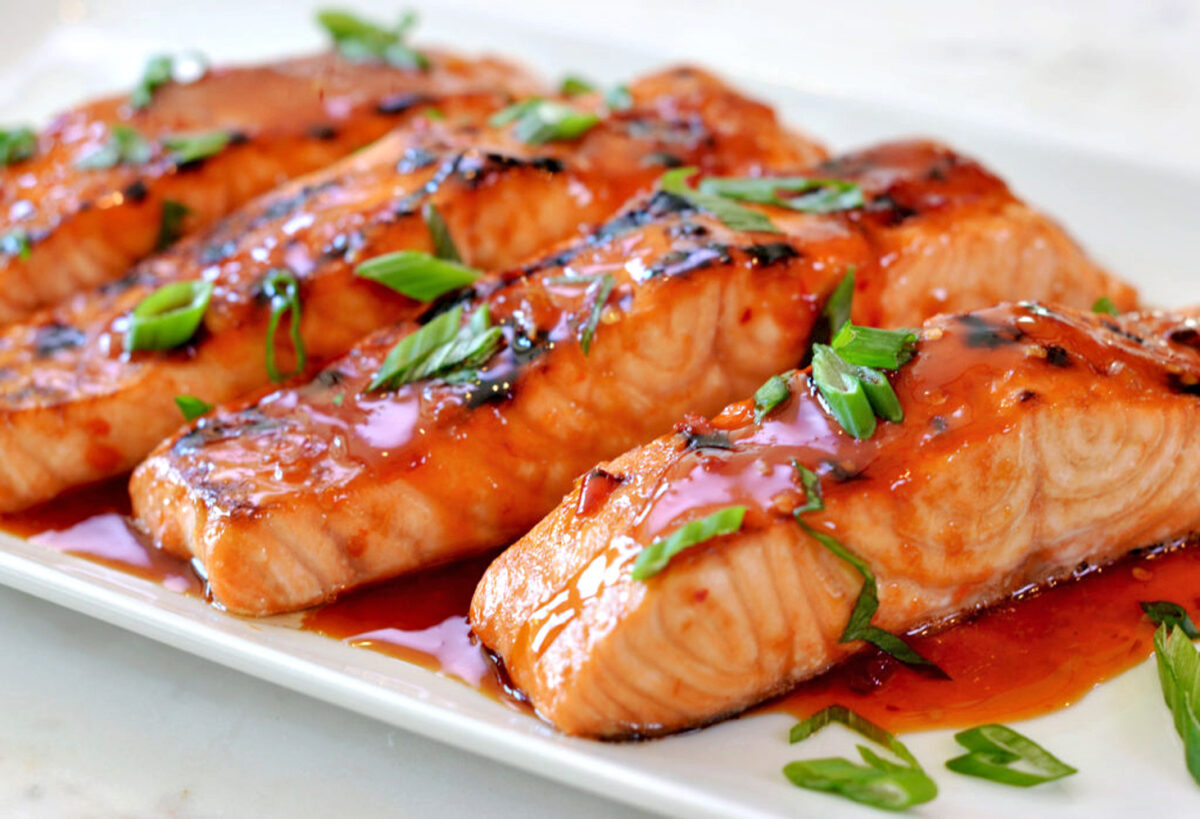 You won't believe how good healthy food can taste until you try my sweet and sour salmon recipe. Or that it can be made with only seven ingredients. Oh, and only one sheet pan is required. A simple sweet and sour sauce with just enough spice to kick up the flavour of the salmon with bok cabbage comes together in minutes.
It's a two-person recipe, but you can double it and serve it in a larger pan to feed a family or entertain visitors. You won't have to hide in the kitchen because it's so easy to make.
This salmon bok choy will most likely become a new weekly staple on your home cooking menu thanks to the delicious sweet and sour sauce. The salmon itself is moist and tender, with a sticky sauced exterior. The bok choy serves as an excellent bed for it, and the sauce will ensure that you consume all of your vegetables.
Check Out Some Amazing Kitchen Gift List Here
You may serve it with steamed rice, which I highly recommend because the rice will soak up all of the delicious sauce. Noodles would also work, especially if you're attempting to limit your carb intake. They have chickpea and edamame noodles that give you the taste of pasta without jeopardizing your weight-loss goals.
If you're in the mood for restaurant-style food, try this delectable sweet and sour salmon, which will deceive your taste buds while being kind to your waistline. I would like to thank the omnivores cookbook for this amazing recipe.
Sweet and Sour Salmon Recipe with Bok Choy Recipe Card
February 6, 2022
: 2
: 5 min
: 18 min
: 23 min
: Low Difficulty Level
This super-simple sheet pan dinner of salmon bok choy is healthful and delicious for an impressive dish to serve guests or a good-for-you meal that's ready super-fast!
Ingredients
Two fillets salmon, about 4 oz (113 g) each (*Footnote 1)
Six bulbs baby bok choy, split in half (*Footnote 2)
Two cloves garlic, minced
Sauce
1/2 cup rice vinegar
1/4 cup brown sugar
1/4 cup sriracha (or your favourite chilli sauce) (*Footnote 3)
Two teaspoons soy sauce (or tamari for gluten-free)
Two tablespoons water
Directions
Step 1 Instructions: Position the oven rack 5″ (13 cm) below the broiler.
Step 2 Preheat your oven by turning on the broiler.
Step 3 In a small pot, combine all of the sauce ingredients. Bring the water to a boil over medium-high heat. Cook, frequently stirring, for 5 to 7 minutes, or until the sauce is thick and glossy. Remove the garlic from the heat and add it to the saucepan. Stir everything together thoroughly.
Step 4 Using parchment paper, line a baking tray (optional, for easy clean up). Place the bok choy on the tray flat side up. Brush a good quantity of sauce over the entire bok choy bulb, making sure some sauce gets between the leaves. Brush the bok choy again after flipping them. Arrange the bok choy leaves in the centre of an interlocking design. Place the salmon fillets on the leaves, between the bulbs (*Footnote 4). Brush the fillets generously on all sides with the sauce. (*To see how I assembled the bok choy and salmon, see the photos in the blog post above.)
Step 5 Broil for 8 minutes at 550°F (288°C) until the salmon is cooked and the sauce begins to caramelize. (*Footnote 5) Remove the baking sheet from the oven and set it aside for 5 minutes.
Step 6 Serve with the leftover sauce over rice while it's still hot. If more sauce is needed, drizzle it on top and enjoy!
Step 7 Notes
Step 8 The baking time will be longer if you use a more significant cut of salmon.
Step 9 Use baby bok choy heads, approximately the size of your palm, for the most outstanding results. You can reduce to 3 to 4 chairs if you use larger heads (sometimes they're massive! ), but you'll need extra baking time. When I was photographing this recipe, I couldn't find small heads of bok choy, so I removed the fish first and baked the bok choy for a few minutes longer until they were done.
Step 10 The Sriracha flavour enhances the sauce's scent while providing a spicy, well-balanced effect. Because of the sugar, it isn't as spicy as it could be. You can lower the amount of Sriracha for a milder flavour, but I strongly suggest using at least a tiny amount for the aroma.
Step 11 It's critical to position the salmon to completely cover the bok choy leaves during baking so that they don't overcook or burn.
Step 12 If you use a more significant cut of salmon or larger bok choy heads, the cooking time will be longer. Insert a fork into the thickest portion of the salmon to see whether it's done
Step 13 it should flake easily. Remove the fillets to a platter and bake the bok choy for another 3 to 4 minutes if your salmon is cooked first. Alternatively, if the bok choy has already been cooked, remove them and bake the salmon for a few minutes more until it reaches your desired doneness.
https://pakistanifoodbox.com/2021/09/14/the-5-best-knife-sharpener-on-amazon/