Indulge in the best 05 Aloo (Potatoes) recipes originating from the rich culinary traditions of India and Pakistan. These authentic and easy-to-make recipes are not only incredibly delicious but also perfect for potato enthusiasts like myself. Prepare to be amazed as I present to you a collection of delectable potato dishes that will leave you craving for more. I have meticulously curated these authentic recipes from various culinary experts and personally tested each one to ensure they are worthy of sharing. Get ready to explore the world of easy potato recipes, with a special focus on delightful aloo recipes Pakistani, designed to add flavor and excitement to your dining experience.
Why do Pakistani or Indians Put Potatoes in Their Curries?
You'll note that potatoes are frequently included in Pakistani and Indian curries and other vegetables or meat. I believe the primary reason for this is to create textural interest (apart from that, they're delicious!). Potatoes give the curry bulk and a lovely, neutral flavour. They also stretch the number of people a curry can feed by making meat last longer.
What Kinds of Potatoes are Best For Curries?
In curries, you can use any potato you choose. I choose russet potatoes because of their rapid cooking time, softness, and neutral flavour. Red potatoes, Yukon gold potatoes, and baby potatoes are also delicious, howbeit they take a little longer to cook.
In Curry, When Do You Add Potatoes?
It all depends on the type of curry you're making. Russet potatoes will take around 25 minutes to cook on the stovetop over low/low-medium heat, so plan appropriately. For example, if you're preparing meat, you'll let it cook until it's practically done. Then add the potatoes and simmer until done.
The Way You Cut Potatoes For Your Curry?
Potatoes are typically peeled and cubed before being used in curries. This is how you cube them:
If you're using small potatoes, quarter them instead (cut lengthwise, then widthwise).

If using medium potatoes, quarter them lengthwise and then cut them into 1-inch cubes widthwise.

Large potatoes should be laid flat and then sliced into 3/4-inch thick rounds. Cut the rounds into cubes with dice.
I usually cut them into 1/2′′-3/4′′ cubes for dry curries like Aloo Keema and 1′′-1/2′′ cubes for liquid curries like Salan. Remember that the smaller the cubes, the faster the potatoes will cook.
BAINGAN ALOO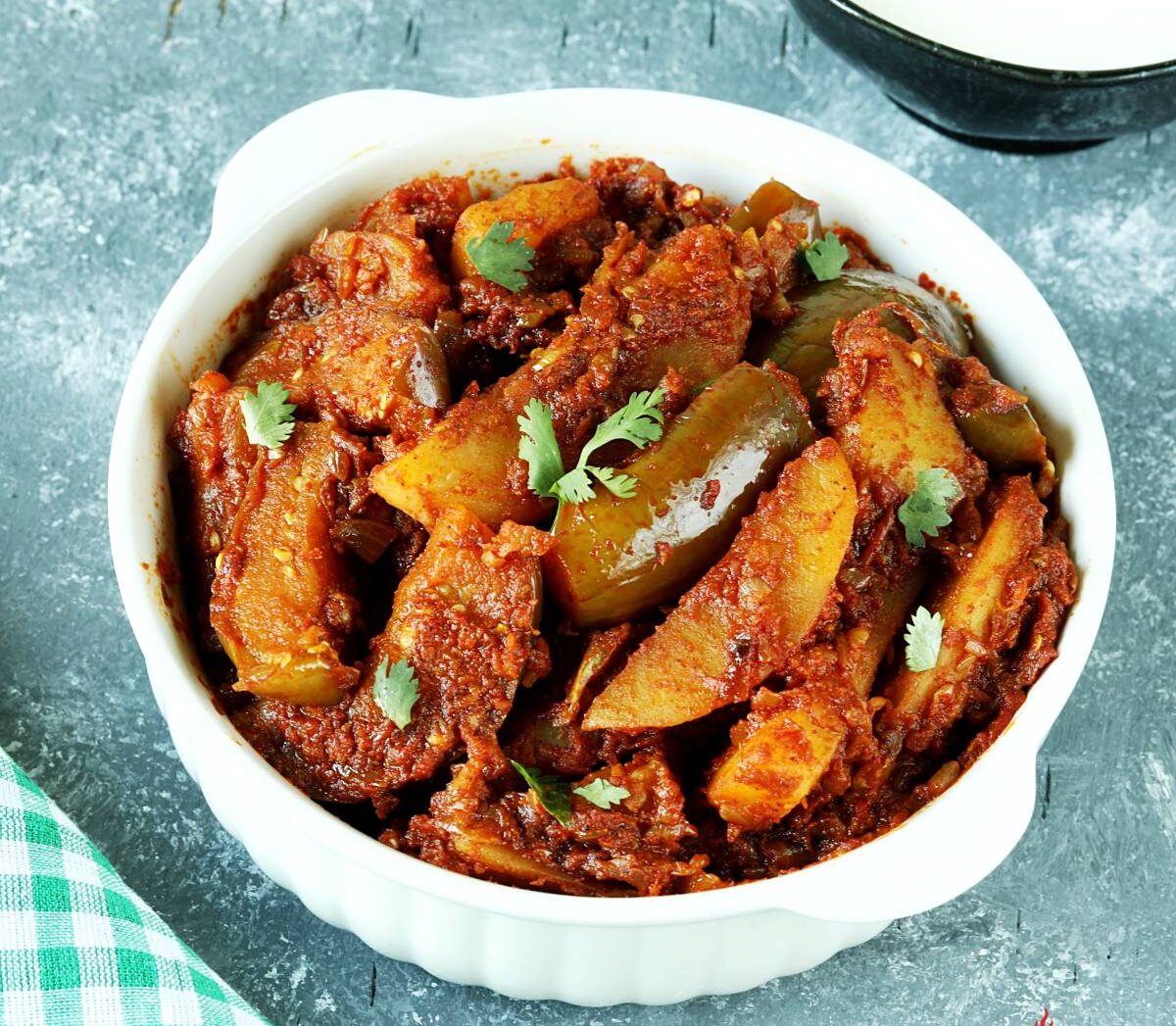 Aloo Baingan is a vegan curry cooked with potatoes (Aloo) and eggplant popular in Pakistan and North India (baingan or brinjal). Aloo Baingan, while not as flashy as Baingan Bharta, maybe just as entertaining when appropriately prepared.
Pan-searing the eggplant before adding it to the curry is the key to making next-level Aloo Baingan. The flavour of the eggplant is enhanced while the texture is improved by pan-searing it. I've prepared this without pan-frying it several times, and it's still tasty and well-balanced in flavour. However, if you're in a hurry, you can choose to skip this step.
ALOO BAINGAN INGREDIENTS:
Potatoes

Eggplant (baingan)

Tomatoes

Onion

Oil

Green chillies

Ground Species

Ginger & Garlic

Cilantro

Lemon Juice
STEPS OF MAKING ALOO BAINGAN (EGGPLANT):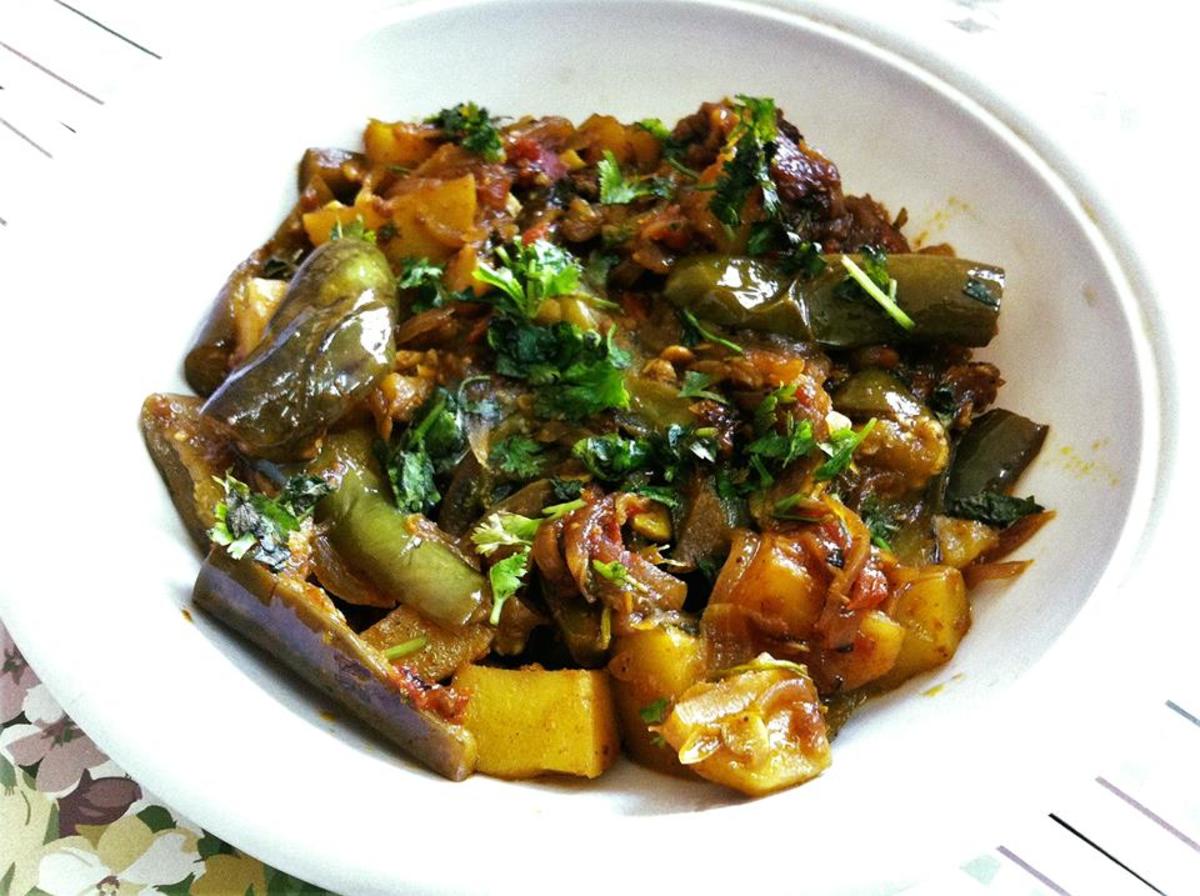 STEP 1: PAN-FRY THE EGGPLANT:
In a skillet, pan-fry the eggplant for 3 minutes on each side, or until it has a good sear. (Keep in mind that more browning equals more excellent taste.) You don't need to thoroughly cook it here because the potatoes in the curry will finish cooking it.
If you don't want to do this, just put the diced eggplant in a water basin and continue with the dish. This keeps the eggplant from becoming brown.
STEP 2: PREPARE THE CURRY BASE:
Patience is essential when sautéing. Before adding the tomatoes, make sure the onions are nice and golden. Cook until the tomatoes have disintegrated into the curry and the oil has separated. If the masala begins to stick to the bottom of the pan, add a dash of water to deglaze the pan. This method adds a lot of depth to the curry. (Believe me, I've tried cutting corners on this, and it's not the same)
STEP 3: IN THE CURRY, COOK THE POTATOES AND EGGPLANT
Once the base (or masala) is ready, add the potatoes and eggplant and continue to cook until the vegetables are soft. Serve with a garnish.
PAKISANI ALOO KI TIKKI (CUTLETS)
Aloo ki Tikki (Pakistani & Indian-style Potato Cakes) is one of those classic South Asian dishes that never ceases to amaze me. They're straightforward, yet their flavour profile is incredibly creative. The spices' powerful, intense heat is well balanced with fresh herbs and stodgy potatoes.
Though aloo ki Tikki is traditionally thought of as street food or chai-time snack, they are highly adaptable and may be served as a side dish with any meal. I prefer to do this as an entrée with raita and a pulao (chana pulao or chicken pulao). They're also delicious in a sandwich or baguette with ketchup or mint yoghurt chutney and all your favourite toppings.
INSTRUCTIONS ON HOW TO MAKE ALOO KI TIKKI:
To develop this Aloo Ki Tikki recipe, I did a lot of experimenting. Combine the prepared ingredients, shape them into patties, dip them in an egg wash, and shallow fry them to produce these Pakistani-Style Potato Cakes. Here's what I discovered:
ALOO KI TIKKI SUGGESTIONS:
I experimented with creating the tikkis with and without the egg as a binding agent. I discovered that the ones with the egg were easier to form and lasted longer. Leave the egg in the potato mixture and use breadcrumbs to help bind them from the outside to make them vegan. If you want them to keep their shape, you'll have to be very delicate when turning them.
I used a food processor instead of chopping by hand to save time in the kitchen. Instead of blending the mixture, use the pulse option to chop it finely so the onion doesn't break down too much and create an additional liquid. If you don't want to use a food processor, you can chop.
Aloo ki Tikki can withstand a lot of salt. If something seems to be missing, it's most likely an extra dash of salt.
HOW TO MAKE IT EXTRA CRISPY:
Breadcrumbs are a foolproof way to make Aloo ki Tikki crispy after they've been egg washed. Even though this isn't a customary step, I find adding another layer of crunch is a terrific method.
Keep in mind that the breadcrumbs will bring out the flavours of the other ingredients. So, if you're going to use this method, go ahead and add some extra salt and spices.
PAKISTANI ALOO KEEMA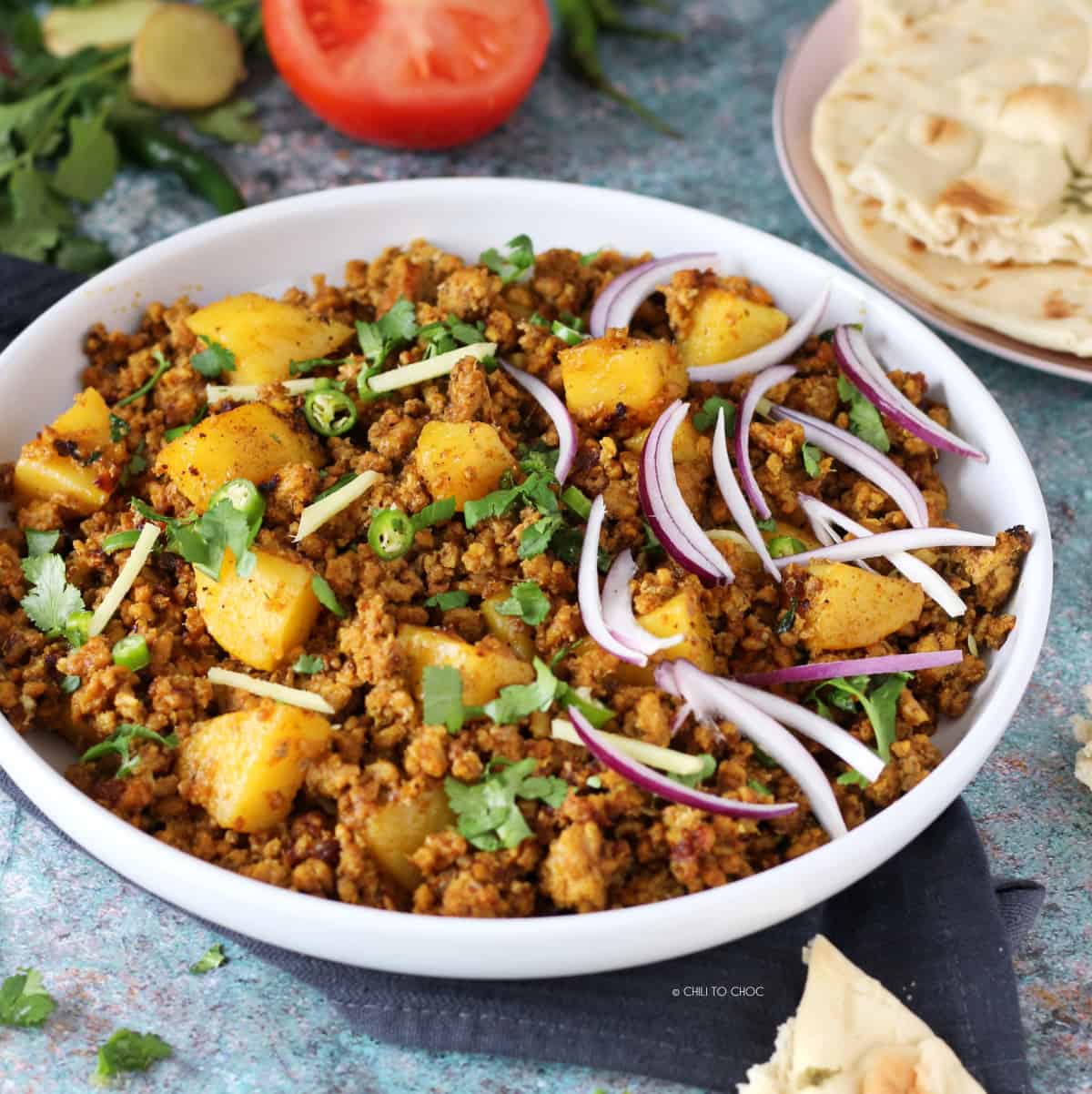 Curried, minced or ground meat (keema) and potatoes make up Aloo Keema, a famous Pakistani and North Indian meal (Aloo). Keema curry, also known as qeema, can be cooked with any animal, although beef is the most common choice in Pakistani renditions (here's a beef curry compilation for additional inspiration!).
Aloo Keema is the one traditional meal from my childhood that I would choose. It isn't glamorous, yet it is where I call home.
If you're new to Tea For Turmeric, rest assured that each recipe is thoroughly tested, dissected, and improved before being published on this blog. All of you are talking about sweat, blood, and tears (this is a country-style recipe, guys).
And the pressure is on when it's a meal like Aloo Keema, which is distinctive, close to home, and brings back memories. (And while we're on the subject of pressure, here's an Instant Pot version.) Let's say I ate considerably more red meat than I should have to bring you this classic, highly flavoured, yet simple Aloo Keema dish.
A WORD ABOUT A COUPLE OF THE INGREDIENTS:
Lean or full-fat ground/minced beef can work in this recipe. I use a filter to lightly rinse my ground beef, then press out any leftover water and leave it to sit in the sieve while I make the curry.

Potatoes: The smaller the cubes, the faster the potatoes will cook. I usually slice them into 1/2′′-3/4′′ cubes.

Spices: Whole spices should be thrown away before or during eating. Leave them out if you don't want to chew on whole spices.
WHERE TO GET ALOO KEEMA AND HOW TO MAKE IT?
Aloo Keema is difficult to go wrong with, and this recipe is very forgiving, versatile, and simple:
First, brown the onions with the spices in a skillet until golden.

Then add the garlic, ginger, and ground beef and cook until the meat turns brown and the moisture has evaporated. Continue to sauté while adding tomatoes, ground spices, salt, and yoghurt.

Finally, add the potatoes and a little water to the saucepan, cover, and boil until the potatoes are cooked. Garnish with garam masala, cilantro, and lemon, if desired.
ALOO KEEMA INSTRUCTIONS:
Sauté the meat after it has been added until all of the moisture has evaporated. This technique, known as Chennai (a combination of sautéing and stir-frying), results in well-browned, intensely delicious ground beef.

Before covering and allowing to cook, I added 1/4 cup water, but feel free to add more if you're worried it'll cling to the bottom. I grew up eating a 'dry' version (no curry, yet moist); however, you can easily add more water to make it more curry-y.

You'll note that I use a lot of spices, salt, and oil in Keema Aloo because it's all about comfort. Feel free to tweak these to your liking.
ALO PALAK – POTATO & SPINACH CURRY
One of the most popular vegetarian Indian or Pakistani recipes is Aloo Palak, or Spinach and Potato Curry. There isn't much 'curry' in it; therefore, it's usually dry or stir-fried.
Aloo Palak is the ideal recipe for incorporating a large amount of spinach into a delectable dish. It's also a great way to use up wilted spinach. (Wilted spinach can also be used in a smoothie or made by Sarson Ka Saag.)
I've experimented with a variety of ways to prepare Aloo Palak…
With less onion, more onion, yes tomatoes, no tomatoes, tomato paste instead of tomatoes, butter at the end, spinach without being chopped (poor idea), potatoes before spinach, less oil, more oil, covered, uncovered…
All of my Aloo Palak experiments have culminated in this method, which I'm providing. It's a tried-and-true dish that everyone loves!
INGREDIENTS:
The best thing about this recipe is that it contains no unneeded or difficult-to-find ingredients. You'll need the following items:
Feel free to use fresh or frozen spinach. If you wish, you can reduce the amount of spinach in the recipe.
Potatoes — two little russet potatoes or one large russet potato would suffice.
Oil, onions, tomatoes, and green chilli peppers are necessary ingredients in all south Asian dishes.
Garlic and ginger — I use a mortar and pestle or a food processor to grind mine. If you don't have any paste, you can use it instead.
Spices! Cumin seeds and spice powders, including coriander, cumin, red chile, and turmeric, are required. Garam masala is an optional ingredient.
INSTRUCTIONS ON HOW TO MAKE ALOO PALAK:
Using a food processor, finely chop the spinach leaves. In addition to chopping the onion and tomato, I frequently use my food processor.

Boil the potatoes in salted water. Alternatively, you can cook the potatoes alongside the spinach while still raw.

After the onion has softened, add the garlic, ginger, and green chilli peppers to the pan.

Allow the potatoes to soften before adding the tomatoes, spices, and salt.

Stir in the spinach to minimize the amount of liquid in the pan. If it's taking too long to cook, add more water and cover it.

Stir in the boiling potatoes to coat them. Serve immediately with a squeeze of lime or lemon.
TO MAKE THIS SPINACH AND POTATO CURRY, FOLLOW THESE INSTRUCTIONS:
When the pan is left uncovered, the spinach retains its brilliant green colour, flavour, and nutrients. If the spinach has to be cooked longer, reduce the heat, add water, and cover to cook until the raw taste is gone.

Cooking times will vary depending on the type of spinach. Baby spinach cooks quickly, whereas bunch spinach takes a little longer.

I like to boil the potatoes first so that I can begin cooking the spinach simultaneously. Add 1/4 cup water to the potatoes, cover, and simmer on low heat for 20-25 minutes, or until the potatoes are cooked. If you don't want to burn the potatoes, you can add them after the spinach has been cooked down.
COCONUT CHICKEN CURRY WITH POTATOES
The spices and procedure are comparable to a Pakistani and North Indian chicken curry; this coconut chicken curry is less 'Thai' and more 'South Asian.' There is no curry paste in this curry; only a few spices are used.
But the time spent roasting onions and rummaging through the spice cupboard will be well worth it because this curry is tasty and spicy (not Thai-style spicy, but more muted South Asian-style spicy) while remaining light and healthful.
The coconut milk and yoghurt enrich the dish, giving it a korma-like feel. If you're looking for a more traditional Thai chicken curry, try my 20-Minute Coconut Lime Chicken Curry.
COCONUT CHICKEN CURRY WITH POTATOES; SERVING INSTRUCTIONS
You can use any vegetables you choose and modify the spice level to your liking. This pairs well with white rice, which soaks up the sauce and acts as a blank canvas for the tastes to absorb.
INSTRUCTIONS FOR COCONUT CHICKEN CURRY WITH POTATOES
Heat the oil in a large nonstick sauté pan over medium-high heat. Add the whole cumin seeds, cinnamon stick, and cardamom pods, if using, once the pan is hot. Allow the spices to sizzle before adding the onions. Sauté for 7-8 minutes, or until lightly browned. Deglaze the pan with 1-2 tbsp of water and let it evaporate if necessary.

Cook for 30 seconds, or until the natural scent is gone, before adding the garlic and ginger. Add the green chilli pepper and tomatoes to the pan and cook for 2-3 minutes, or until the tomatoes soften. Stir in the potato, green bell pepper, coriander, cumin, turmeric, black pepper, red chilli flakes, and the spice powders (coriander, cumin, turmeric, black pepper, and red chilli flakes).

Turn the heat up to high. Stir in the chicken for 3-4 minutes, or until the colour of the chicken changes. Bring the mixture to a light boil with coconut milk and yoghurt.

Reduce the heat to low-medium, cover, and cook for 15-16 minutes, or until the chicken is cooked through and the vegetables are soft. If desired, remove the lid and increase the heat to enable the sauce to thicken for another 2-3 minutes.

Season with salt and pepper to taste. Serve over white basmati rice and chopped cilantro as a garnish.
Among these, Pakistani cuisine has many other fantastic Potatoes (Aloo) recipes with different combinations. I hope you also like these recipes because these are some of the most authentic recipes of Pakistani cuisine. Stay tuned with Pakistanifoodbox for more fantastic recipes and food stories.