Pakistan boasts a diverse culinary landscape, particularly renowned for its BBQ dishes and a wide array of kebabs. Among the many astonishing kebabs, my personal favorite is the Pakistani Seekh Kebabs. These delectable delights have become an integral part of our celebrations, often featuring prominently in Kebab parties organized within my social circle.
As we approach the festivities of Bakra Eid, the mention of kebabs brings anticipation and excitement to every conversation. It is the season of savoring these mouthwatering delicacies, and the Seekh Kebab holds a special place in Pakistani cuisine, symbolizing celebration and joy.
To enhance the significance of your Eid celebrations, allow me to share with you the best Seekh Kebab Recipe. This recipe will elevate your culinary experience and make your Eid celebrations even more memorable. Whether you prefer the traditional mutton seekh kebabs or want to try a flavorful twist with chicken seekh kababs, this recipe will guide you through the process step-by-step, ensuring that your kebabs turn out tender, juicy, and bursting with flavors.
Get ready to indulge in the tantalizing aromas and succulent bites of these kebabs. Let the enticing taste of the chicken seekh kabab recipe tantalize your taste buds and add an extra layer of delight to your Eid festivities.
Pakistani Seekh Kebab Intro:
Skewers are referred to as 'Seekh,' while meat grilled over a charcoal fire is referred to as 'kebab.' Seekh Kebab, then, refers to skewered pork sausages grilled over a charcoal fire.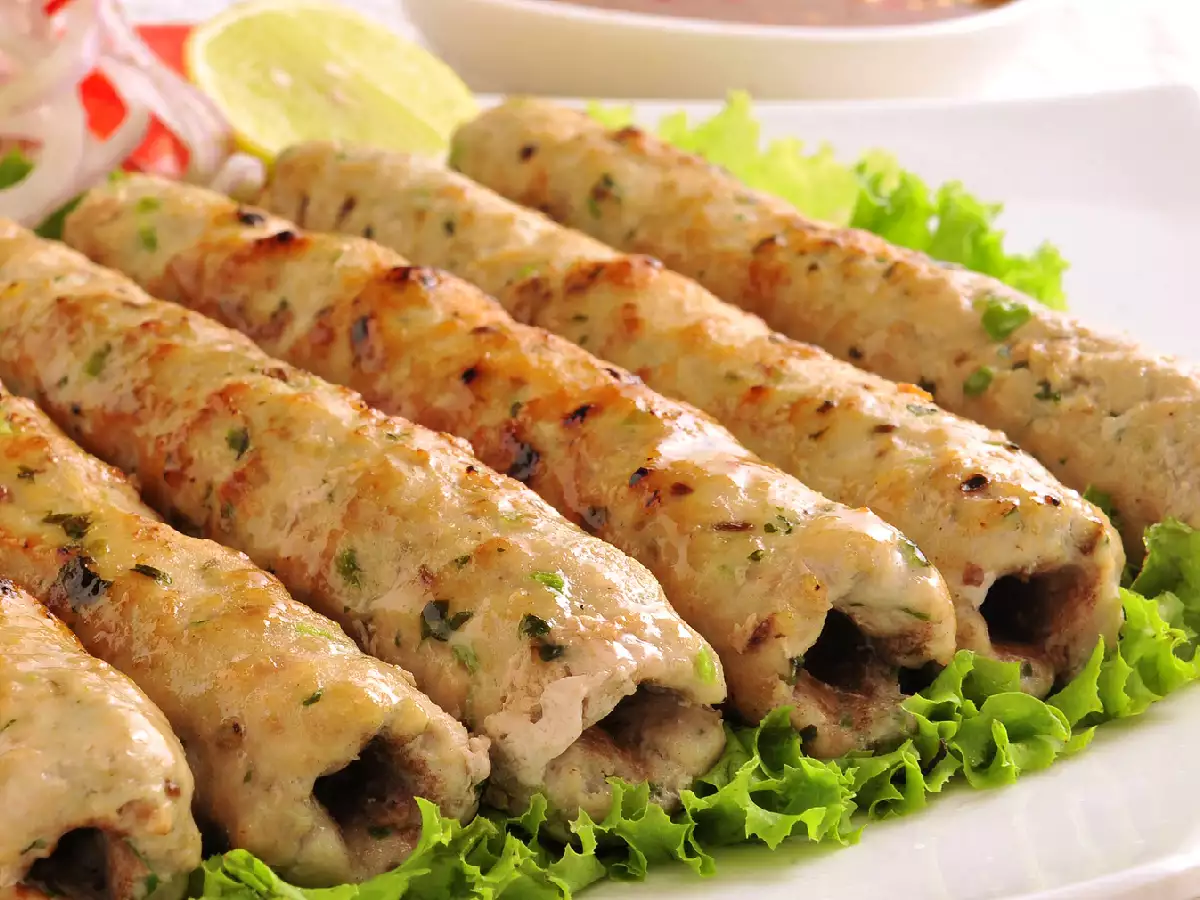 Onions, garlic, ginger, green chilli peppers, herbs, and spices are commonly used to flavour Seekh Kebab. Pakistani Seekh kebabs are frequently cooked using ground beef, but Indian-style kebabs are typically produced with ground lamb or ground chicken.
12 Common Ingredients in Pakistani Seekh Kebabs with Using Tips:
Whole coriander and cumin seeds — My previous method utilised raw, untoasted spices, which left a perceptible raw spice flavour in the finished kebab. I followed Dishoom's advice and roasted the coriander and cumin before adding them, which provided depth and eliminated the raw spice flavour. You may also add any additional whole spices you choose, such as 1-2 cloves, a pinch of carom seeds (ajwain), or long pepper (peepli).
Onion — I prefer yellow onion, but red onion also works well.
Thai chile green chilli peppers – A substantial number of green chilli peppers is a fundamental component of seekh kebab. Feel free to tweak the amount in the recipe to make them medium-spicy.
Cilantro and mint leave — If you don't have mint leaves, use additional cilantro leaves instead.
Ground beef (20% fat – not lean) – This will help keep your kebabs soft and juicy. To compensate for the lean meat, add a tablespoon of butter or an extra 1/2 teaspoon of papaya paste. If you're using a different sort of meat, check out the FAQ.
Salt and pepper — Ample salt is required for a restaurant-style flavour. I've specified how much Diamond Crystal Kosher salt or Morton's sea salt I prefer.
Red chilli flakes

— For more flavour and a hint of fire. If you'd prefer not, feel free to leave it out.
Garam masala — I tested this recipe with my own garam masala. If you're using store-bought, use less salt.

Papaya paste

— I've included papaya paste as an optional component because it's likely difficult to locate. Otherwise, it works great for tenderising the kebab. I use a very minimal amount since too much makes the kebabs excessively soft while diluting the taste.
For pan-frying, use neutral oil. When baking or air-frying, you can also brush with butter.
Spices should be toasted and ground. Toasting intensifies the flavour while masking the raw flavour of the spices. This is especially crucial while baking the kebabs.
Chop the onion, cilantro, mint, and green chile in a food processor. Squeeze the excess liquid from the ground meat.
Combine the other ingredients with the ground meat.
Mix/knead the dough thoroughly until the stringy texture of the meat is visible. I prefer to do this using the paddle attachment of a stand mixer. Form the kebab. See the instructions and video for further information.
Cooking methods include grilling, pan-frying, air-frying, and baking.
Steps In Prescribed Order:

Over an open flame Traditional and cutting-edge, yet unworkable for the majority of us.
Charcoal or gas grill — Another reason restaurants have an advantage. Seekh Kebabs grill beautifully.
Pan-Fry — This is the method I usually use. Yes, it splatters, but the additional cleanup is worth it.
Pakistani Seekh Kebab are better air-fried than baked if done correctly.
Bake — The most convenient option (favoured by 61% of my email list), but you'll lose moisture and browning.
Get Tenderness of Seekh Kebabs:
To make their seekh kebab so tasty and tender, several restaurants add a lot of fat. One restaurant owner recently stated that they utilise 50% fat and 50% ground meat.
Because most of us aren't comfortable using it at home, we must use a tenderizer to get a comparable level of softness. A short Instagram survey revealed that individuals use anything from cheese to potatoes to create softness. A team member told me she tried my recipe with papaya paste and had fantastic results, and it worked flawlessly for me.
How Make Seekh Kebabs' Texture Perfect?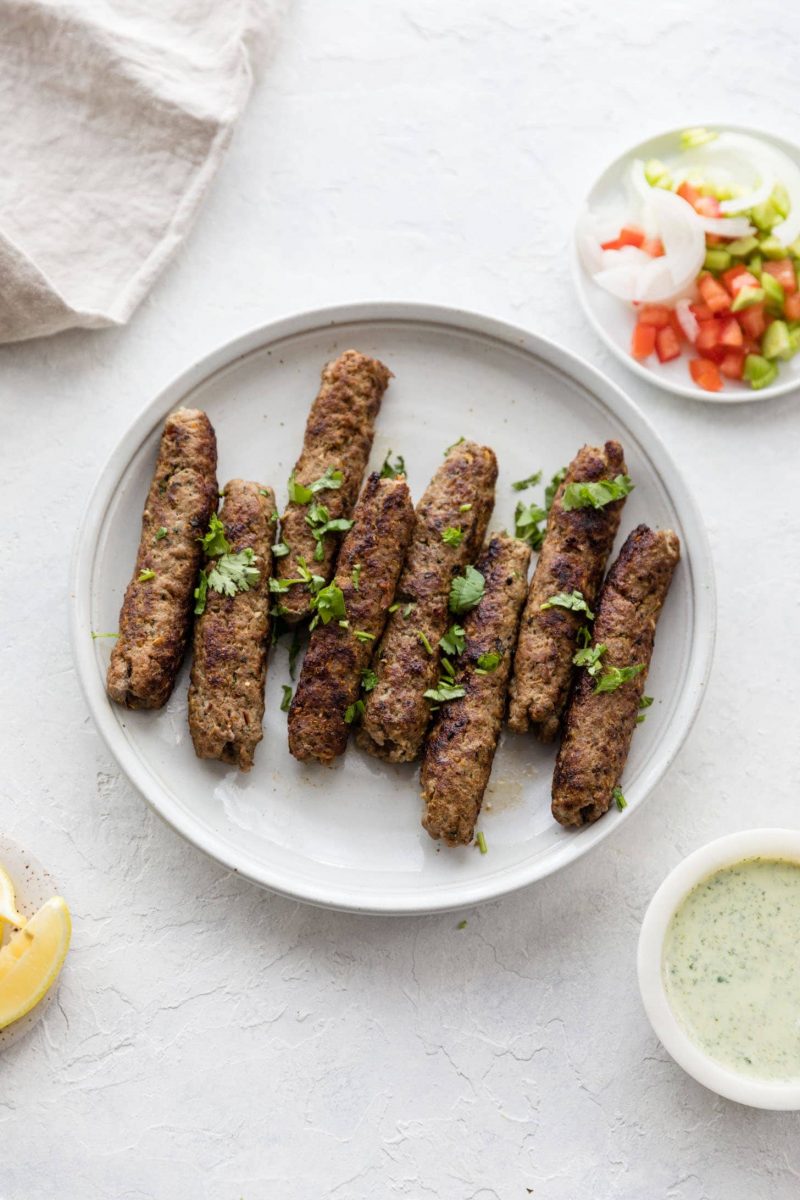 Make sure that the meat and onion mixture, for example, is as dry as possible. Squeeze any moisture out of the onions and drain any moisture out of the ground meat (pat dry with a paper towel if needed).
The meat mixture should be blended or kneaded. This is why:
Kenji Alt Lopez describes in his book The Food Lab how mixing or kneading the meat in sausages helps bond the meat proteins. I also noted that Dishoom's Seekh Kebab recipe employed the same approach of kneading the meat. The fact that Kenji Alt Lopez had already released a Seekh Kebab recipe using this approach cemented the deal for me. After trying, I discovered that mixing or kneading the meat made a noticeable difference. The texture of the kebabs improves as they go from crumbly to well-bonded.
Finally, chill the beef and let it rest before shaping it to make it cooler and easier to handle.
Seekh Kebab Serving:
The best compliment for these kebabs is Cilantro & Mint Raita (or Dahi Pudina Chutney). Its chilled smoothness contrasts with the kebab's strong, meaty taste. Cucumber Raita or crunchy veggies offer a crunchy element. Naan and rice complement each other wonderfully to round off the meal.
Best Pakistani Seekh Kebab Recipe
May 21, 2022
: 5
: 30 min
: 45 min
: 1 hr 15 min
: Medium Difficulty Level
Skewers are referred to as 'Seekh,' while meat grilled over a charcoal fire is referred to as 'kebab.' Seekh Kebab, then, refers to skewered pork sausages grilled over a charcoal fire. Onions, garlic, ginger, green chilli peppers, herbs, and spices are commonly used to flavour Seekh Kebab. Pakistani Seekh kebabs are frequently cooked using ground beef, but Indian-style kebabs are typically produced with ground lamb or ground chicken.
Ingredients
2 teaspoons coriander seeds 2 teaspoons cumin seeds
1/2 small to medium (75-85 g) chopped yellow onion
4 tiny (5 g) sliced green chilli peppers, such as Thai Chili
8 g (quarter cup) leaves of cilantro
2 tablespoons (2 g) Leaves of mint
1 pound (454 g) ground beef (20% fat – not lean), or choice of subground meat
2 tsp Kosher salt (I used Diamond Crystal
if using Morton's, use less) or 1 1/2 tsp sea salt/table salt
1 tablespoon (6 garlic cloves) garlic powder
one cup crushed ginger
1 teaspoon black pepper, freshly ground
one teaspoon red chilli flakes
1 teaspoon garam masala
1 tablespoon papaya paste (optional) – for tender kebabs neutral oil (for searing), if needed
Directions
Step 1 Melt the butter in a small pan over medium heat. Mix in the cumin and coriander seeds. Toast for 2-3 minutes, swirling and shaking the skillet often. The colour of the seeds will deepen and they will become incredibly scented. Allow it to cool somewhat before grinding to a powder in a spice grinder or mortar and pestle.
Step 2 Remove any extra moisture from the ground beef and place it in a large mixing bowl or the bowl of a stand mixer. To avoid breakage, the kebab mixture should be as dry as possible.
Step 3 In a food processor, combine the onion, cilantro, mint, and green chilli peppers. Finely chop (but do not blend) them to a coarse mixture (17 pulses) using the pulse function. It is possible that you may need to halt and scrape down the edges in between. Remove the onion combination from the pan, wring off the excess liquid with your hands, and add to the meat.
Step 4 Combine the salt, garlic, ginger, black pepper, red chilli flakes, garam masala, toasted and crushed cumin and coriander, and papaya paste in a mixing bowl (if using). Combine thoroughly.
Step 5 Set aside for 30 minutes, or refrigerate for up to overnight.
Step 6 Heat a small pan over medium-high heat to test a piece for flavour. Add a tiny amount of neutral oil to the pan and fry a portion of the meat mixture, flipping over as needed. Adjust the salt and spice to taste.
Step 7 Using lubricated hands, shape 1/4 cup of the meat into a robust round shape. Run the kebab skewers into the meat, then make a sausage-like formation around the skewer with your hands. It should measure 5-6 inches long. (For further information about freezing, see the FAQ.)
Step 8 Heat a large nonstick or cast-iron skillet over medium or medium-high heat for pan-frying. Pour in just enough oil to coat the bottom of the pan. When the oil is heated, lay the kebabs on the pan, avoiding crowding them. Turn the kebabs regularly with tongs to ensure that all sides are uniformly browned. Cook for a total of 6-7 minutes. If you have a meat thermometer, it should read at least 160 degrees Fahrenheit. Place the kebabs on a big platter covered with a paper towel.
Step 9 Place the kebabs in a single layer, allowing room on both sides, for air-frying. Cook for 4-5 minutes at 400 °F. Cook for another 3-4 minutes, or until browned and heated through.