Introducing a delightful and versatile dish that will satisfy your taste buds: the Mixed Vegetable Curry. This quick and easy recipe embraces Indian and Pakistani influences, making it a fusion of flavors that will leave you craving for more. Moreover, this delectable curry is not only vegan but also brimming with natural deliciousness!
In the culinary world of India and Pakistan, dishes often receive imaginative names based on their key components. For instance, Aloo Palak combines potatoes and spinach, Aloo Gobi features cauliflower, and Aloo Keema incorporates ground meat, just to name a few. When it comes to a speedy yet satisfying dinner, mixed vegetable curry frequently takes center stage in many households. Personally, I enjoy the flexibility of this dish as it allows me to experiment with various flavors and spices to elevate the taste of the curry. Whether you prefer a semi-dry curry or a luscious gravy, this recipe has got you covered. Feel free to utilize any spice powder, curry powder, or sambar powder to create a rich and flavorsome gravy that suits your palate.
Indulge in the goodness of this tantalizing mixed vegetable curry, prepared with love and care. With its versatility and enticing flavors, this recipe for mixed vegetable curry, also known as mixed veg recipe, will surely leave a lasting impression on your taste buds. Embrace the joy of savoring a delightful medley of vegetables, expertly blended to perfection.
Vegetables For Pakistani Mixed Vegetable Curry Recipe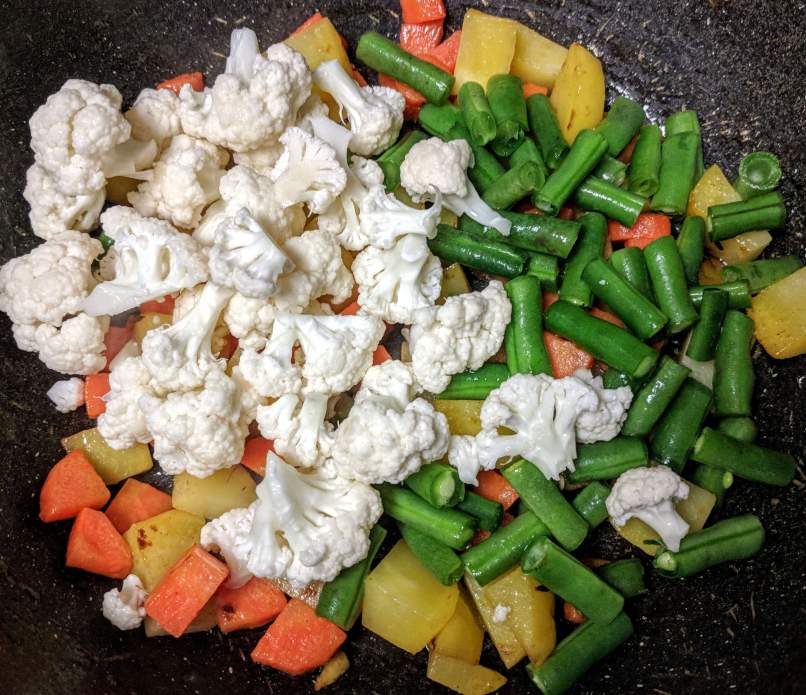 This meal is traditionally done with potatoes, peas, carrots, bell peppers, and beans. Baby corn, sweet corn kernels, and cauliflower can be added.
This is a simple, customizable dish that calls for only a few ingredients:
Onions, tomatoes, garlic, ginger, green chili peppers, and a few spices are pantry essentials.

I grew up eating potatoes, peas, and carrots (Aloo Matar Gajar), but you may use any vegetables you choose or have on hand.

Potatoes – The way you cube them will alter the amount of time they take to cook. Reduce the cooking time if you cut them into smaller cubes.

Peas — I use frozen peas that I combine with the other vegetables. If you want them to be less overcooked, add them shortly before you cover them to cook.

Carrots – Carrots give this dish a lovely flavor. I either slice them or halve them before slicing them, depending on their size.

Fenugreek Leaves, Dried (Kasuri Methi). This is the "finishing touch" ingredient that transforms this meal from "excellent curry" to "Wow – my kids can't get enough vegetables." Make a beeline for your nearest South Asian store or place an online buy. It almost lasts an eternity and can be used in my Red Lentil Curry, Authentic Chicken Korma, or Instant Pot Butter Chicken!
How To Cook Mixed Vegetable Curry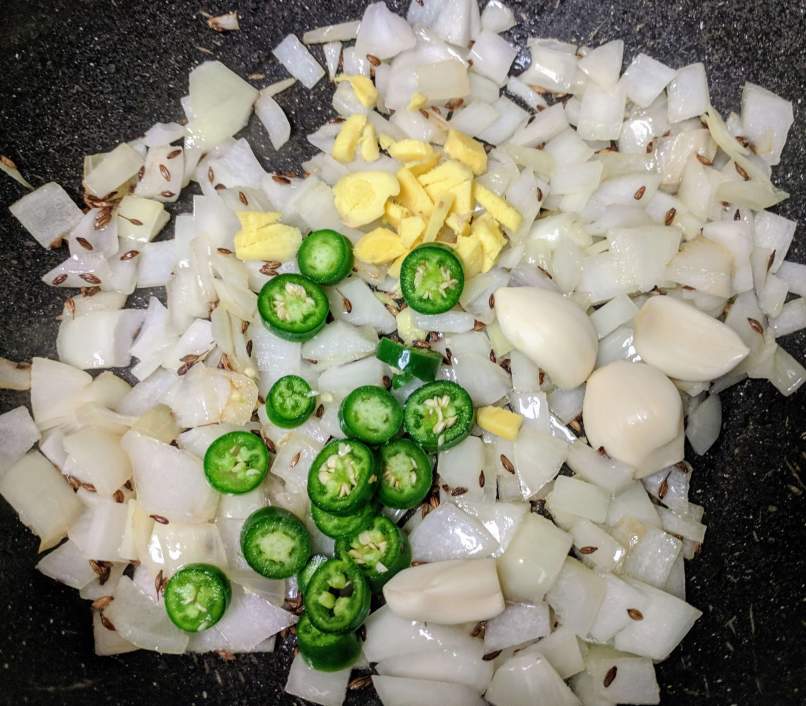 To cook mixed veggie curry, start by lightly browning the onions in a skillet. Continue to sauté for a minute after adding the garlic and ginger.
After that, mix in the remaining ingredients for a few minutes. Reduce the heat to low and cover the pan to allow the vegetables to simmer in their juices.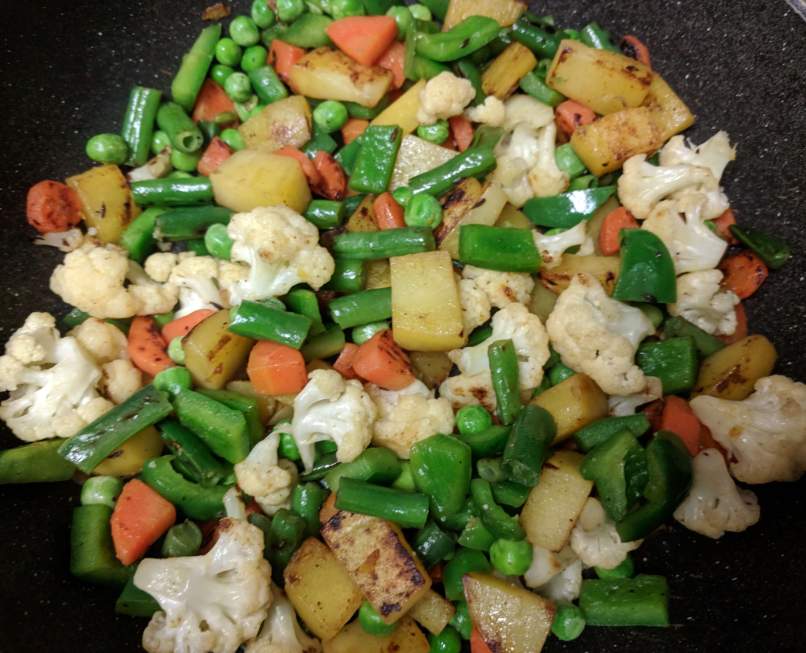 That's the only thing I have to say about it. If desired, garnish with dried fenugreek (methi) and cilantro. Stir, serve, and enjoy!
That's the only thing I have to say about it. If desired, garnish with dried fenugreek (methi) and cilantro. Stir, serve, and enjoy!
3 Ways To Make Your Veggies Unique
I believe that with the appropriate skills and fresh ingredients, even the most basic of dishes can be made unforgettable. Here are my easy-to-follow instructions for cooking this curry:
It's preferable to let the vegetables simmer in their juices. This means we won't use any water until it's required.

To avoid any risk of burning, use a nonstick skillet or pan.

The beauty of this cuisine rests in its simplicity, and excellence is often associated with simplicity. Look for organic vegetables, particularly carrots. In comparison to ordinary apples, I found them to be juicier and sweeter.
SERVING SUGGESTIONS FOR MIXED VEGETABLE CURRY
'Dry' curries are usually served with any kind of bread, but 'wet' curries can be served with either rice or bread. Because there isn't much curry in this, it goes well with roti, paratha, naan, or any other bread. Brush a little butter on your roti or naan to make the dish even more delicious.
Mixed Vegetable Curry Recipe
January 8, 2022
: 2
: 30 min
: 30 min
: 1 hr
: Low Difficulty Level
This Easy Mixed Vegetable Curry is perfect as a weeknight dinner or side dish. It comes together with very little effort with ingredients you have on hand. Vegan and Gluten-Free!
Ingredients
Curry:
3 tbsp olive oil (44 ml)
12-inch piece ginger, smashed 1 small to medium onion, finely chopped 4 garlic cloves
3-4 (1 cup) tiny carrots, peeled (if necessary) and cut 1/3
Directions
Step 1 In a nonstick pan, heat the oil over medium heat. Sauté the onion till golden brown, about 7-8 minutes. Sauté the garlic and ginger for approximately a minute, or until the raw smell is gone.
Step 2 Add the rest of the curry ingredients and cook for another 5 minutes.
Step 3 Reduce the heat to low or slightly higher than low (depending on your stove) and cover the pan with the lid. Allow the vegetables to simmer for 24-25 minutes, or until tender. To ensure consistent cooking, check once or twice in between and stir. Taste and season with salt if necessary. If you're worried about the vegetables sticking to the bottom of the pan, a spray of water will help. The idea, though, is to steam the vegetables in their juices.
Step 4 Blend crushed fenugreek leaves and cilantro in a small bowl and toss lightly to combine. Serve with roti, naan, or bread of your choice.