The Ottoman Empire gave the world many gifts, namely the history of Turkish cuisine, which is a fusion and refinement of various culinary cultures, including Central Asian, Middle Eastern, East European, and Balkan. However, we can observe now that Turkish cuisine has affected many of its bordering cuisines and combined varied culinary traditions while establishing a large array of specialties. When it comes to breakfast, though, Turks often like highly substantial breakfast alternatives. A classic Turkish breakfast will include plenty of cheese, butter, olives, eggs, tomatoes, cucumber, strawberry jam, sausages, and, of course, Turkish Potato Kunafa. The rich hash brown Kunafa is a very distinct Turkish breakfast food created using hash browns that you may make at home.
Turkish Potato Kunafa:
The middle will include cheese layers, and the outer layers of Kunafa will be coated with vermicelli and olive oil for a crispy, shining appearance. This dish is perfect for potato and cheese lovers, and it goes well with traditional Turkish tea. So let's get started on this amazing dish, but first have a look at the ingredients.
This Savory Potato Kunafa Recipe takes a different approach to the traditional Turkish sweet dessert. This one is created with potatoes and cheese instead of phyllo dough, rose water, and dried fruits! Because it resembles a large hash brown, this recipe is also known as "Turkish Hash Browns." It's incredibly easy to make and you'll fall in love with the ultimate product!
Cooking Method of Turkish Kunafa: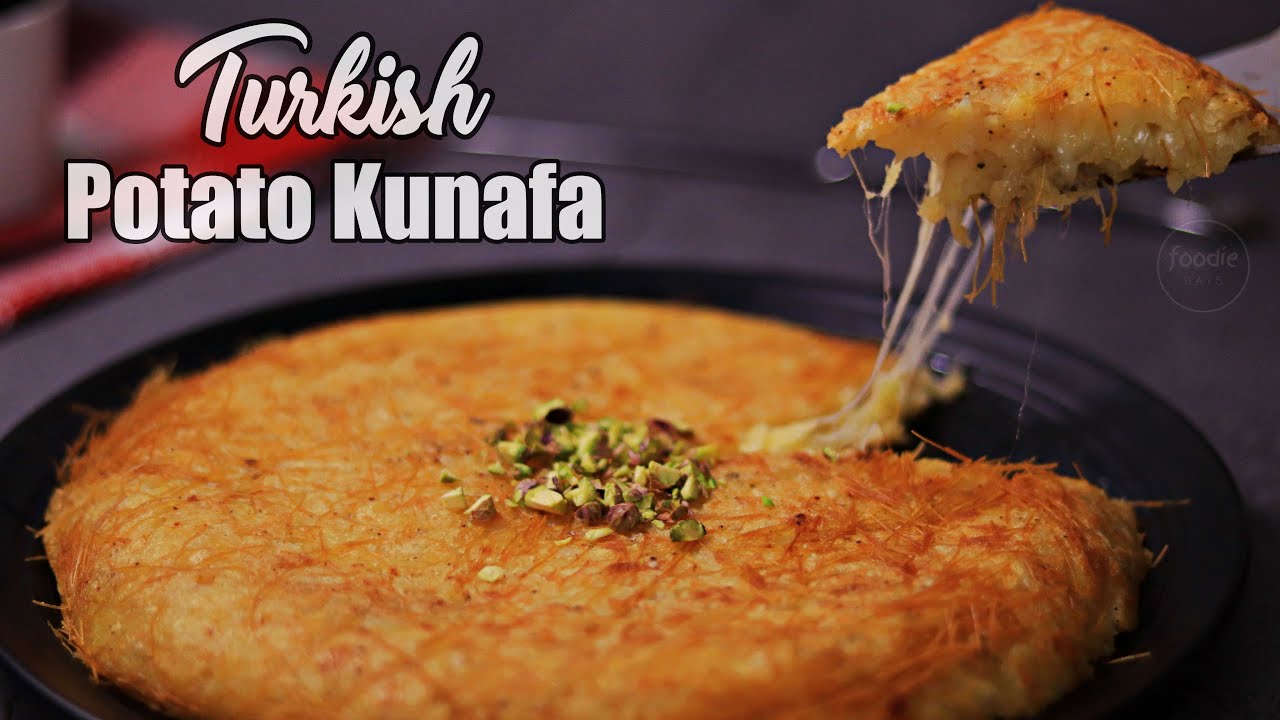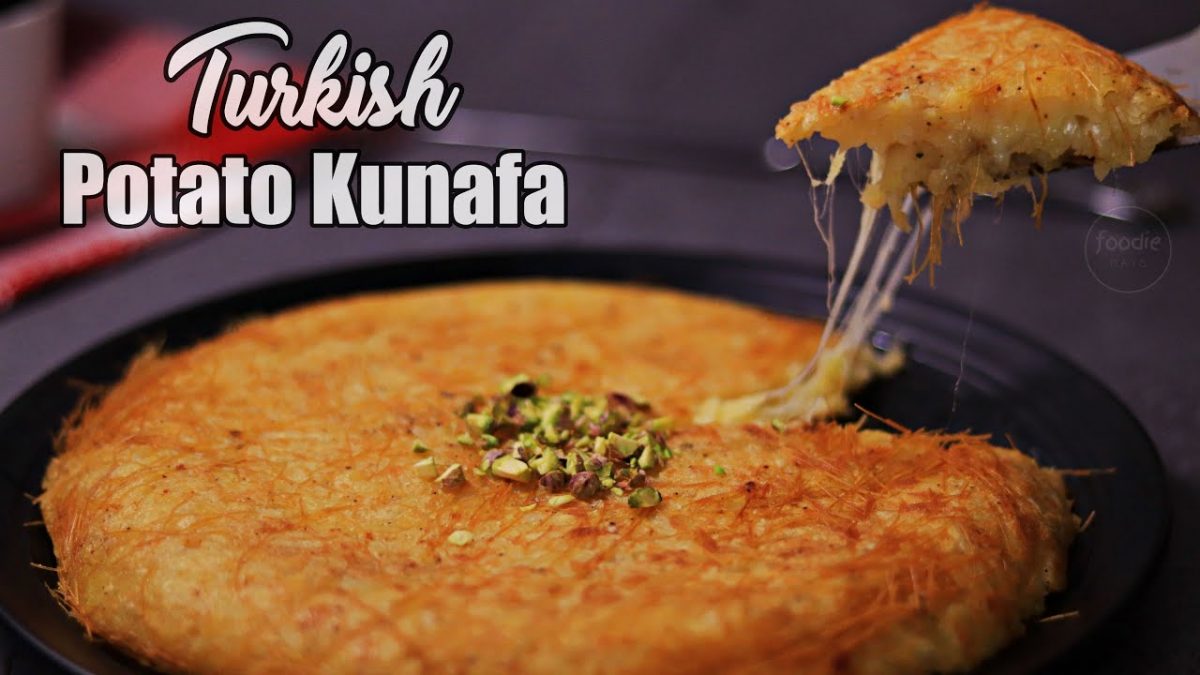 Before getting you to the step by step recipe, here is the top-priority tips for you.
You may prepare this in a conventional or nonstick pan, like I did. If you're using a nonstick pan, you may start and complete the Kunafa in the same pan, but if you're using a regular saucepan, you may want to finish it in the oven like I did.
Initial Cooking Stage:
Cool the potatoes once they have been boiled. Peel, mash, or grate the potatoes.
Take care not to overcook the potatoes, which means they should not absorb too much water when cooking. They will be cooked for a long time afterwards, so it is fine if they are somewhat undercooked.
Seasonings and flour or cornmeal can be added as needed or until the mixture binds properly.
Normally, an egg yolk or two are added to this recipe to improve binding, but a few tablespoons of cream can be substituted.
Now, in a saucepan, heat some olive oil (you may use any oil of your choice, although olive oil is typically used in this dish) and spread a layer of mashed potatoes so that there are no gaps and it makes a smooth basis.

Reduce the heat and leave this to cook for a few minutes.

Then, leaving a border, spread a layer of crumbled Paneer, Ricotta, or Greek Feta cheese over the potato layer.

Add a layer of Turkish Kashar or Mozzarella on top of it.

Finally, cover it entirely with the remaining mashed potatoes and tightly close it up from all sides.

Cook, covered, for 6 to 8 minutes, or until the bottom is brown and done and you can turn it up.
You may now either flip it over and cook the other side in the same pan for 3 to 4 minutes, or, like me, put it to a non-stick ovenproof sheet and bake it at 180° C for around 15 minutes.
If you have leftover potato mixture, form it into patties and cook them the next day; delicious! You can also freeze it after shaping it and use it as a side dish whenever you want!
For Recipe Video Click Here

For more Turkish Recipe Click Here
Turkish Style Potato Kunafa Recipe
July 4, 2022
: 4
: 30 min
: 40 min
: 70 min
: Medium Difficulty Level
Savory Potato Turkish Style Hash Brown Kunafa is a dish I developed for a potato with a cheese layer in the centre. I named the meal after making it appear like a kunafa dessert with the exterior layer. Potato Kunafa is a Turkish-style hash brown or rosti that potato fans like me would like. It's delicious at any time of day, but especially for breakfast and, since we're in Ramadan, suhoor, along with a glass of Turkish tea.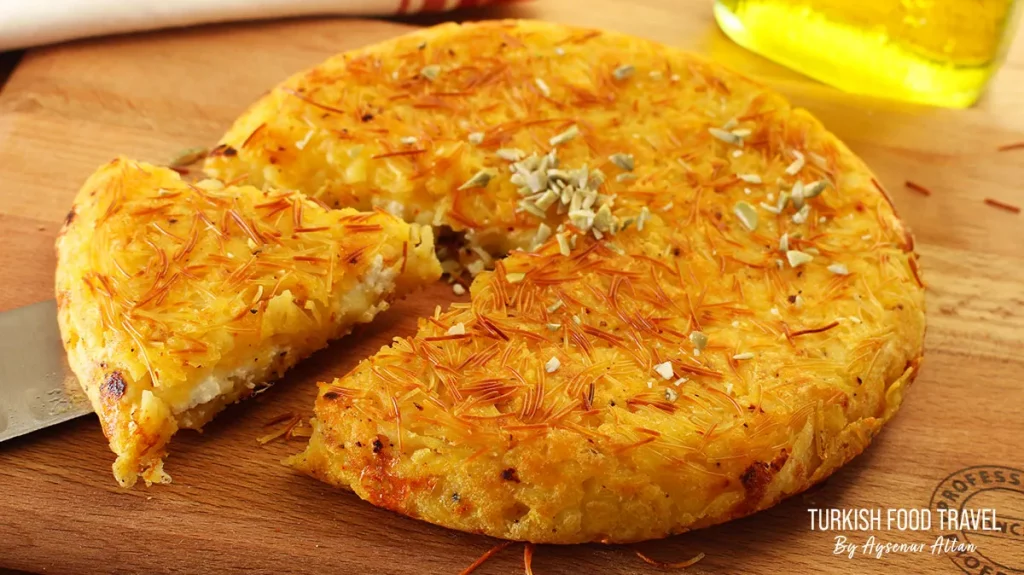 Ingredients
6 potatoes, medium size (halfway cooked, peeled and grated on the large size)
1 yolk of an egg
2-3 tablespoons olive oil
1/2 teaspoon salt, red pepper flakes, and ground black pepper (I mentioned 1 teaspoon in the video (sorry), but our teaspoons are really little, so in a universal measure, it's roughly 1/2 teaspoon)
1 cup or more feta cheese (or a combination of feta and kashar or mozzarella)
1-2 tablespoons cornmeal vermicelli (optional)
additional cooking oil
Directions
Step 1 Cook 6 medium-sized potatoes halfway first. Check with a knife
Step 2 it should still be somewhat hard. Drain the water
Step 3 if they remain in the water, they will absorb it.
Step 4 Peel off the skin once you've mastered it. In a large mixing basin, shred the potatoes with a large side of a grater. Combine the egg yolk, salt, red pepper flakes, and ground black pepper in a mixing bowl.
Step 5 Mix in 1 tablespoon cornmeal and 1 tablespoon olive oil. It'll start to stick together. Check the consistency
Step 6 if it is still mushy, add more cornmeal
Step 7 if it is dry, add a touch more olive oil until it comes together when you work with a piece after dipping your hand in water. (A little sticky is OK and preferable)
Step 8 Drizzle olive oil on a medium-size nonstick skillet and sprinkle with vermicelli pasta or kataifi dough, like in the kunefe dessert.
Step 9 Place a layer of potato mixture on top and press it down firmly. Spread a generous layer of cheese on top. I used a combination of white and kashar cheese (like mozzarella). Add another layer of potatoes on top of the cheese mixture. Drizzle with more olive oil and, if using, sprinkle with vermicelli noodles.
Step 10 Cook the potato kunefe over medium heat until browned on both sides. A flat plate that fits within the pan may be used to turn it over. After transferring the kunefe dessert to a serving platter, I topped it with chopped pumpkin seeds to appear like pistachio nuts.
Step 11 As a side dish, serve your savoury hashbrown-like potato kunefe with a glass of Turkish tea, a seasonal salad, or a meat.