Gol Gappay/Pani Puri is a desi Pakistani snack food. Before going to further discussion, I would like you to remind here that Pakistanfoodbox already gives you a bunch of articles on international visitors and their views about Pakistani cuisine. However, more than many YouTube bloggers share their opinions and their journey experiences about Pakistani local food streets on their respective channels. Gol Gappy/Pani Puri Chaat is a famous street food dishes and many bloggers tasted it as Davidsbeenhere does.
Chaat is no longer included in many diets, but it was once regarded as a type of special diet to boost the body's immunity. Our bodies require a variety of spices, especially as the seasons change. It was difficult to obtain them in their original state, therefore a meal with little quantities known as chaat was created. It is also stated that when Shah Jehan, the Mughal Emperor, arrived in Delhi after it had become the capital of India, he was unable to digest the water of the river Yamuna and became unwell. To overcome his illness, he was advised to take meals prepared with a lot of spices and ghee, and he was encouraged to eat tiny portions.
Keeping Indians away from their chaat is a crime, but we can't do anything in terrible times like these when staying home is more of a need than a choice. Right? Wrong! Of all, with the time and chaat desires we have, we can accomplish a lot. What if you are unable to meet your 'Golgappe wale bhaiya'? We'll show you how to set up your own Golgappa stand at home with this simple and tasty Golgappa recipe that you'll want to make all by yourself the next time.
For Making Gol Gappa:
Combine 2 cups sooji (semolina), 1 cup maida (all-purpose flour), salt to taste, and warm water in a mixing bowl. Mix thoroughly and make a stiff dough, which you can test by pushing a finger into. If the dough gently returns to its original shape, it is ready. Cover the dough with a damp muslin towel and set aside for at least 30 minutes. In the meantime, prepare your khatta Paani. Take a few dough balls and roll them thinly on a flat surface now that the dough has rested. Cut out small pooris using a 12-inch diameter cutter and fry them in heated oil over medium heat until brown and crisp. Continue to cover the pooris that have been taken out.
For Making Khatta Pani: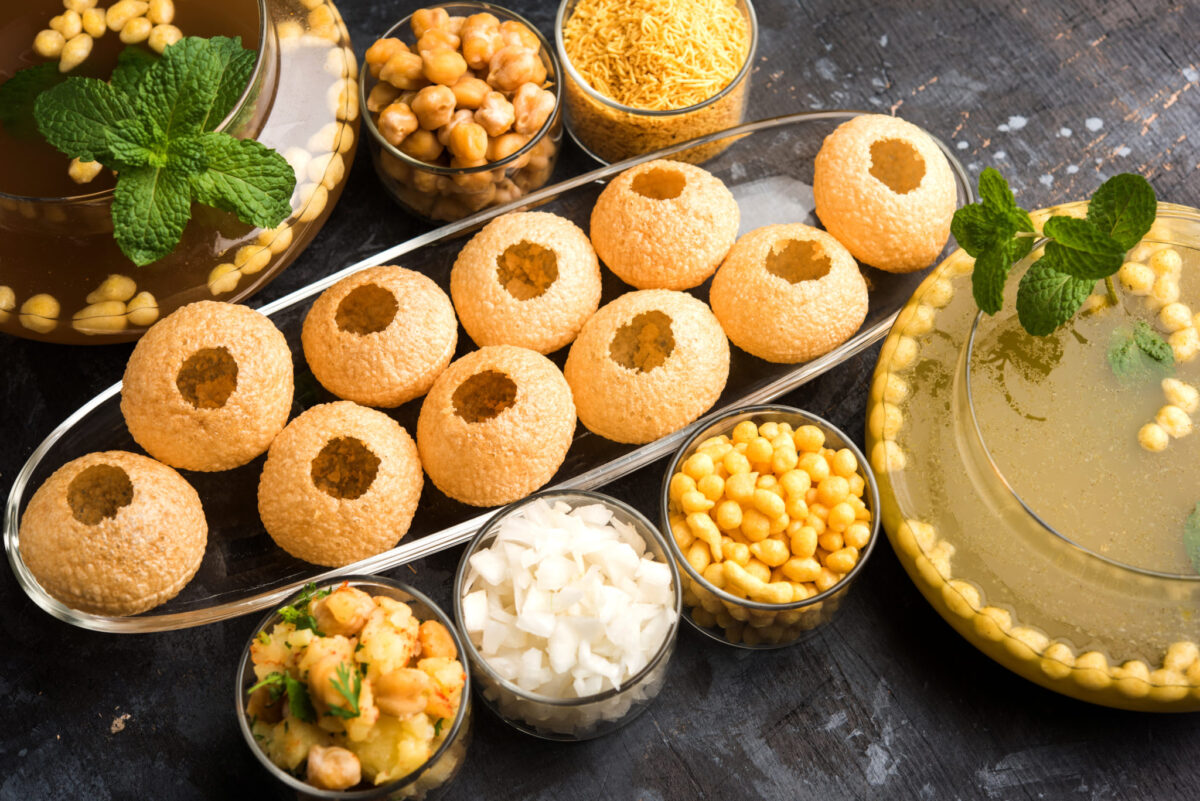 1 cup water, 2 cups mint leaves, 1-inch ginger, 1 cup coriander leaves, 12 cup jaggery, 12 cup ice Combine all of the ingredients in a mixing bowl. 2 more cups of water, 1 tsp rock salt, 1 tbsp cumin powder, and 12 tsp chaat masala should be added to this bowl. Mix well, then drain through a strainer and set aside. Add 1 tbsp tamarind paste or tamarind-induced water to this bowl once everything is ready. Add some boondi on top, and you're ready to fill Gol Gappe with water.
To make the filling:
In a mixing basin, mash one big boiling potato with your hands. 1 teaspoon jeera powder, 1 pinch of black salt, 12 cups cooked white peas, 1 teaspoon chaat masala, and red chili powder, to taste 1 onion can be added or left out of the masala filling.
Serve fresh Golgappas with this delectable filling, along with some methi chutney' or sweet sauce made by boiling 1 cup water with 12 cups tamarind and 12 cup jaggery. Season the chutney with a pinch of black salt and a pinch of red chili powder.
Make the ideal Gol Gappe with these helpful hints
Allow the dough to rest, or the pain poori pooris will not rise.
Do not be afraid to use mint in your khatta paani. Although the color darkens, the mint leaves a lovely flavor.
It's crucial to keep the cut-out pooris covered; otherwise, the skin will grow on them and they won't take the shape you want.
To prevent the water from blackening too much, add the tamarind paste at the last minute.