Chapple kabab is a local Pakistani dish that originated from the northwest province of Pakistan. The dish is basically originated from KPK which is why it's also known as Peshawari kabab. It is cook with minced mutton or beef with the addition of desi rich spices. However, this is a well-known dish in Pakistani streets foods and local cuisine. In fact, not only in Pakistan, but this dish has its popularity in the neighbouring country also like Afghanistan and India. So, chapli kabab is a special BBQ dish which is eaten all across the country and in some parts of the neighbouring countries as well.
Basically, the origin of the chapli kabab is Mughals of the South Asian region that has great influences on Pakistani cuisine. The dish name is derived from the Pakhtun word 'Chaprikh' which means flat. Eventually, this dish got its fame from the city of Peshawar, where it holds more than 2500 kabab houses in the city that serve Peshawari kabab. But now, due to its rich taste and delicious flavour, this dish serves in almost all desi restaurants and south Asian restaurants in the world.
Chapli Kabab Taste:
Pathan families in Pakistani are very famous due to their desi style of making food. In their households, they use fresh and original items to make their meals. That is why not only in Pakistan but also in other parts of the world love Pakhtun style dishes. Chapple or chappal kabab is one of them.  This yummy kabab is made from the marinated minced meat that may be mutton or beef. The dish is so yummy in taste and juicy in flavour. Its look is so appealing even that you can't stop yourself to fall in love with desi kababs.
Chapli Kabab Recipe:
As I mentioned above chapli kabab is the most loved BBQ dish in Pakistan. This dish prepares in many parts of the country but two cities dominate the other. One is Peshawar and the other one is Mardan which is also a city of KPK. However along with minced the ingredients are garam masala, lemon juice, chilli powder, and fresh coriander leaves. With the mixture of fresh tomatoes, ginger garlic taste, baking powder, onions, eggs, and coriander powder. Pakistanifoodbox gives you an authentic recipe of Pakistani Chapple kabab that you can make without any trouble.
My Story with Kababs: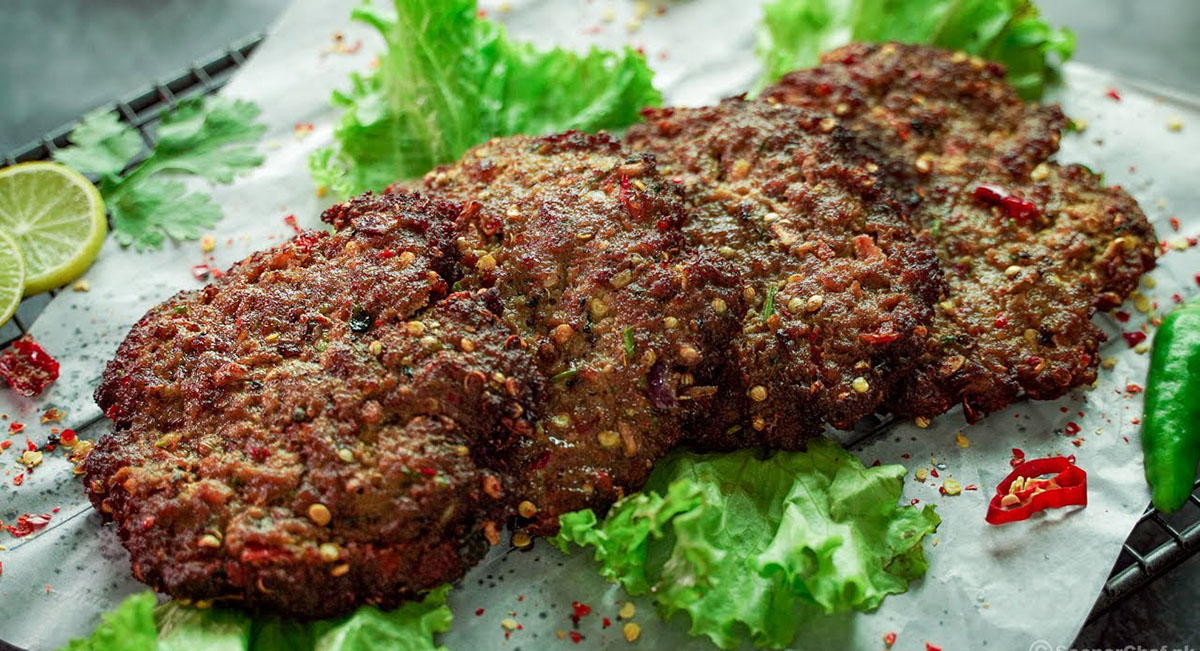 Chapli kabab is a Pakistani style BBQ dish that is very famous in Pakistani cuisine. it cooks and serves all over the country. I would like to share my personal experience with chapli kabab here. I was in Islamabad when I tasted Peshawari kabab for the first time. It was almost midnight and the aroma of the kababs was everywhere. When I took my first bite it would get me to another world of delicacy. I mean it was so yummy and tasty and I still feel its taste in my palate. I suggest that you should also try Pakistani chapli kabab. It will make your taste buds happy and gives an amazing memory.
Major Ingredients:
Beef
CREDIT:  hamariweb.com