Chatpati Masalay Dar chicken Karahi is the most famous karahi among the Pakistani Karahis. Pakistani people know what the 'Chatpati' word is used for. But for the Foreigners, I would like to interpret the word 'Chatpati' or 'Chatpata'. Chatpati word is used for spicy dishes in Pakistan. However, Chatpati Masalay Dar chicken Karahi is very rich in spices; that is why the term Chatpati is used in its name. If you want to taste almost all the rich Pakistani masalas in one dish, you must try this karahi. It is a pride of Pakistani karahi. No celebrations in this cuisine are completed without Chatpati Masalay Dar karahi. And if you are too planning to arrange a party for your friends and family, you must include this Masalay Dar Karahi in your menu.
Taste of Chatpati Karahi:
As mentioned in the introductory part, Chatpati karahi is very spicy Karai. Therefore, this karahi is for those karahi lovers who like more spices in their meals. If you are too among those karahi lovers, then I assure you that you'll never forget its taste. A unique and traditional masala is used in this karahi, and yon can say the masala is a crucial ingredient of Chatpati karahi. However, Pakistnaifoodbox also gives you the recipes of different Pakistani masalas that you can use in various dishes. However, the taste of Chatpati karahi is unique and famous in roadside Dhabas because of its fantastic aroma. Personally, this is one the best karahi for me because I'm fond of spicy dishes.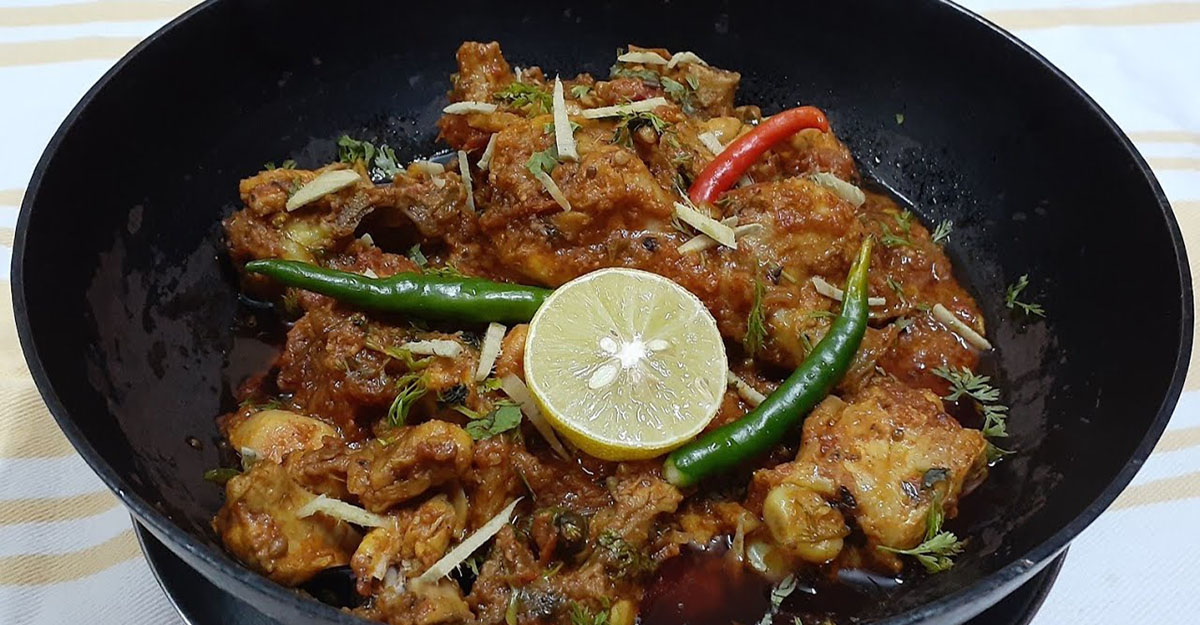 Recipe of Chatpati Karahi:
I have already mentioned many recipes of chicken karahi somewhere on this site. If you go through it, you will find little difference among all the chicken karahi recipes. But every type of chicken karahis has its taste and aroma. In this regard, every karahi is integrated with some unique vital ingredients and methods. In the case of Chatpati karahi, that prominent ingredient is its desi masala. This masala enhances Chatpati karahi's taste to an aromatic level. Moreover, I have mentioned all the compulsory ingredients and instructions in the recipe card below.
Major ingredients:
Karahi Masala: this is the essential ingredient in this karahi. You can find masala ingredients in the list. The keynote for making masala powder is to roast all masala ingredients like red pepper, whole coriander, white cumin, and black pepper separately and then crush them together.
Chatpati Masalay Dar Chicken Karahi Recipe
April 23, 2021
: 3
: 20 min
: 30 min
: 50 min
: Low Difficulty Level
Directions
Step 1

Firstly, and more importantly for karahi masala roast all separately and then crush together.

Step 2

Heat oil

Step 3

Add tomatoes with ginger garlic paste

Step 4

Then add salt, turmeric and fry well

Step 5

Add chicken, cover and cook for 15 minutes

Step 6

After, remove the cover and fry well

Step 7

Then, add crush masala

Step 8

Add butter, red chillies, coriander, and ginger slice

Step 9

Add ¼ cup of water

Step 10

Lastly, leave it for dum for 10 minutes

Step 11

You Chatpati Masaly dar karahi is ready, you can serve with nan and chapati.
CREDITS: Cooking Recipes